Everybody enjoy's Nutella. There would be very few people, who don't lick the spoon clean after using Nutella!!!! I do, always!!!! Recently i saw these
Nutella Muffins @ Pavithra's Space
and also
@ Priya yallapantula Space
. Being a Nutella Fan, i wanted to try them immediately. I had some pears which were not so good in taste, i didn't want to thrash them, so i combined them with nutella to make these Delicious muffins, they came out real good. Muffins were a bit moist and tasted awesome.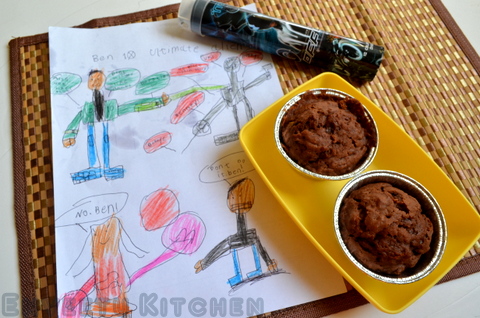 My Kiddo was so happy munching those muffins, he came home and made me a Picture of his Favorite Hero Ben10 fighting Forever Knights, Love the picture and the dialogues he wrote with them. Priceless Gift!!!!!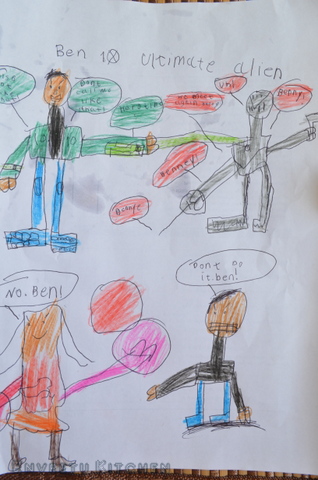 Ingredients
1 tbsp of Flaxseed Meal mixed with 1/4 Cup of Warm Water
Method
Preheat your Oven to 180C. Prepare your Muffin Pan. I used take-away Alu-foil Muffin Holders. I got about 5 Muffins.

Mix the Flaxseed Meal with Warm Warm and Keep Aside.

Take Flour, Nutella, Baking Powder, Baking Soda and Mix well. Add the Flaxseed-Water mixture and Mix well.
Add the grated Pear to this mixture and mix until well combined

Spoon the Mixture into Muffin cups and Bake them for 15-18 minutes or until a tooth-pick inserted comes out clean.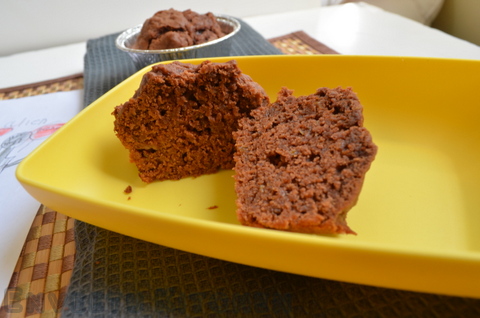 Let them cool for 10 minutes. Serve Warm. My kiddo enjoyed them as his Mid-morning Snack @ School.