Wishing all my reader's a very Happy Valentine's Day!!! The Whole Blogging World is brimming with Loads of Valentine's day Recipes, Lots of Bakes, Sweets, but i chose to post a Simple, yet Filling Breakfast recipe.
As my readers most of you might have noticed, that these days i m posting a lot of sandwich recipes, Mostly because, Mornings are damn crazy, my little one wakes up along with me, so half the time he will be clinging to me while i am cooking!! 🙂 When i put him on his swing chair, he will play for 10 minutes, after that it is Dolby!!!! So, i need to stop whatever i m doing and go attend to him. So, with me running crazy these days, i try to keep the work @ the kitchen to the minimum. So, Sandwiches are real life-savers!!!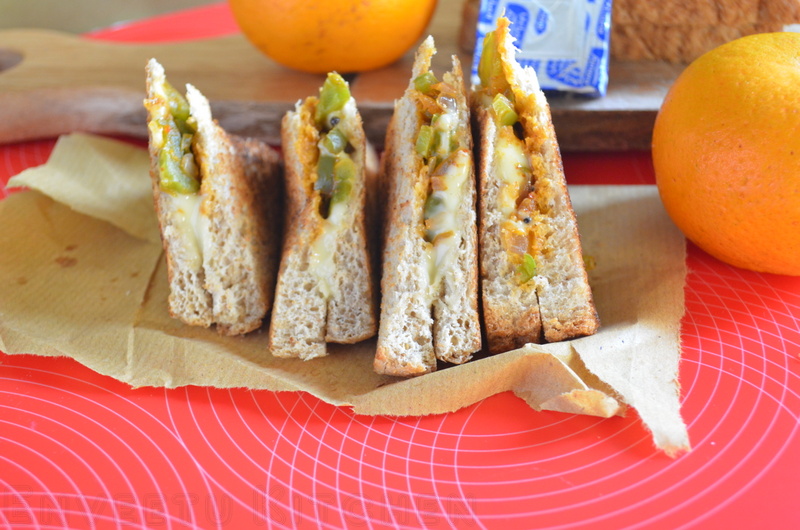 Ingredients (makes 4 sandwiches)
For the Filling
2 Medium Capsicums, thinly sliced
1 medium Onion, finely chopped
1 tbsp tomato paste ( i used store-bought) or one small ripe tomato
1/4 tsp garam masala powder
hing, turmeric each a pinch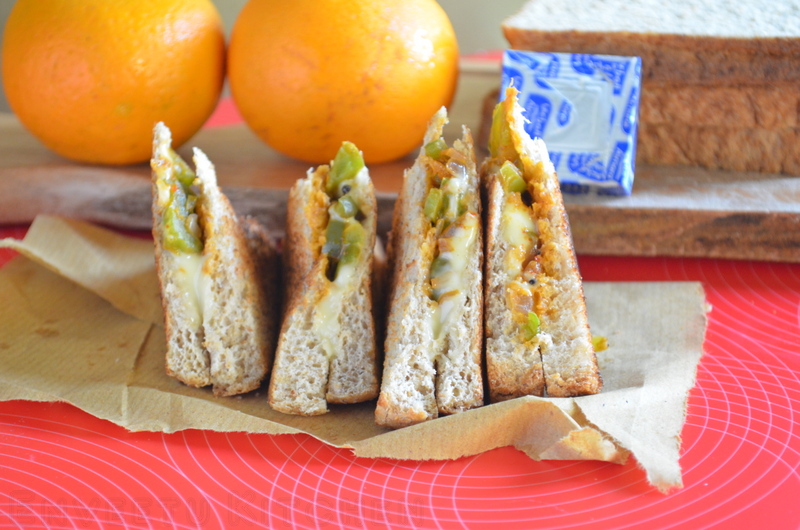 Sandwich
8 Slices of Brown Bread (Sandwich bread/White Bread/Wholemeal Bread)
4 slices of Cheddar cheese (i used low-fat)
Method
Filling
H

eat a pan oil, splutter mustard seeds, add cumin. After cumin crackles, add hing, turmeric and onion, saute until translucent.

Next add tomato paste, 1/4 Cup of water and all the dry masala powders and cook till the oil separates.

Add the thinly sliced capsicums and Mix well. Adjust Salt, cover and cook for 3-4 minutes. We dont want to make the capsicums mushy. Take it off the flame.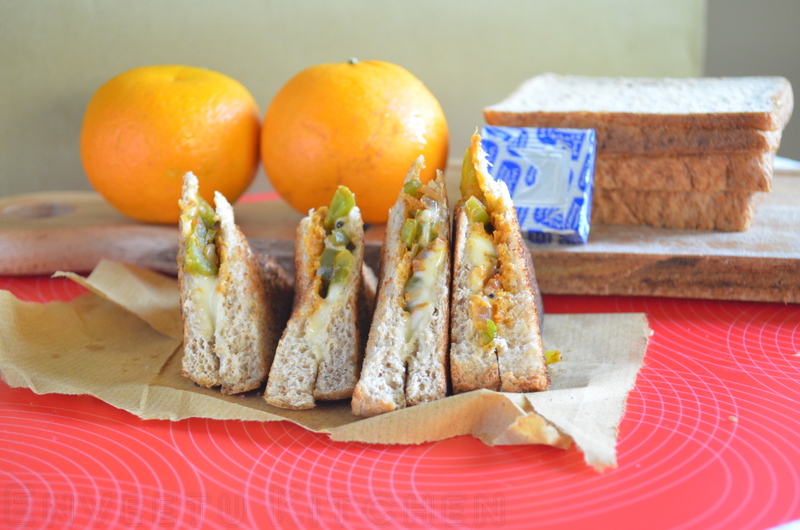 Assembling the sandwich
Place a Cheese slice on a bread slice, top it with 1 or 2 tsp of the filling and close it with another bread slice.

Heat a Tawa, toast the Sandwich crisp on both the sides. Cut it diagonally into four and Serve.