Fougasse is a flat bread from the region of Provence in Southern France, though you can find regional variations across the country. Fougasse can be either sweet or savoury and is somewhat similar to the Italian Focaccia. Traditionally this sweet version of the leaf-shaped bread was one of the 13 desserts served after Midnight Mass on Christmas eve, signifying the 13 participants at the Last Supper.
An essential component of this meal, the Fougasse (pompe a l'huile), a sweet bread made of olive oil and flavored with orange flower water and citrus zest.It should be torn apart when served, in the same way Christ broke the bread, and not cut with a knife, as they believe that the latter incurs bad luck during the coming year.
While searching for the recipe, i came across lot of varieties of this artistic bread. Rosemary and olive savory fougasse is the most popular among-st that list and they are such a treat to eyes too. Since i didn't fresh rosemary or olives in hand and also not sure how the taste would be welcomed at home, i tried my hands with this traditional sweet fougasse flavored with anise seeds and orange-blossom water. We loved the taste, i made 3 loaves, 1 vanished right from the oven. One loaf i have freezed for later use. if you plan to freeze, just cling-wrap it tightly and wrap again with aluminium foil and put it in a zip-loc with the date marked on.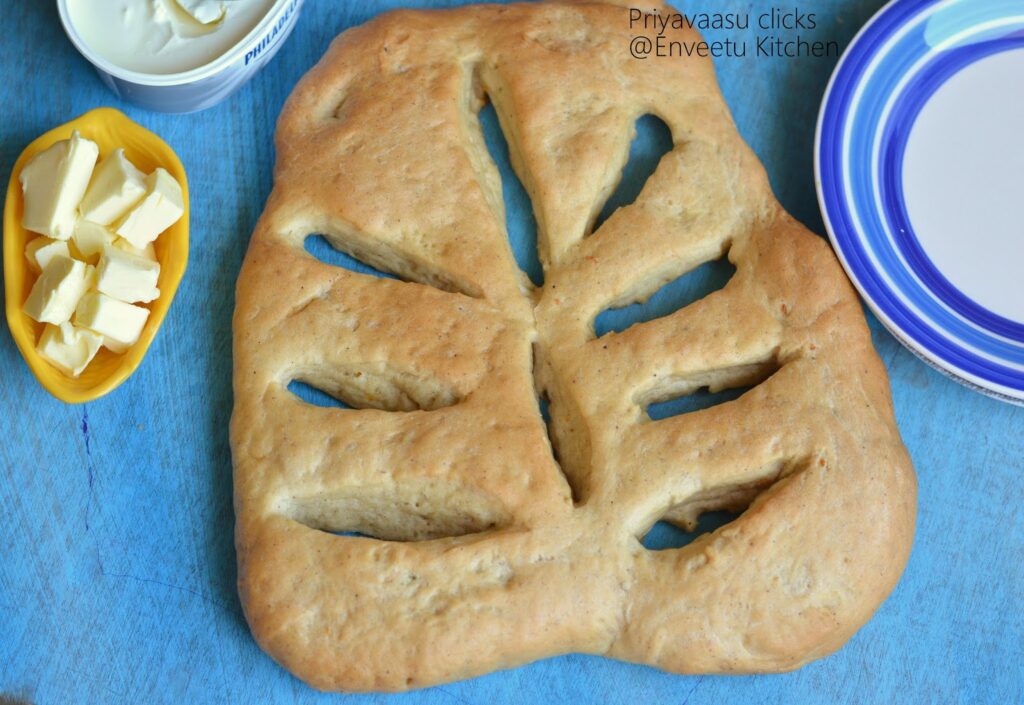 Source : epicurious
Video for shaping the fougasse
Ingredients
For starter
2 teaspoons instant yeast
For dough
1.5 Cups All Purpose flour
1 tsp anise seeds or fennel seeds, lightly crushed
2 tsp
orange-flower water or orange juice
1 tsp finely grated fresh orange zest
1/3 cup extra-virgin olive oil + 1 tbsp for brushing
1 1/2 teaspoons flaky or coarse sea salt
Make starter/Biga/Ferment
I used my food processor to make the dough so made the starter in the processor bowl itself and left it until ready tomake the dough. If kneading by hand, use a large bowl, that can hold about 4 cups of flour.

Take flour, sugar, yeast and pulse twice to mix well. Add water and mix well with a spatula. Leave it untouched for 45 minutes.

Since the bread used a starter, i have used wheat flour, as wheat flour gives better textured bread with a biga/ferment. You can very well make the ferment/biga with all purpose flour also.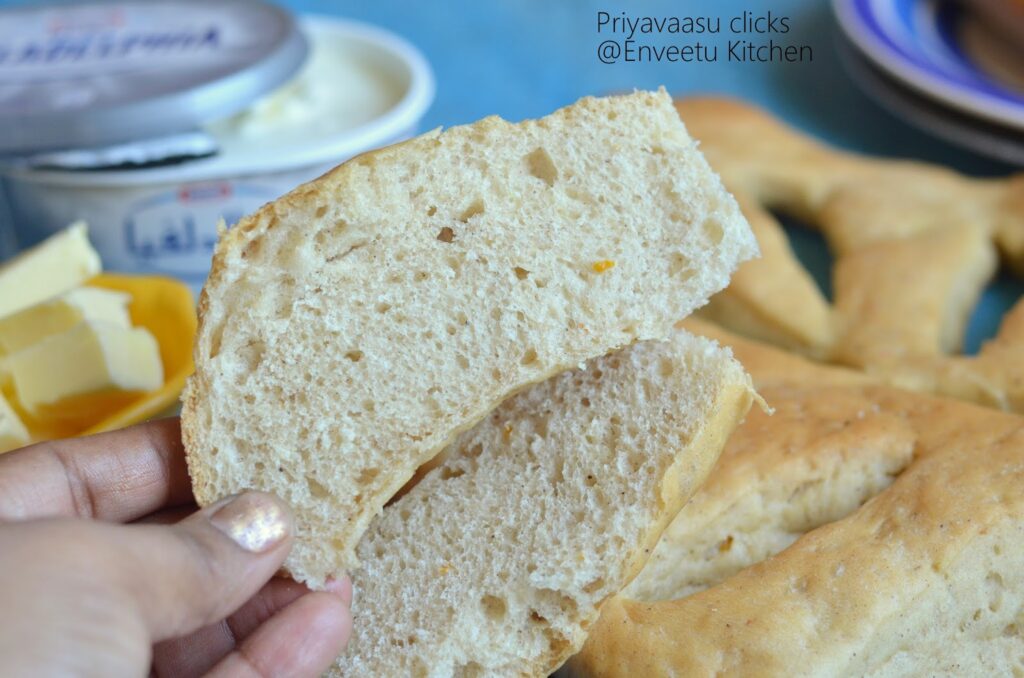 Make dough
Take crushed anise/fennel seeds, olive oil, orange zest, orange-flower water in a bowl, add water to this and mix well.

Add sugar, salt and half the flour to starter along with the liquid and beat at medium speed until smooth. Mix in remaining flour, 1/2 cup at a time, at low speed until a soft dough forms.

Knead for around 5-8 minutes to get a smooth and elastic dough. If kneading by hand you need to knead for around 10 minutes. The dough will still be sticky to touch but wouldn't stick to the surface.

Form the dough into a ball and transfer to a lightly oiled large bowl, turning dough to coat with oil. Cover bowl with plastic wrap and let dough rise in a draft-free place at warm room temperature until doubled in volume for about 1 to 1.5 hours.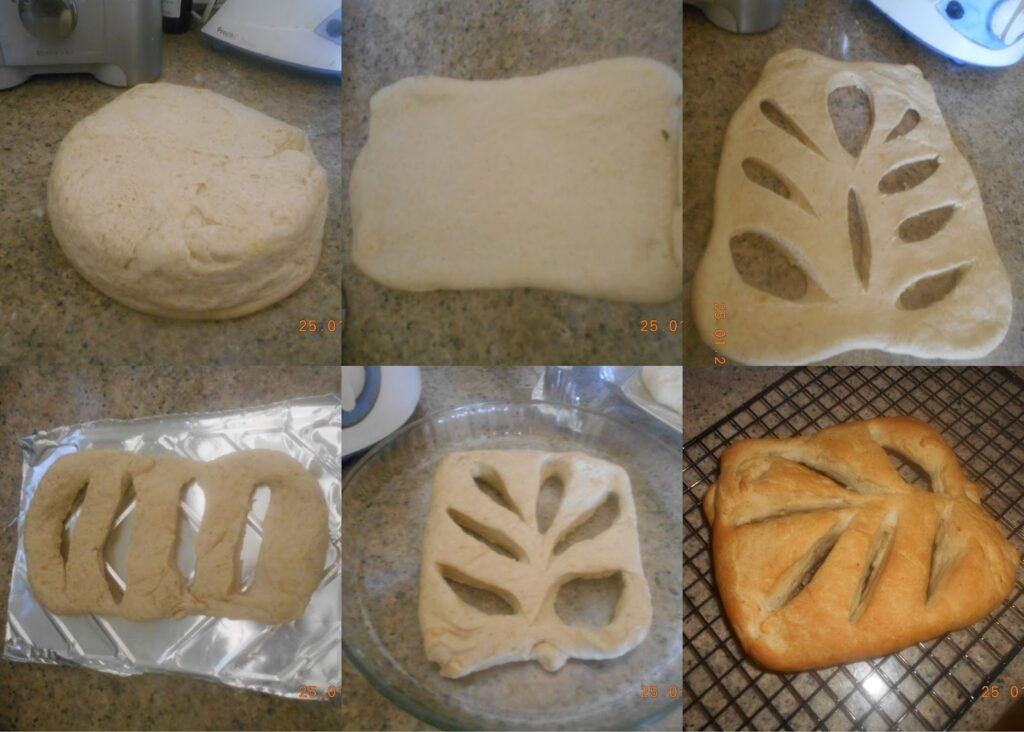 After the required time, take the dough out of the bowl and transfer it to a well-floured surface.

Punch down dough, do not knead it. Divide the dough into 2 equal parts. I divided one half of the dough into two equal parts. So, totally i had one half and 2 quarter parts of the dough.

Pat out each half into an oval (about 12 inches long and 1/4 inch thick), then transfer to 2 lightly oiled large baking sheets.

Using a very sharp knife, make a cut down center of each oval "leaf," cutting all the way through to baking sheet and leaving a 1-inch border on each end of cut. Make 3 shorter diagonal cuts on each side of original cut, leaving a 1-inch border on each end of cuts, to create the look of leaf veins (do not connect cuts). Gently pull apart cuts about 1 1/2 inches with your fingers. Let dough stand, uncovered, until slightly puffed, about 30 minutes.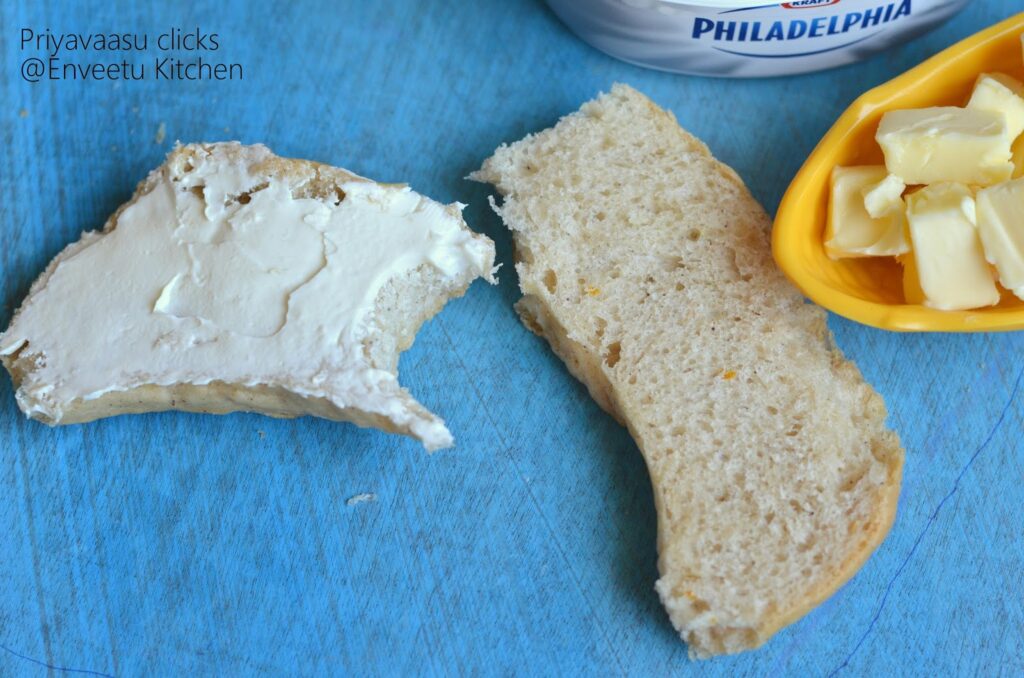 The cuts should be wide, since they tend to close while resting. The trick is to make the cuts and lift the dough by the corners to widen the cuts and lay them on the baking sheet. Watch this video for shaping the fougasse.

Preheat the oven to 180C. Brush the loaves with olive oil and sprinkle sea salt and bake for around 30-40 minutes or until golden brown.

Transfer the loaves to cooling rack and serve warm.
Sending this to Bake Fest #39, happening @ +Cooks Joy's space.


Check out the Blogging Marathon page for the other Blogging Marathoners doing BM#45