On the second day of Dinner/Lunch Ideas, i present you a cute rose stuffed with feta and coriander. The inspiration for this bake is from Veena's Paneer stuffed roses , since already i have some paneer bakes planned for the week, i didn't want a continuous paneer bakes for the week, so i went ahead and decided to use the famous spinach & Feta, but unforutnately, when i checked my fridge, spinach was very less and can't be used for the stuffing. So, i substituted it with coriander, so it becomes a sort of Indian & Middle-eastern fusion filling!! 🙂
I have used half bread flour and spelt flour here, you can make it either fully with bread flour or use All purpose flour all together. If using any one flour in full, take care of the water content used for the dough, you might need little less than the amount given here.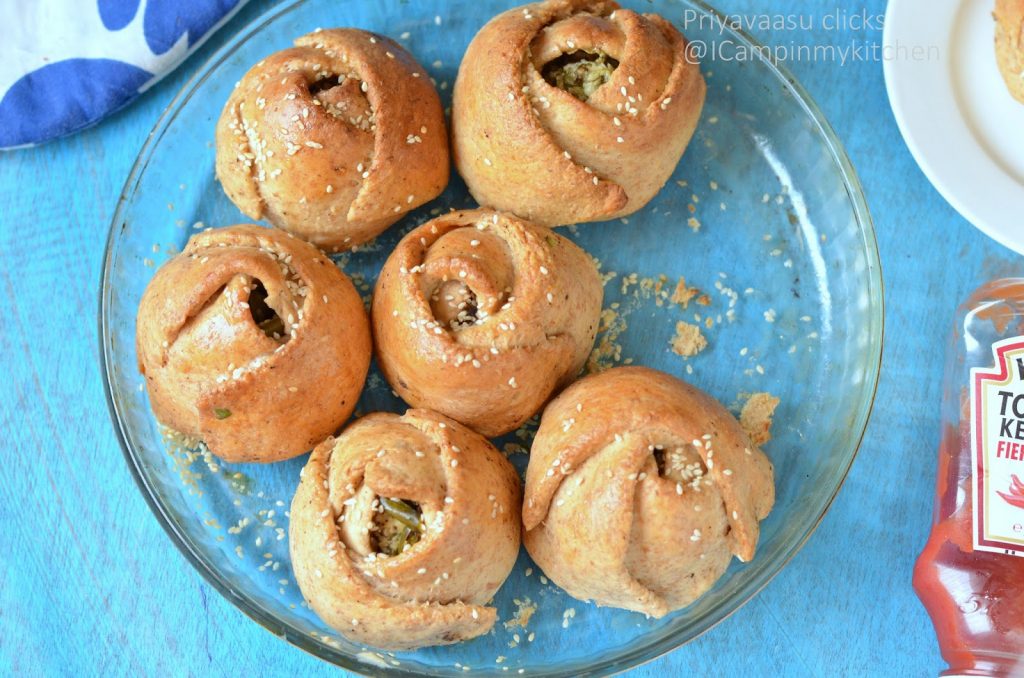 The stuffing can be anything that is dry and can hold shape. A dry aloo ki subzi/potato curry or mixed vegetable with paneer and some pasta/pizza sauce will also do good. You can even make a sweet filling, mawa filling, sweetened cream cheese with some candied fruits and nuts would be a delight! Try it and experiment with the filling and enjoy!
Ingredients
2 cups Bread flour
2 cups Spelt flour
1 tbsp instant yeast
1 tsp sugar
2 tbsp milk powder
1 tsp salt
1/4 Cup oil
1 & 1/2 cup warm water (+ 1/2 cup of extra )
1/4 cup yogurt/Milk (i used milk, if using curd, should be at room temperature)
1 or 2 tsp white sesame seeds for topping
1 or 2 tbsp milk for brushing the roses.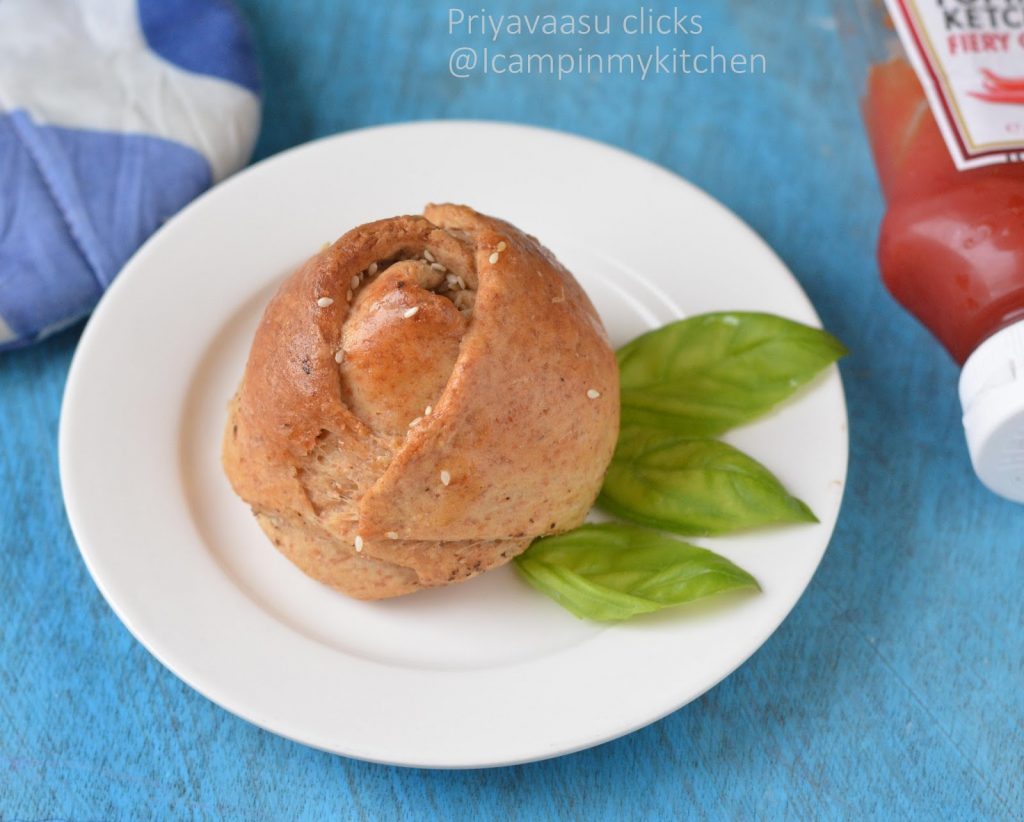 Filling
3/4 cup feta cheese cubes
1 bunch of coriander leaves
1 large capsicum, chopped thinly
a generous pinch of pepper
Method

I used my food processor to make the dough, the dough can be kneaded by hand too. Take both the flours, milk powder, salt, sugar and yeast. Run it a minimum speed for the contents to mix well.

Take milk and water together in a microwaveable mug, microwave high for 30 seconds. The liquid should be hot, not scalding hot. Add this liquid slowly to the dough mix and knead a smooth and soft dough. After adding liquid, add oil and knead for around 3-4 minutes to get a soft dough. If kneading by hand, knead for around 6-8 minutes to get a soft dough.

I have used a combination of bread and spelt flour, so i needed the water amount given here, if using all purpose flour or bread flour compleltely, then you might need less water than specified, so use water in small quantities (1/4 cup at a time) while kneading.

Once kneaded, place the dough in a well-oiled bowl, cover the dough with a kitchen towel and let it rest for an hour or until it is doubled. while the dough resting, lets prepare the filling.

Crumble the feta in a large bowl, wash and clean coriander leaves and chop them fine. Wash and chop capsicum thinly. Mix them together add a generous pinch of pepper. Divide the filling into 14-15 portions, according the number of dough portions.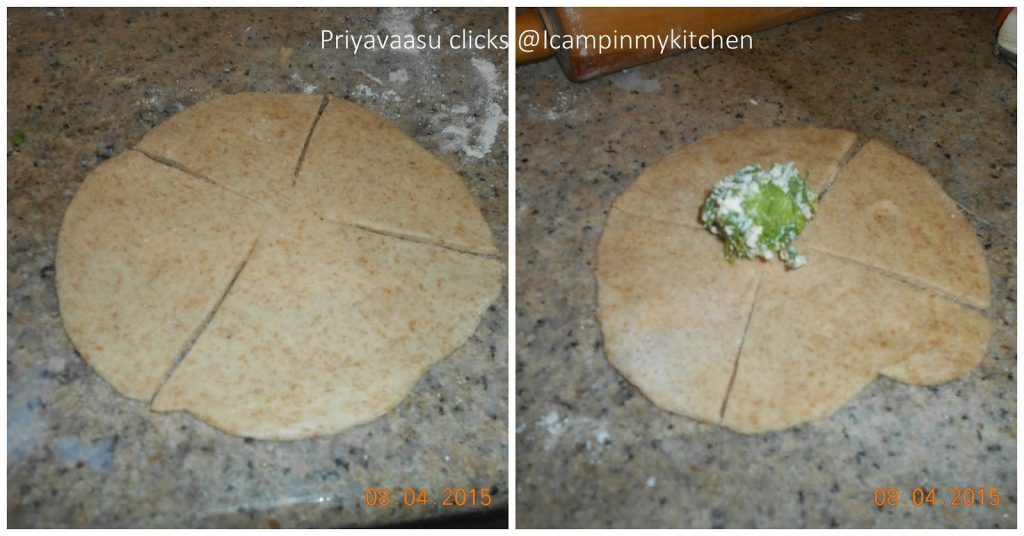 Once the dough has doubled, punch it down and divide it into 14-15 portions. Dust your working area with flour, Knead each portion and roll into a round about 5-6″ inches in size. Place a portion of filling in the center of the rolled dough. Keeping the center intact, make 4 slits around the filling in the shape of '+'sign.

Fold each quarter of the dough around the filling like a petal around the filling. Hope the picture helps in shaping. Once shaped like a rose, cup around the base to give it a good curved base. place the shaped roses on a parchement lied cookie tray. Repeat the same with the rest of the dough portions.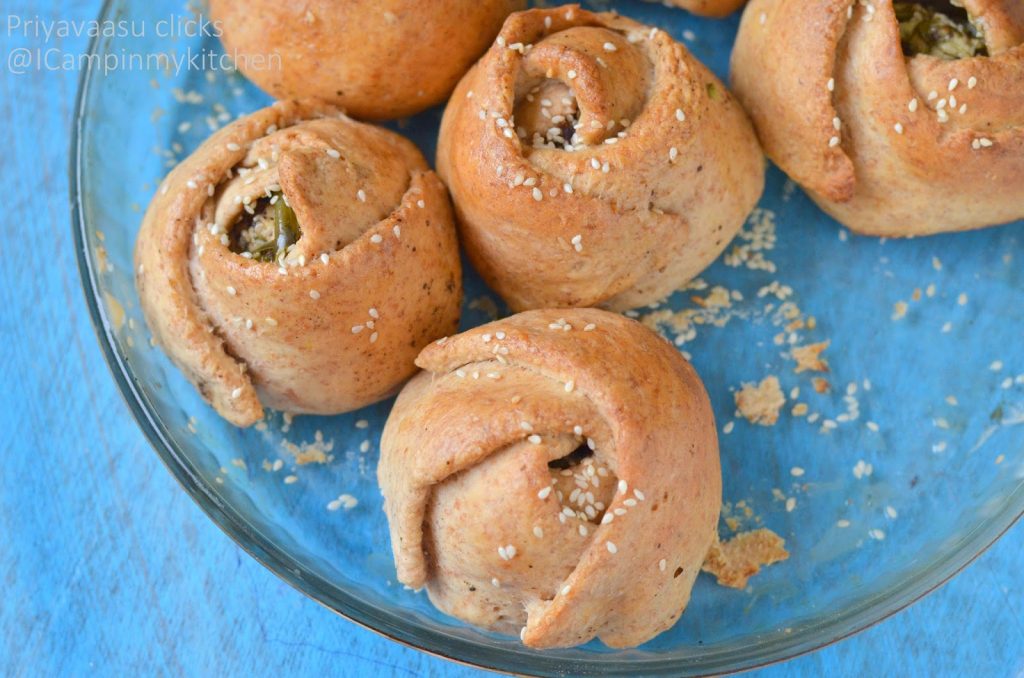 Let the shaped roses sit for about 45 minutes. During the last 10 minutes of the second rise, preheat the oven to 180C. Brush the roses with milk and sprinkle sesame seeds on top. Bake the roses for about 20-25 minutes or until they turn golden brown.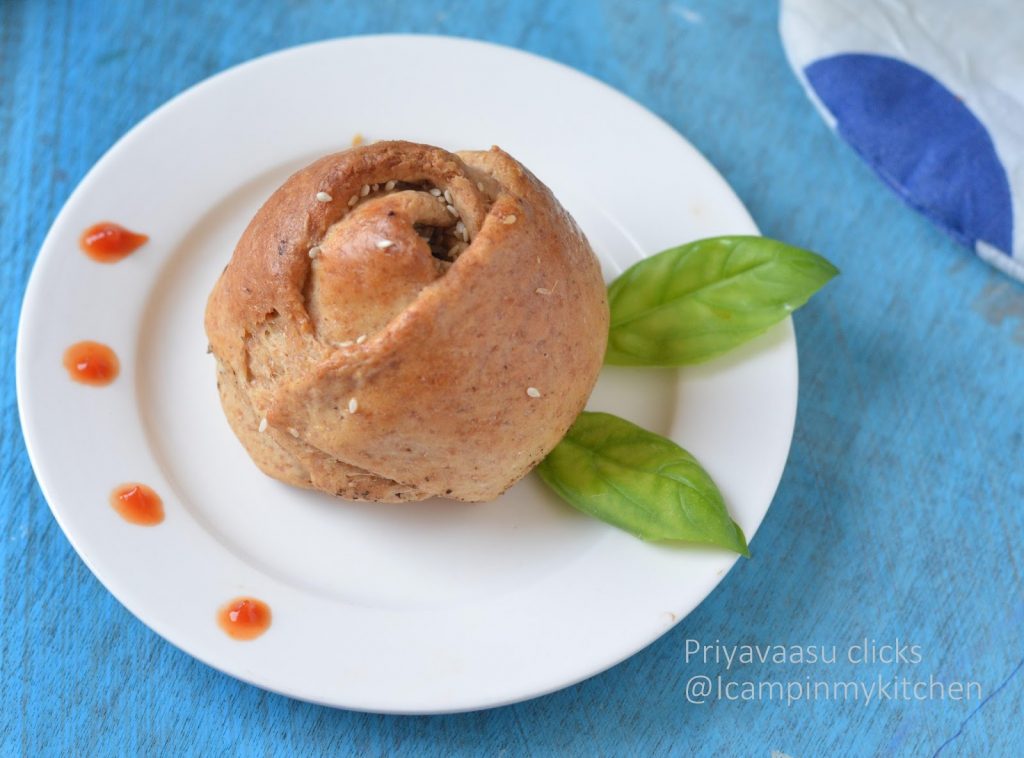 Take them out of the oven, and move to cooling rack to cook a bit. Serve them warm with tomato sauce.