These are one of the first bakes i did when i decided the themes for the Marathon. This particular rolls were done in early
January and my god i would have baked them twice after that. These are very soft and fluffy rolls and those berries and raisins make it even more rich and healthy. You can even add some walnuts to this and make it more fuller.
This is another keeper recipe. Since i started baking a bit early for this marathon, i planned recipes to be either our breakfast or dinner and some for our weekend evening snack. In the name of these bakes, i served hubby darling soup or salad along these bakes for dinner, it was like hitting many fruits with single stone!!!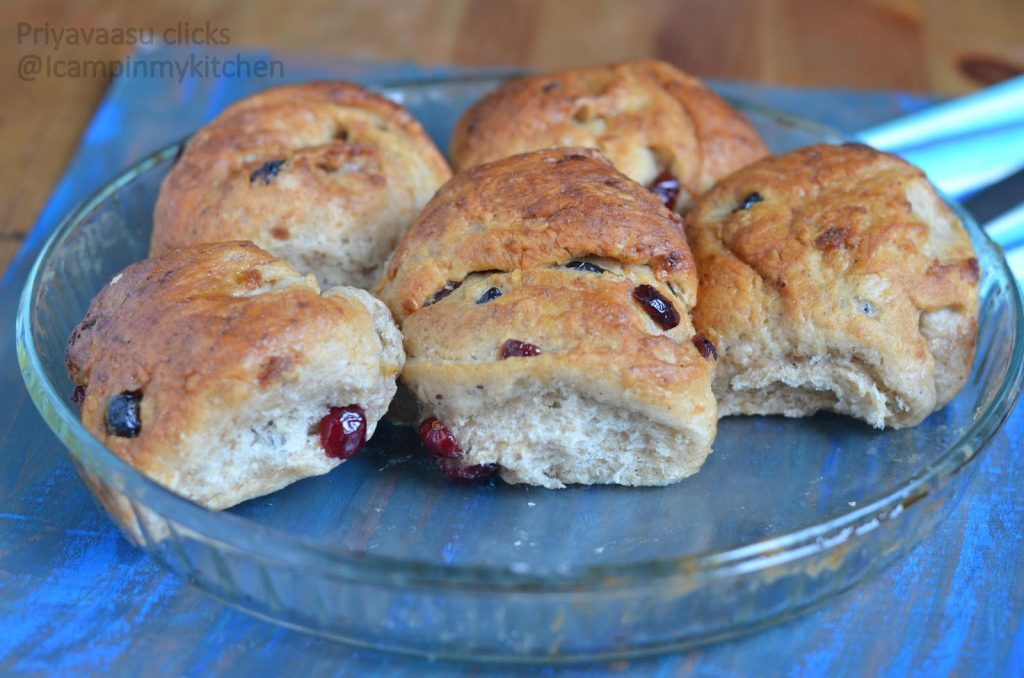 This recipe was baked on a weekend for evening snack and as well as to cover the lazy weekend morning breakfast. It served the purpose well. The rolls were fuller and tasted good with a hot cup of tea/coffee and also a complete breakfast. I served with some fresh orange juice and they fit perfect!!!
Source: Averie Cooks
Ingredients
3 1/2 cups bread flour
1 cup old-fashioned whole rolled oats (not quick cook or instant)
1 & 1/4 cup Milk
2 1/4 tsp instant dry yeast
1/4 cup honey
3 tbsp oil/butter
1/2 tsp salt
1 cup mixed berries & raisins (combination of raisins, cranberries, currants, or other dried fruit may be used)
1 1/2 tsp cinnamon
Brushing the tops of the rolls
2 tbsp unsalted butter, melted
2 tbsp honey
Heat milk in a saucepan, add honey and stir to dissolve. Let the milk heat up, do not let to boil. Take it off the stove and add butter to it. Let it sit and hit lukewarm to be used to knead the dough.

I used my food processor to make the dough, it can also be hand kneaded. Take flour, salt,yeast and cinnamon together in the food processor bowl.Run at low speed for a minute for the contents to mix well. Add dried berries to it and run again for 1/2 a second to mix.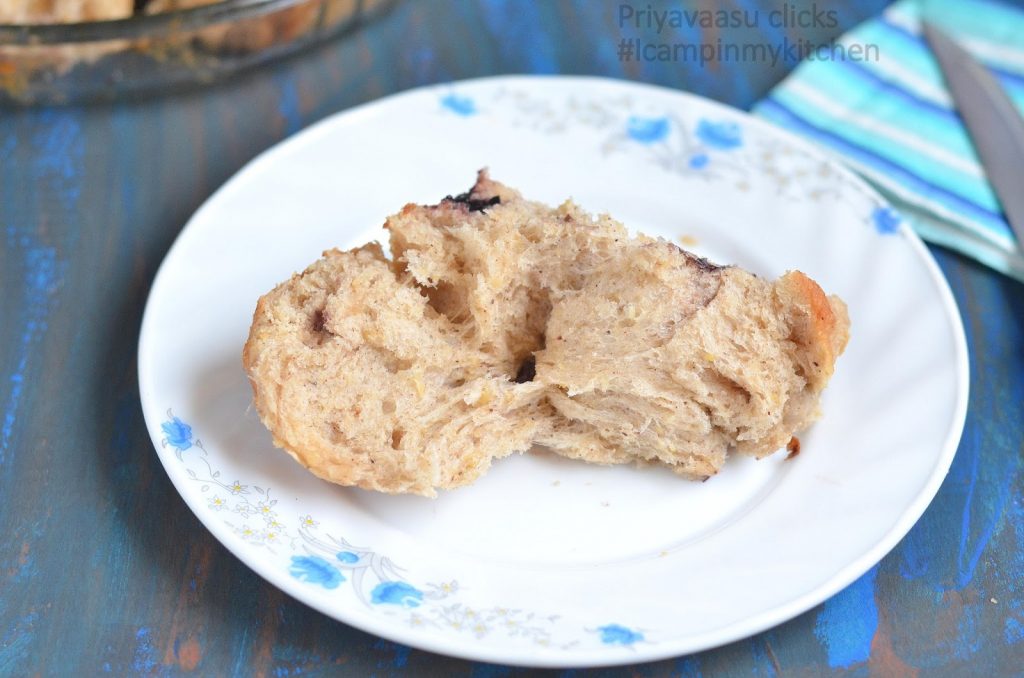 To this mix, slowly add lukewarm milk and start kneading a soft dough. If kneading by hand knead about 8-10 minutes, sprinkling flour as when required to get a smooth dough. I kneaded till i got a sticky dough in the processor and then took the dough to the kneading surface(i,e) my kitchen platform and hand kneaded it to get a smooth dough. Dough will be firm, smooth, not sticky, and elastic.

Place dough in a greased bowl. Cover with clean cloth and let rise in warm, for 1 hour or until doubled in size. After it doubles, Punch down dough. Turn dough out onto lightly floured board and knead for 5 minutes. Divide dough into 12-15 equal pieces and shape into round rolls. Place rolls on greased baking or cookie sheet. Cover and let rise in warm place for 40 minutes or until doubled in size.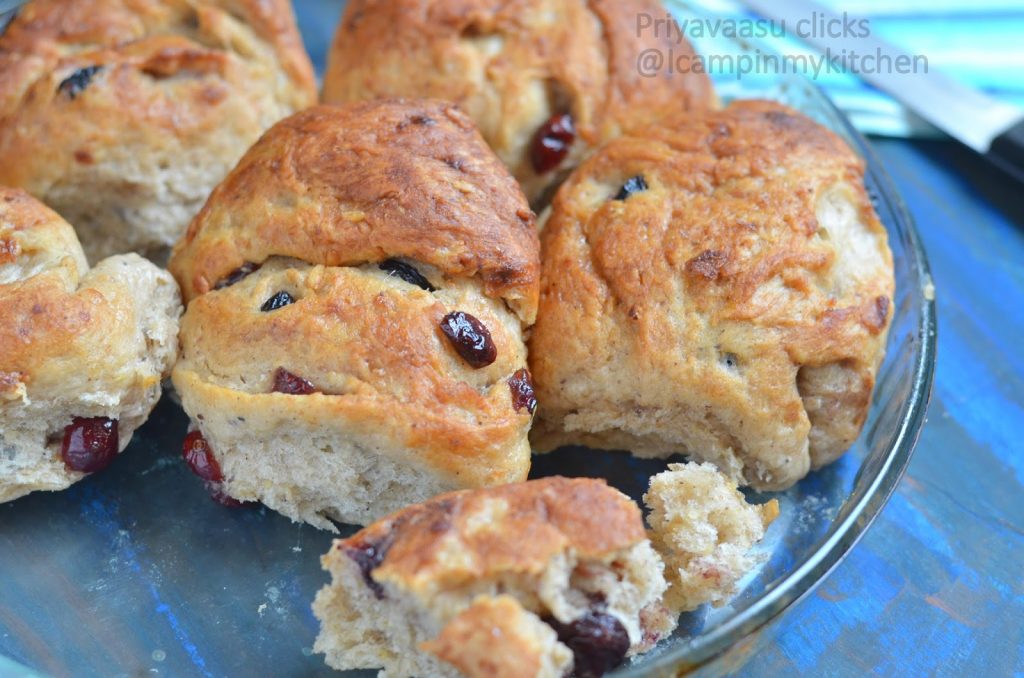 Preheat the oven to 180C , brush the top of the rolls with honey and butter mixture. Bake the rolls for 25-30 minutes or until rolls turn lovely golden brown on top. Remove rolls from sheet and let cool a bit on a wire rack. Serve warm as breakfast/snack.

Rolls can be left on the counter for 2-3 days in a air-tight storage. While serving warm it for 20 seconds in a microwave. These can also be frozen to be used later. If serving for the freezer, wrap it in a foil and bake again @180C for 10 minutes and serve warm.