For the second day of Bake-a-thon, i m bringing you a yeasted banana bread. This recipe is from We Knead to Bake, bread baking group by
+Aparna Balasubramanian
. The recipe was baked in September 2015, since i was so lazy to bake that time, i did it for Bake-a-thon.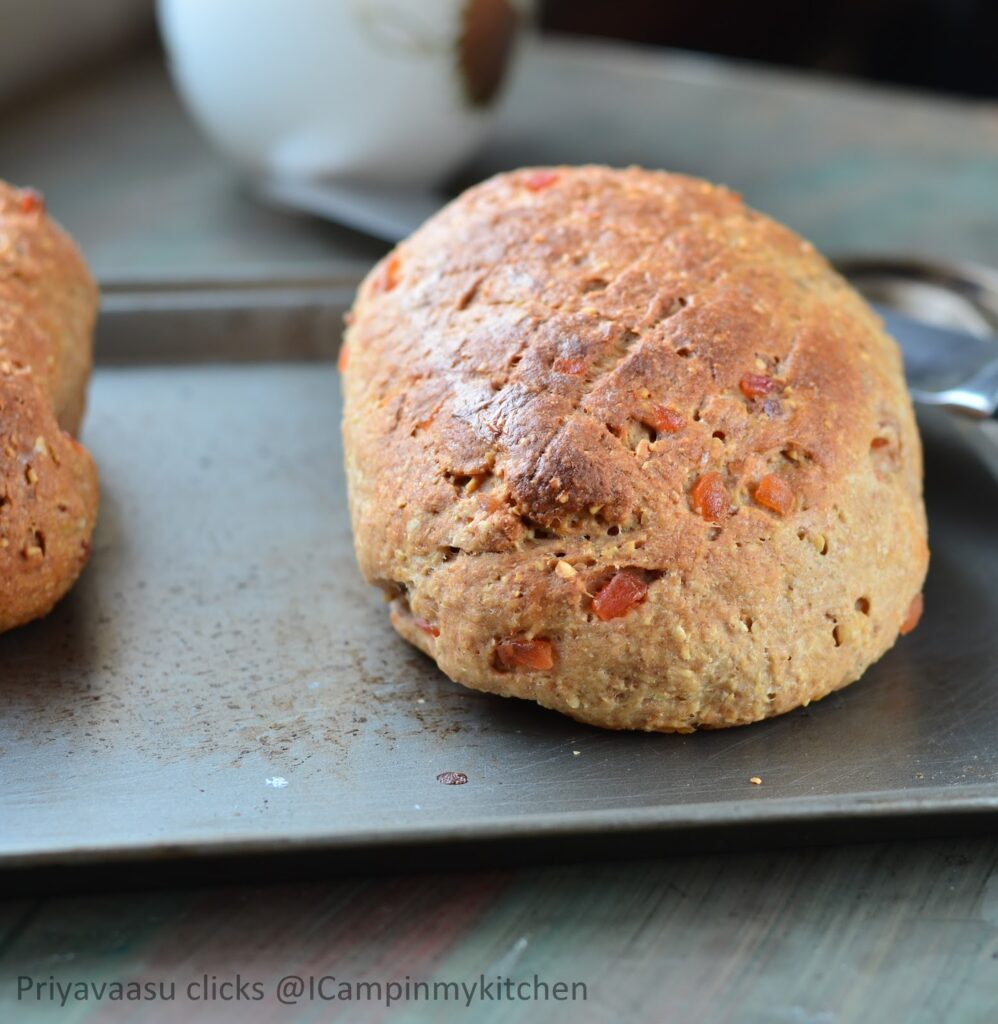 The original recipe is a sandwich bread, but i have tweaked the recipe a bit and made it as a coffee bread/Breakfast bread. Instead of regular bread flour or APF, i have used Oats and Whole wheat flour. The texture of the bread might look a bit dense, due the combination of these two flours, but then trust me the taste is spot on. You don't need any spread along with the bread, the taste is correct and the those chopped walnuts adds a nice crunch to the colorful bread.
Source here
Ingredients
1.5 cups of Whole Wheat flour
1 cup of oat flour (coarsely ground)
1/2 cup of All purpose flour
1/2 – 3/4 cup of warm milk
2 tbsp butter
2 tsp instant yeast
1 tsp salt
1/4 cup sugar
1/4 cup chopped walnuts
1/4 cup tuttifrutti
2 medium-sized ripened banana's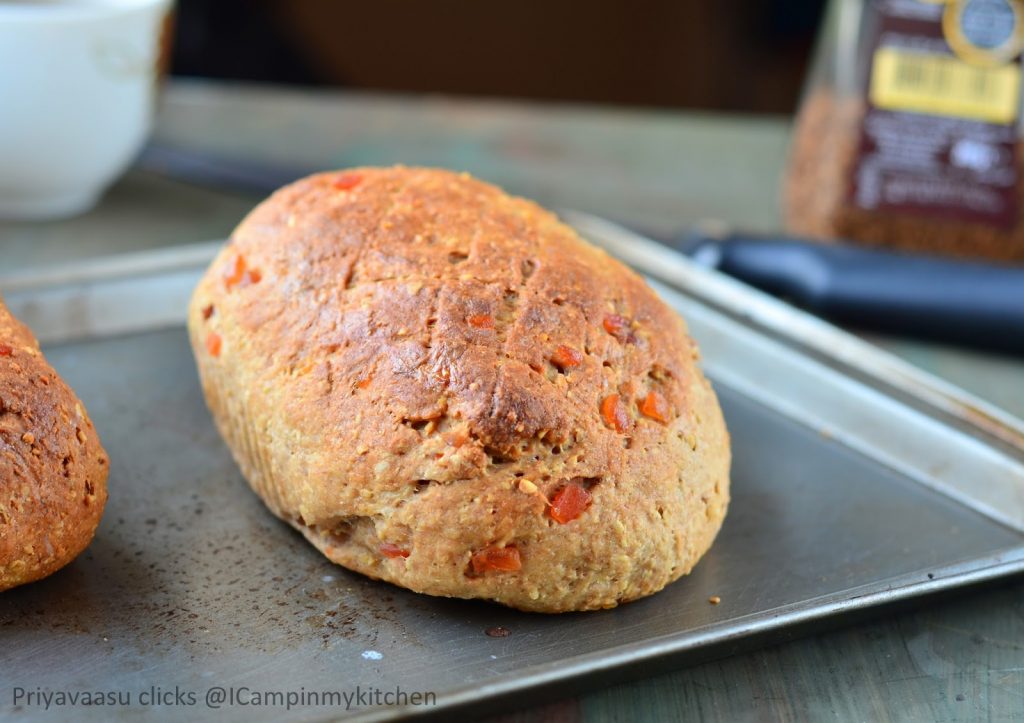 Method
I used my food processor for kneading the dough. The dough can also be kneaded using hands, but i preferred the easy way. 😉

In a microwave-safe jug take milk, heat it for 30 seconds to be warm enough to work the yeast. Add butter to it.

Take the flours together in the processor bowl. Add yeast, salt, sugar, chopped nuts and tutti-frutti to it. Run the processor for the flours to mix well. Add chopped banana's to it and run the mixer again.

Now with the mixer running, slowly add warm milk to it and knead a shaggy dough. Do not add all the milk at the same time, you might require a little less than the 3/4 cup.

Once a gooey dough is formed, take it of the processor to a well-floured kneading surface, knead it well for around 8-10 minutes until it smooth and soft.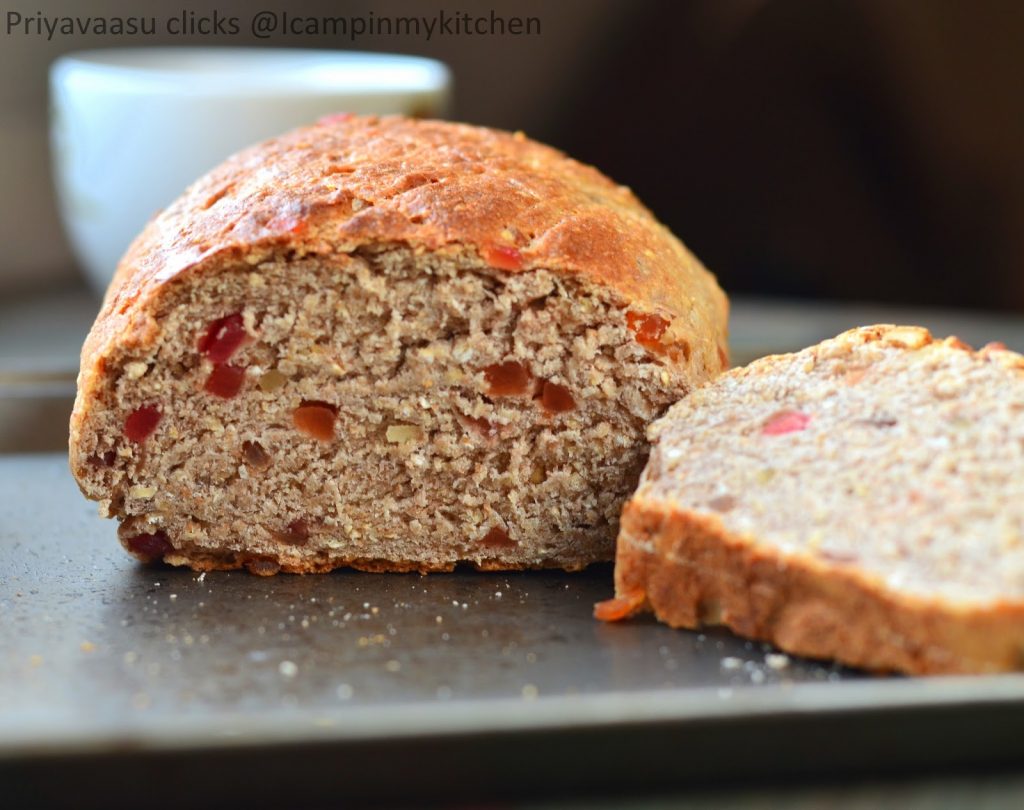 Place the dough in a well-greased bowl, cover and keep for about 90 minutes or until it doubles in its size.

I rested it for 90 minutes.

After the first rise, remove the dough on to a kneading surface, punch out the extra air. Knead for a minute and divide the dough into two equal parts. If baking as one big loaf use a 10 X 9 inch pan. I baked it into two loaves, so divided it into two halves. I used small aluminium take-away containers as my baking pan.

Divide the dough and shape them into two big balls and place them on the baking tray. Let this dough rest for another 45 minutes to one hour. During the last 15 minutes, preheat the oven to 200 C. Make some fancy slashes on top of the bread, brush the tops liberally with milk. Bake them for about 30-40 minutes or until the top is nicely browned and the bottom sounds hollow when tapped.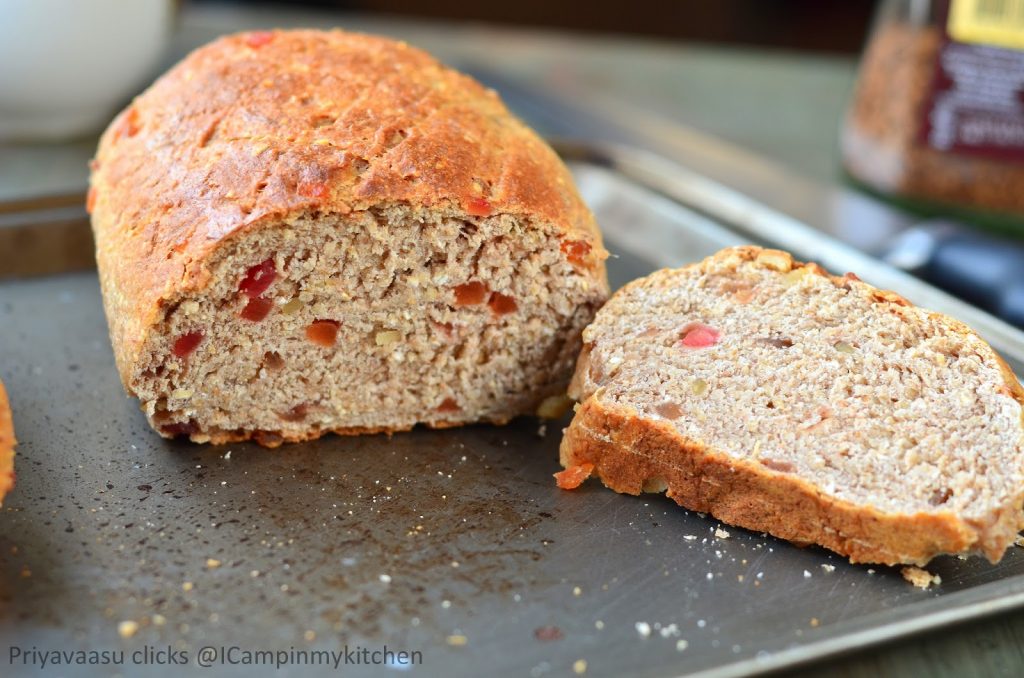 Remove it from the oven, brush the top with little butter and let it cool completely on a wire-rack. Slice and serve it along with your evening cuppa or have it warm for your morning breakfast.
This is part of the