Cheese cakes, name itself make many go weak on their
knees. And i m one of them in that list. While thinking on what new to make this Krishna Janmashtami, i got a flash of doing this exotic dessert with gulab jamuns, which was in my to-do list for a long time now. As a coincidence, i made some gulab jamuns too the previous day. So, it was very much easy to assemble this dessert with all the ingredients available in hand.
Normally, cheesecakes, especially no-bakes, have their base as graham crackers or biscuit base. Now first of all,i didn't have biscuits in hand and secondly i didn't want the regular base.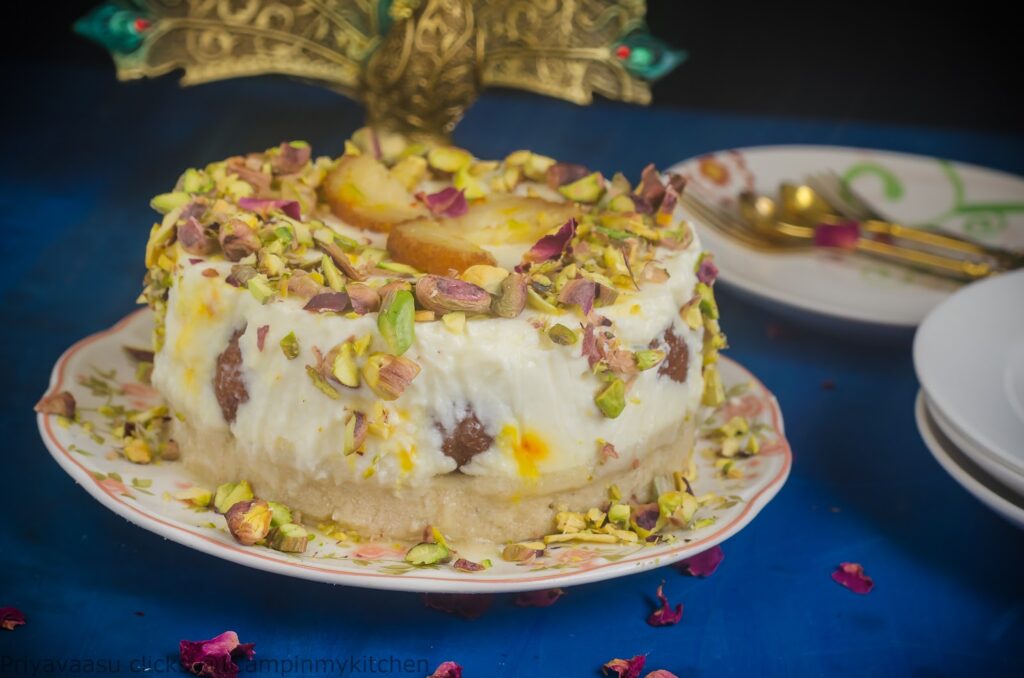 So, i went back to my favorite millets as the base. I already have a millet-based tart done before, Poha-millet chocolate tart with strawberry filling. I followed the same recipe, but this time i used cashewnuts instead of almonds. The result was a pure white base with white filling and surprise jamuns peeking from inside.
You can very well use biscuit/Oreo cookies as the base and continue with the same filling. The result will be as awesome as it looks here. Do try and let me know how you liked it.
Ingredients
1 cup poha
1/2 cup Kodo Millet/Varagu arisi/Kodra/Arikelu
1/2cup cashew nuts
1/3 cup sugar/ jaggery/brown sugar
2-3 pods of cardamon
2 tsp ghee (optional)


Filling
8 no gulab jamuns
1/4 cup China grass/agar-agar
3/4 cup hung curd
1/2 crumbled paneer
1/2 cup whipping cream
2 generous pinches of saffron
1/3 sugar or 1/4 condensed milk
1/2 cup chopped pistachios for topping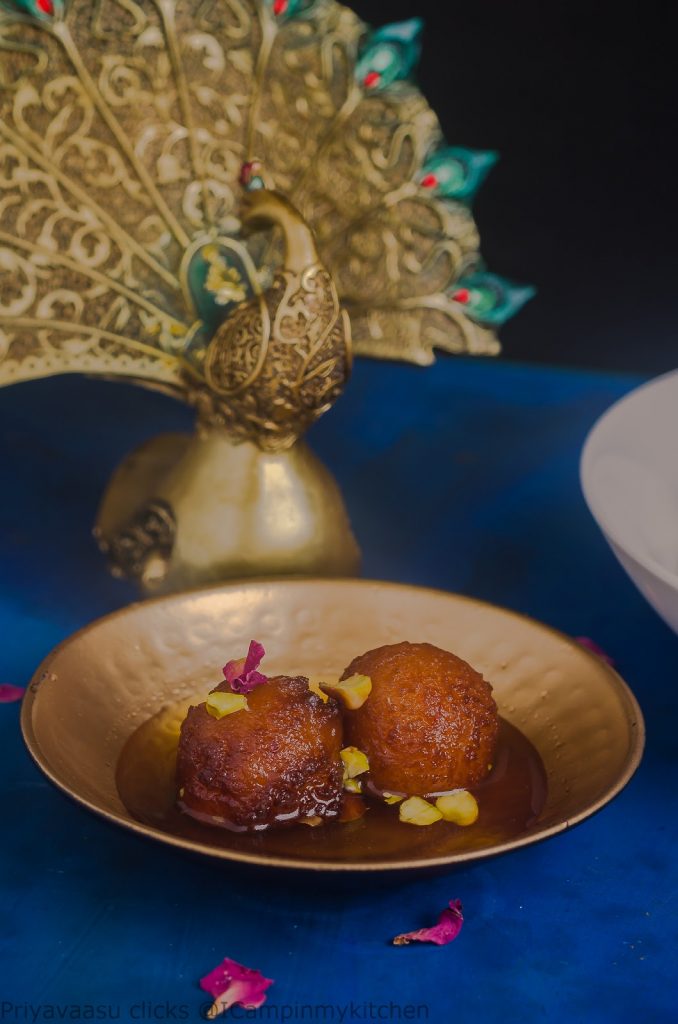 Method
Preparing the base
Prepare a 4 inch removable Base tart pan by greasing it with little ghee and keep it ready.

Dry roast the base ingredients poha, millet and cashewnuts separately.

Let it cool completely.

Take poha in a mixer and grind into a fine powder. Remove it to a flat plate. Now grind the millet to a fine powder.

Now take both the powders along with cashew nuts and cardamom in the same mixer and pulse grind until the mixture comes together.

Remove the ground mixture on to the tart pan and press it well to the bottom using a spoon or with your bare hands. I kept aside around 1/2 cup of the mixture and made shots with it.

Refrigerate the base until we prepare the filling.
Preparing the filling
Soak the china grass/ agar -agar gar on 1/4 cup of water for 15 minutes.

After the said time. Heat the soaked agar-agar along with the water in a simmer flame. Keep stirring. Let the strands dissolve well in the water.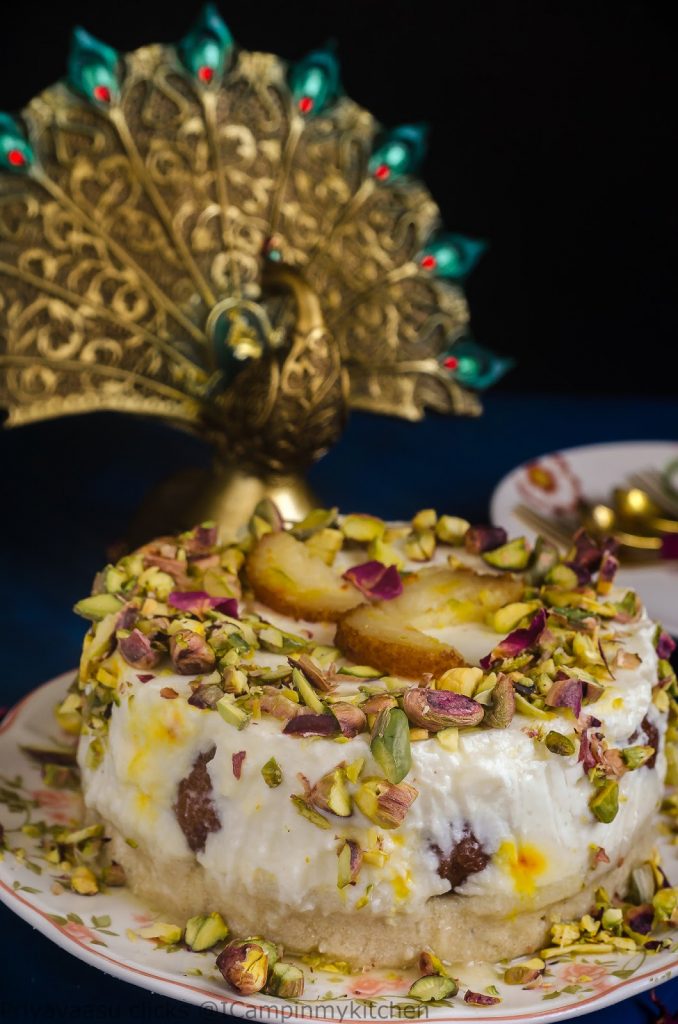 Take hung curd, paneer, cream, sugar/condensed milk together in a mixer/blender. Blend smooth. To this add saffron strands and strained agar-agar mixture. Whisk well.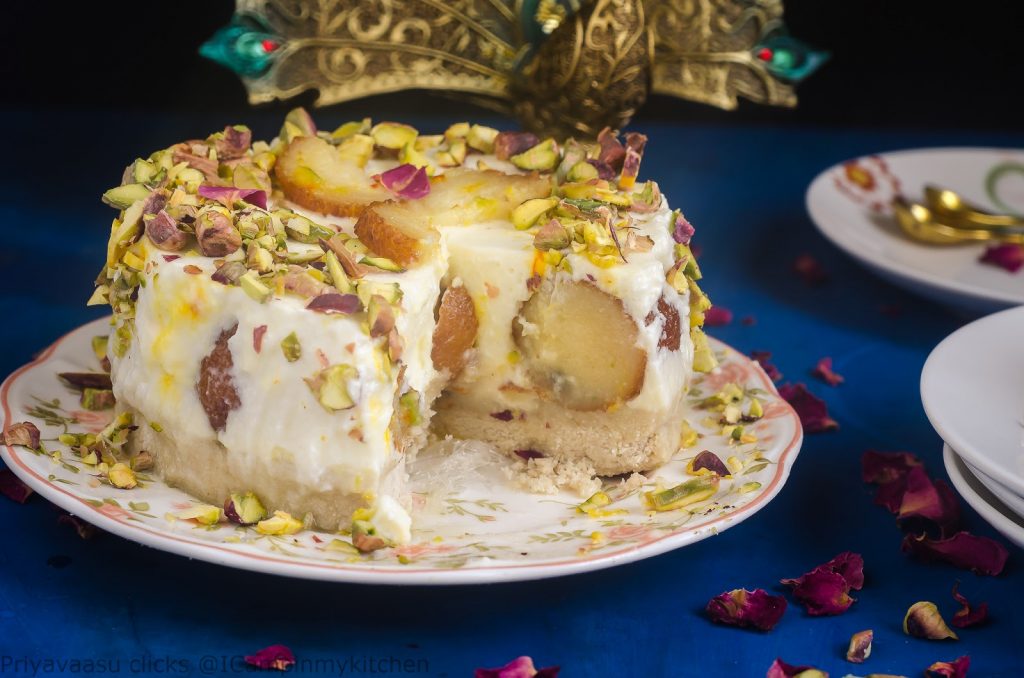 Assembling the cheesecake
Now remove the Base from the refrigerator. Place the gulab jamuns on top of the Base. I place 6 jamuns around the edges and 1 in the center. Now pour the blended cheese mixture on top of the jamun laid Base. Tap gently for the cheese to settle.

I had about 1/2 cup cheese leftover which poured into the cheesecake shots.Cling wrap and refrigerate at least 6 hours or overnight.

Next day remove the cling warp, gently remove the cake from the tart pan. Sprinkle toasted pistachios on top. Cut and serve and enjoy the flavors.