For Day 4, Blogging Marathon, i m serving a Quick n Easy Lunch thali. There might be days in a month, where i just love a one-pot meal, which doesn't need much time to cook and no constant supervision. This Thali was made on one such day. It contains 2 Varieties of Mixed Rice and Curd Rice. 
Bisibelabath/Sambhar Saadam a Favorite South-Indian One-Pot meal. Ask anyone they wont mind having it anytime of the day. i remember my good old school days. I did my schooling  @ RKM Sarada Vidyalaya, TNagar.  I was in the music group and we used to go to Ramakrishna Mutt for bhajans during Ramakrishna/Sarada Devi/Swami Vivekananda Birthday. After the bhajan sessions, we used to get Hot Hot Sambhar Saadam as Prasadham. Oh my, it used to so good, we just long for some more. Good old days!!!!
After marriage, when i started making Bisibelabath, though the it tasted good, i still felt something was missing. I used make the whole process directly in the Pressure cooker, so the vegetables would be mashed beyond recognition.Sometimes back, i came across Jeyashri Suresh Bisibelabath recipe, and tried her method of cooking Rice-Dal separately and mixing it with Sambhar, the taste was so amazing and finally i was able to taste that Good old Bisebelabath of RK Mutt!!!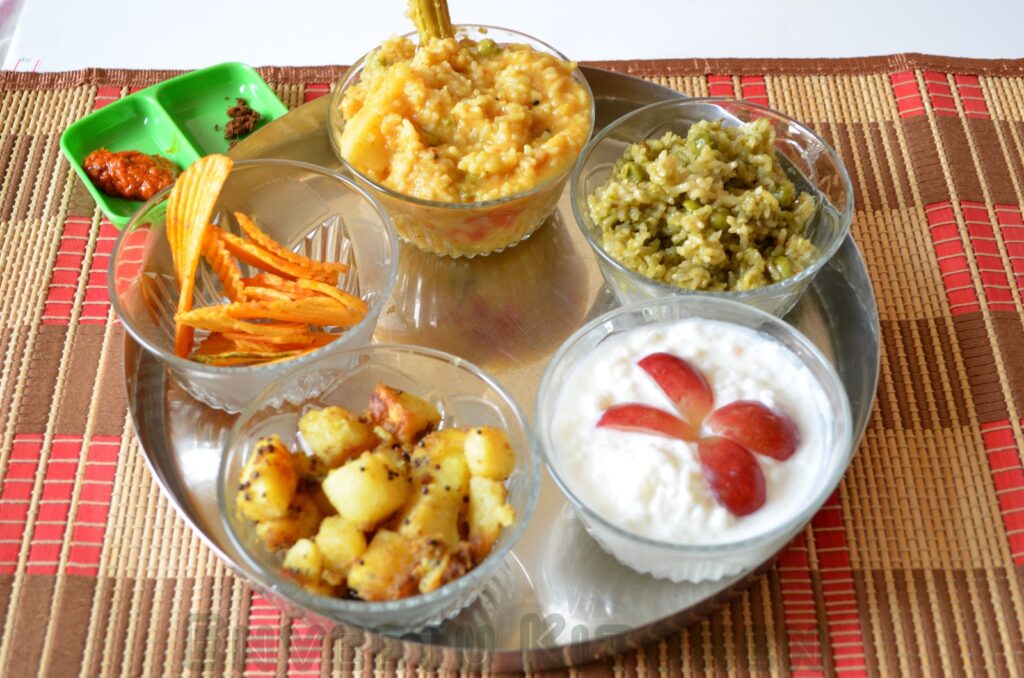 Quick Lunch Thali Menu
Ingredients
1/2 cup Tuvar Dal/Pigeon peas
1 Capsicum, Deseeded and roughly chopped
1 large potato, peeled and cubed
1 carrot, peeled and cubed
a handful of cauliflower florets
1/4 Cup Green Peas (i used frozen)
1/2 cup of small onions(shallots)
1 1/2tbsp sambhar powder (store-bought powder can also be used)
Tempering
1/2 tsp mustard seeds/kadugu
1/4 tsp Fenugreek/methi seeds
1 no red chili, broken into two pieces
To Grind
11/2 tbsp coriander seeds/dhaniya
2 tbsp chana dal/gram dal
2-3 tbsp freshly grated coconut
1 garlic clove (optional)
Method
Pressure Cook Rice and Dal together in 3 Cups of Water and pinch of turmeric for 3-4 whistles. 

Soak Tamarind in warm water and extract juice. Tamarind extract's strength varies according to the variety of tamarind you use. So, if you know well about the sourness of the tamarind, chose the amount accordingly and extract juice.

Cut the vegetables and keep it ready. There is no hard and fast rules regarding the vegetables used. Any combo of mixed vegetables can be used.

Soak the shallots in a bowl of warm water for 10 minutes. It will be easy to peel the skin. 

Dry roast Coriander seeds/dhaniya, chana dal, red chilies given under "To grind". Grind it together with rest of the ingredients given there to fine paste using little water.

Heat gingely oil given under tempering in a Wide Kadai/Pan, Splutter mustard seeds, add fenugreek/methi seeds, add red chili, hing/asafoetida, turmeric and curry leaves and saute.

Add small onions/shallots and saute till translucent.

Add Tomato, and saute. Add the chopped vegetables and saute for 2-3 minutes.
Add Tamarind extract, mix well. Add Sambhar powder and ground paste to this, add salt and mix well.

Let this boil and the vegetables cook in the tamarind extract for 10-15 minutes.

Add the Cooked Rice-Dal Mix to this and mix well. 

Reduce the flame and let this cook for 15 minutes, till it comes together well.

Alternatively after the veggies cook in tamarind extract, transfer this to a pressure cooker, along with cooked rice-dal mix and add a cup of water and let it simmer for 10-15 minutes without the whistle. 

Serve Hot with Potato Fry or Appalams /Chips.
Check out the Blogging Marathon page for the other Blogging Marathoners doing BM#15
Sending this to Thali Mela, happening @ Cooking 4 all Seasons, Event by Srivalli