While deciding what to cook for E, only choice that popped in my head was Eggless and some bake! Now i didn't want to post a bake recipe in this series. I wanted to keep the theme as simple as possible, where each and every dish can be prepared in every kitchen without any
 fancy equipments. 
When you are cooking for a mega BM, your mind will be constantly thinking about food based on themes and in this case ours is trained to think in A-Z series too! 😃 So, one such lighting moment, i thought about Eggplant Toasties.
Voila, if only i could hug my brain!😆 One of the best choices in this Breakfast series in this Eggplant Toasts.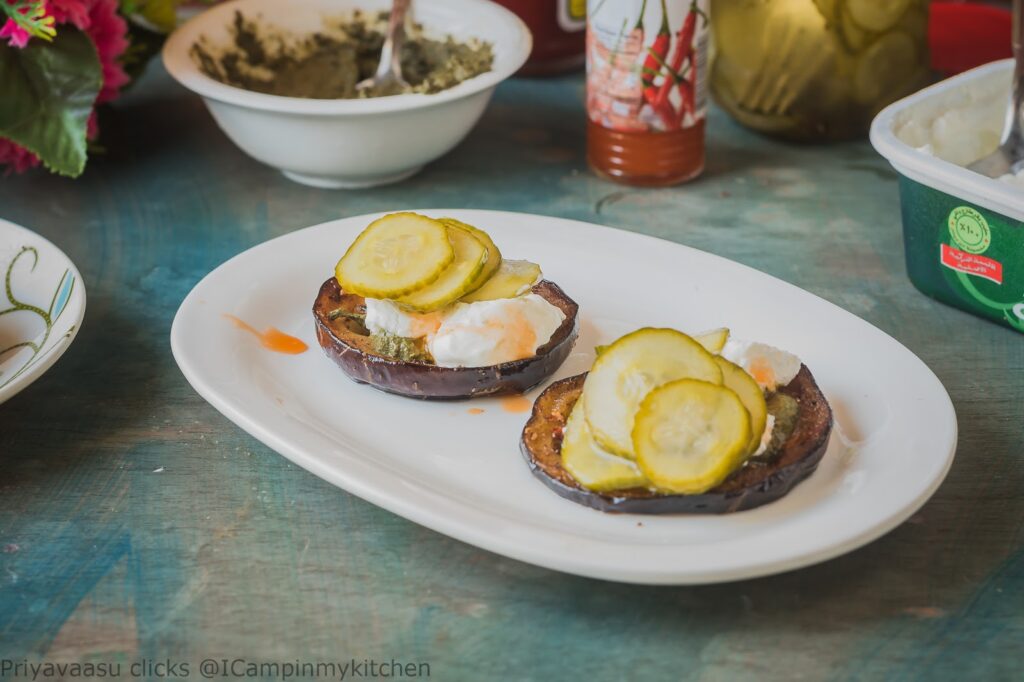 I decided to marinate the Eggplants in Ras El Hanout spice mix which i made for the moroccon cuisine. If you dont have the spice, i would highly recomment you to make it, it is awesome spice that comes so handy in many of our regular cooking.  If you are not keen to make it, then go ahead and use red chili powder, coriander powder mixed together or if you have tandori masala, use that.
Once the Eggplants are nicely toasted, the toppings are innumerable. You can use any chutney/spread/pesto along with some veggies or pickles, make it sweet or salty or spicy.  It is a flavor bomb! Do try and let me know how you liked it!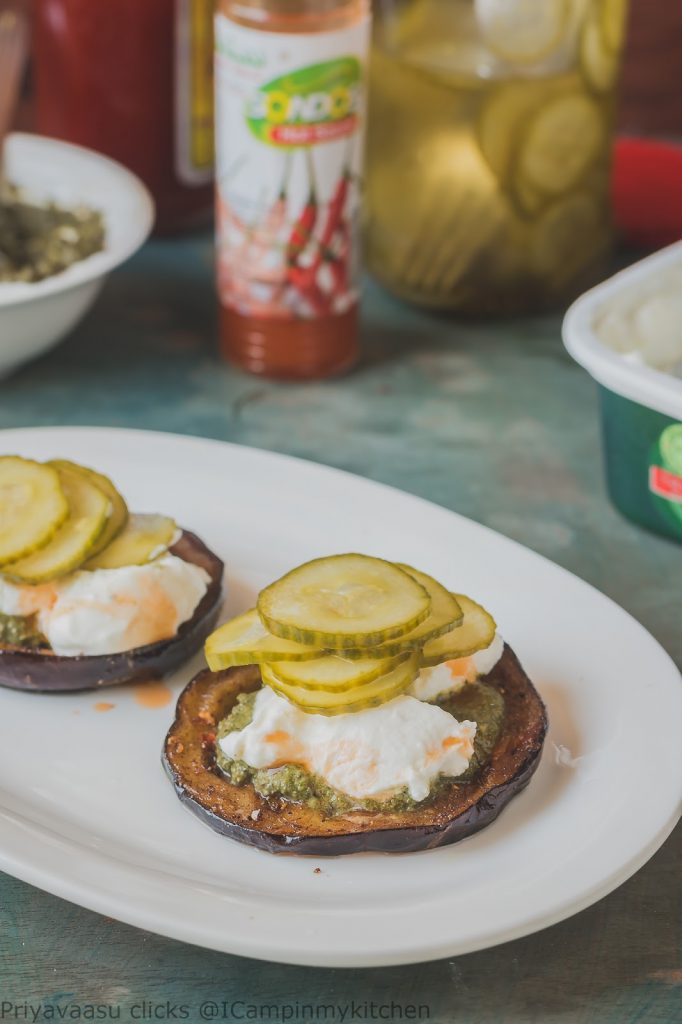 Ingredients
1 large eggplant, cut into thick roundels
4 tablespoon mint pesto
4 tablespoon labneh/ Curd cheese
Pickled cucumbers
hot sauce and ketchup as per taste


For Marinate
4 tablespoon oil
1 teaspoon ras el hanout spice
¼ teaspoon red chili powder


Method
Wash and cut eggplants into ¼ inch thick roundels. In a ziploc bag, add the eggplant slices, add oil and spices to it, shake well to mix well. Refrigerate the eggplants for 3-4 hours minimum. 

Heat a tava, add another 1 teaspoon oil, remove the eggplants from the ziploc, place the roundels on the hot tava, keep the flame simmer, close the pan with a lid and cook for a minute, flip the eggplant and cover cook again for a minute, flip again. Do this until the eggplants looked well browned and crisp. 
Remove the cooked eggplants on to a serving plate. Top it with mint pesto, labneh, pickled cucumbers, drizzle some hot sauce and serve it immediately. Enjoy the flavor party in your mouth.