Its raining Mangoes everywhere, though i restrict myself a lot, the smell of them drags you like a Jerry Mouse Floating towards a Big Block of Cheese!!!!! With 2 bags of mangoes @ home, i was thinking what to do, made some smoothie, planning to Popsicles also, but this Mango Kesari from Lataji's Space caught my mind. So made them on Friday, we had our cousin's family and my brother visiting us for lunch. A Slice of this Mango Kesari after a Sumptuous Lunch, it was a delight. Thanks to Lataji for sharing this recipe with us.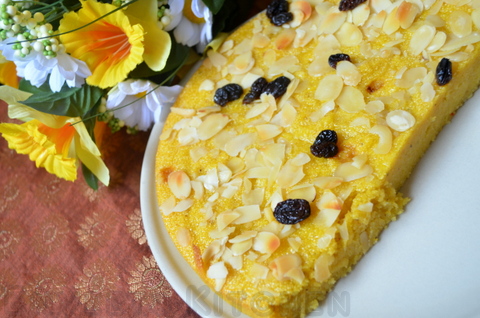 Ingredients
1 Cup Rava/Sooji/Semolina
1 Cup Thick Fresh Mango Pulp (i used 2 thothapuri and 1 alphonso Ripened Mangoes)
Nuts and Raisins for Garnishing (i have used almond flakes and California Raisins)
Method
 

Preheat Oven to 180C.

Take Mango pulp, Sugar, Cardamom pods and butter in a blender and blend them to combine.

In a Wide bowl mix the Blended Mango Pulp and Rava/Sooji/Semolina together.

Grease a Baking tray, i used a round 8.5 inch pan. Pour the Semolina-Mango Batter into it. Garnish with some nuts and raisins on top.

Bake @ 180C for 15 minutes. Reduce the temperature to 150C and bake for another 18-20 minutes.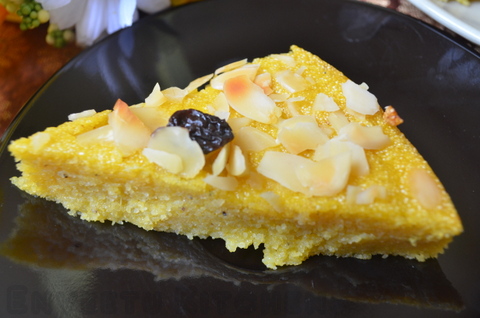 The Kesari would have left the sides of pan and a tooth-pick inserted in the center should come out clean.

Let it cool for 15 minutes. unmould and Serve Warm. The Taste of Mango and Flavor of Cardamom gives an amazing taste.