For the Day 2, I tried a bookmarked recipe from Raks Kitchen Bread cups/Pizza Cups. I have Indianized the filling though. These Pizza Cups have become a frequent snack @ home now. Even My MIL who has never tasted a pizza, like them a lot and keep asking me to make it more often. 
Ingredients
1 Large Potato, peeled and cubed
1 medium Onion, finely chopped
½ teaspoon Red Chilli powder (Will be mild, increase/decrease the amount to suit your taste)
¼ teaspoon Coriander powder
¼ teaspoon jeera/cumin seeds

4-5 tablespoon Tomato Sauce Ketchup
1 tablespoon Pepper powder
3-4 tablespoon shredded mozzarella cheese
Method
In a Non-stick pan, Heat oil, add Cumin seeds, once they change color, add Onions and Saute till translucent.

Next add cubed potatoes, capsicum and Carrot. Saute for 2 minutes in a low flame. 

Add Red Chilli powder, coriander powder and  turmeric and mix well.

Cook in a low flame for 10 minutes. If you feel the veggies are burning, then sprinkle little water and cook. Take it off the stove when the are veggies are cooked. (takes about 10-15 minutes, from the adding to oil)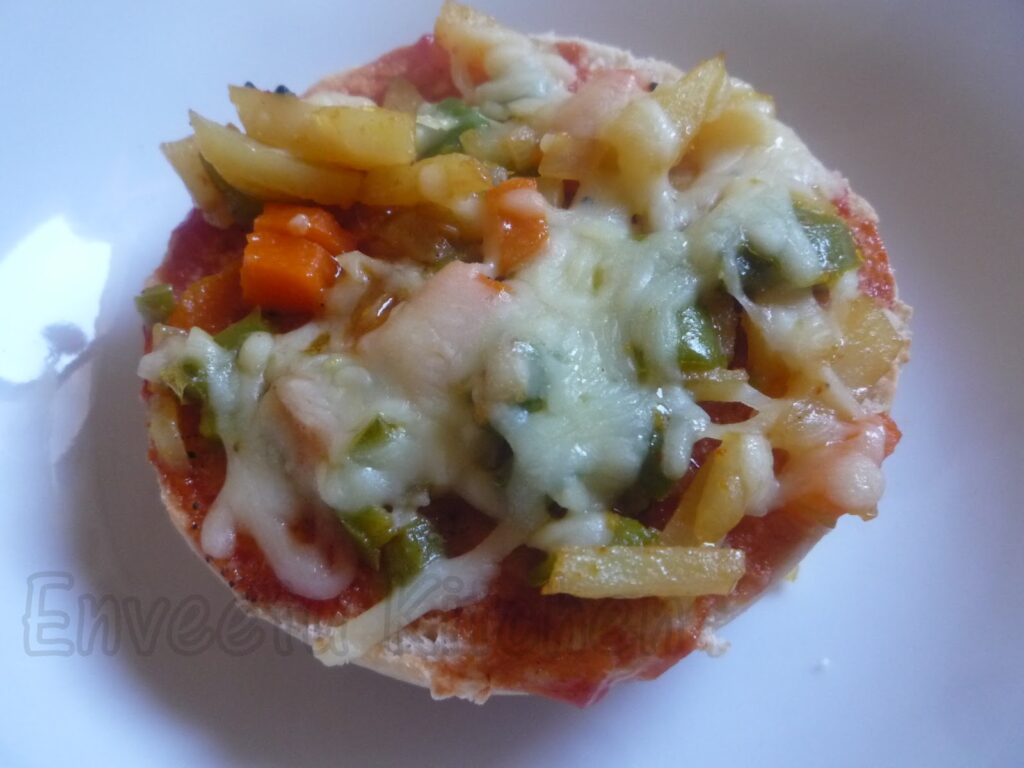 Assembling the Pizza Cups
 

Preheat the oven to 200C

Cut the burger buns into two using Serrated Knife.

Squeeze a blob of Tomato Ketchup and spread it well.

Spread a pinch or two Pepper powder on top.

Place a tablespoon or 2 of the Vegetable filling and top it up with Shredded mozzarella cheese.

Bake in the Preheated Oven for 7 Minutes or until the cheese melts.

Serve Warm and See them Vanishing Fast!!!!
Sending these Cute Cups to Kids Delight – Eggless Bakes/Vegan Bakes Hosted by Priya Suresh, an Event by Srivalli And also to Show me your HITS – Happening @ Spicy Treats


Note:
Baking Time differs from Oven to Oven. So Bake accordingly

The Pizza Cups base will be crisp outside and will be soft inside, incase you want it to be crispier, try blind baking the Bread/bun for 2 minutes and then bake with Veggie Filling again.