I have joined with Srivalli and some of my blogger buddies for a

Theme Based - 7 Day Blogging Marathon!!!

I started loving these Blogging Marathons, the reason, i tend to my blog everyday!!!! It brings a Good Traffic to your blog!!! That makes me even more happier!!!! I will be blogging on Kids Friendly Recipes for all these 7 days!!! This time we have a whopping 28 Marathoners, ohhhhoooo!!!!! That's going to be 28*7 Delightful treats to check on this Week!!!!!!
So, Go check out their recipes @ Azeema, Bhagi, Champa, Gayathri Anand, Gayathri Kumar, Harini, Jay, Meena, Mina, Padma, Pavani, PJ, Priya Mahadevan, Priya Suresh, Rujuta, Santosh,Saraswathi, Savitha, Shanavi, Smitha, Sowmya, Srivalli, Suma, Usha, Veena.
Paneer and Corn Croquettes. An Ideal Snack to Kids/Adults who want to trigger their gastronomic juices!!!! It is Paneer, Potato and Cheese, A Bit Higher on the Calorie, which they need for their growing age!!!!! Kids, these days dont stay @ once place, they keep Moving, Playing, Jumping, Jacking, Exploring and Troubling Mommy!!!!! 🙂 So, Lets Pack them with some Energy for what they do best and we as Mothers' enjoy the Most!!!!!
Source : Tarla Dalal Paneer Snacks
Ingredients
1 teaspoon finely chopped garlic
1 teaspoon Ginger-Green Chilli Paste
½ cup cooked and crushed Corn Kernels
1 cup grated Paneer/Cottage Cheese
1 teaspoon Dry Mango Powder/Amchur Powder
2 tablespoon grated cheese
4 Large Potatoes, boiled, peeled and mashed
Salt and Freshly Ground Pepper to taste
Method
Heat oil in a Deep Pan and ad the cumin seeds, When the seeds crackle, add the garlic and Ginger-Green chilli paste and Saute for a minute. Add the corn kernels, dry mango powder, garam masala and salt and cook on a slow flame for 3 -5 minutes. While Stirring continuously. Add the paneer and cheese, Mix well. Divide the filling into 8 equal portions and keep aside.
Combine the Potatoes, Bread Crumbs, Salt and Pepper in a bowl, Mix well and Knead gently. Divide it into 8 equal portions and roll a portion between your palms to flatten it into a circle, Place a portion of the filling in the centre , bring together the sides and shape them into Cylindrical Croquettes. Repeat with the remaining ingredients. Heat oil in a Deep Kadai, and deep fry the croquettes in batches till they turn golden brown in color from all sides and drain on absorbent paper. Serve hot with any Sauce!!!!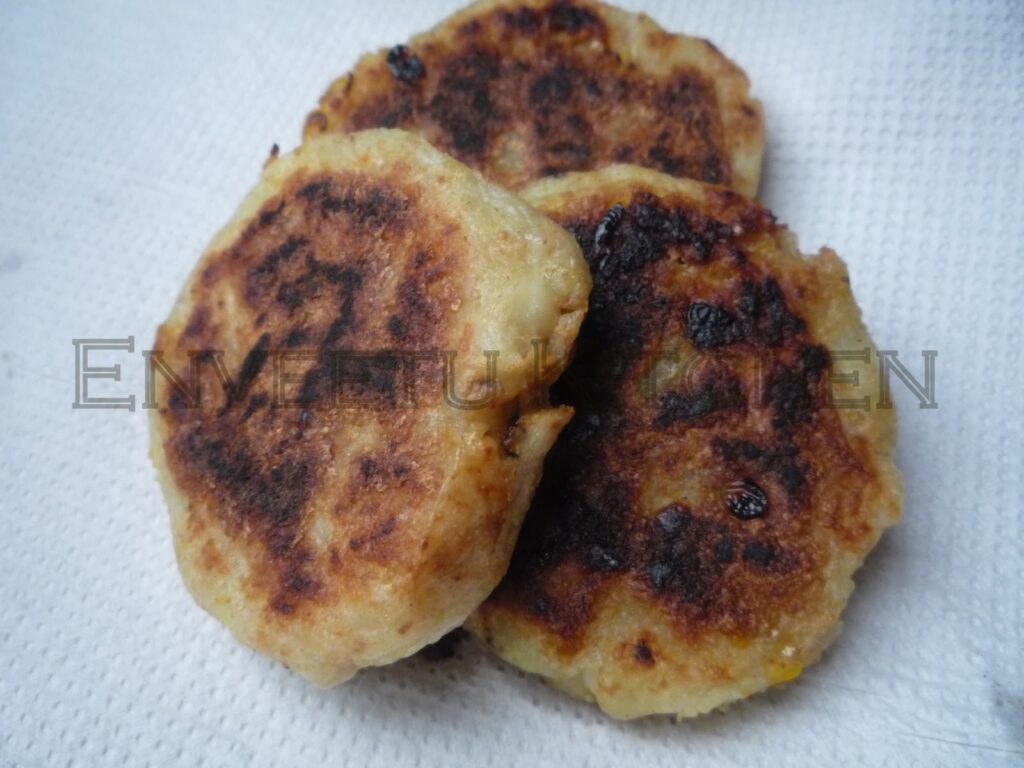 These can also be made as Cutlets and Shallow fried on a Pan!!! You know, if youmwnat to make it for yourself and are Calorie-Conscious, try this way!!! They taste great!!!! The Pepper and Potato Outer-layer and the Chewy cheese and paneer filled center, it was Divine!!!!