I met with a Dietician Last Week. After taking all my medical condition to consideration, she made a Diet Chart.I was amazed to see how much i can actually eat and how little i m eating now!!! Eating Less will/can/may Slow down your metabolism and there by slowing down your weight loss. So, guys if you have any underlying medical condition and planning for a weight loss plsssss do consult a doc and dietician, Helps u a lot!!!! Actually when i started this blog and my Dieting for a healthy lifestyle one of my blogger buddies actually advised me to go and meet a Health Coach. Thank you dear for your concern!!!!
Here i m with this post Spicy Bulgur Dhokla which i made for my breakfast!!! Trying to avoid refined products in my daily diet (as advised my by dietician). Tasted so great and a very filling breakfast!!
As per Wiki
Bulgur (also bulghur or burghul)[1](from Turkish bulgur [2], known as πλιγούρι, pligoúri, in Greek, bollgur in Albanian, as burghul (برغل) in Arabic, and as gurgur in Aramaic) is a cereal food made from several different wheat species, but most often from durum wheat.Bulgur for human consumption is usually sold parboiled, dried and partially de-branned. Bulgur is a whole grain. Bulgur is sometimes confused with cracked wheat, which is crushed wheat grain that has not been parboiled.
Ingredients
1 cup Brown Bulgur
½ cup beaten yoghurt
2 tablespoon Green peas
2 tablespoon Sweet Corn
¼tsp Eno Fruit Salt
Salt for taste
1 tablespoon freshly grated coconut
2 green chillies
ginger as per taste
coriander a tight fist
For Seasoning
1 teaspoon Canola Oil
1 tsp mustard seeds
hing, turmeric a pinch
curry leaves 2 sprigs
Method
Soak bulgur in Hot water for 5 minutes and Drain. This makes bulgur fluffy!!! Grind together coconut, green chillies, ginger and coriander without water. Mix Bulgur, beaten yoghurt, grinded mixture and salt. This mixture should be of Idly batter consistency. At this stage if the batter is too tight jus add  1 tablespoon yoghurt. Now add fruit salt and mix well, you can see the bubbles forming as you mix it well.
Now pour this to a greased pan and steam cook it till done. Check by inserting a clean knife/toothpick, when that comes out clean, it is done. Takes approx 20-30 mins.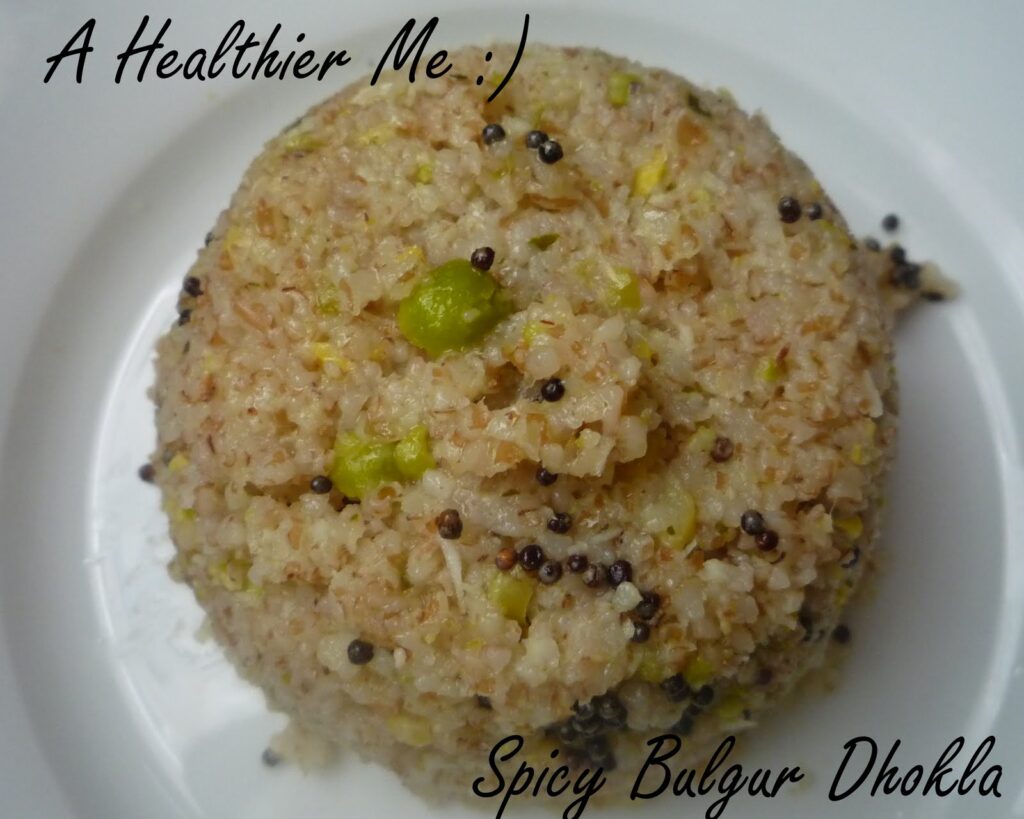 Once done, take it out of the steamer/cooker, Now for the tadka, heat oil,splutter mustard seeds, add hing and turmeric and curry leaves and pour it over the dhokla. Let it cool for 5 mins, then unmould and Hog!!!!