For the 3rd and the final day, i made some delicous handvo using the handvo flour vaishali sent me. So, for the past 3 days it has been Gujju dishes for our evening snack, White dhokla, Beets Dhokla and now Handvo pops. I have already made Handvo by soaking grains and grinding them. So , when vaishali sent me readymade flour, i thought of doing something different with them.
Apparently these dishes are so versatile, you can make so many different varieties with the same flour base. I m going to make myself some readymade flour-mixes and try other varieties pretty soon.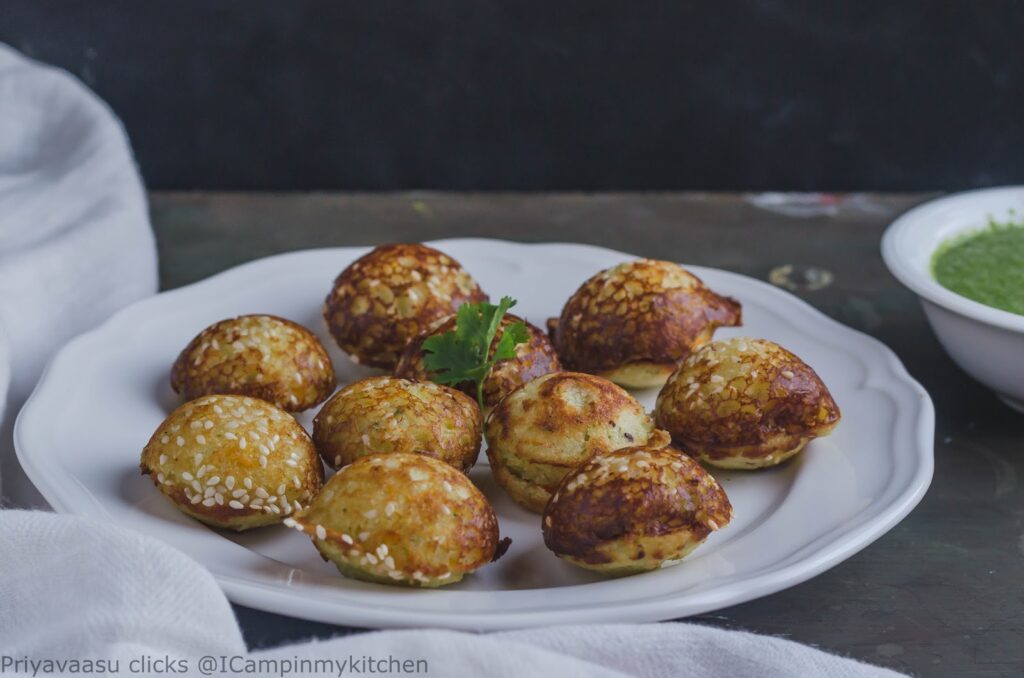 Handvo pops, is nothing but, handvo made in appe pan. They consume very less oil, just 2 teaspoon for 11 pops. I have added carrots and cabbage to this flour, you can add some lauki, peas or some finely shredded zucchini also. It is a complete meal with rice, dal and veggies made attractive.
Both my kiddo's enjoyed their snack with some sauce and chutney. I even served this as dinner for my dear hubby. Do try i t and let me know how you liked it!!
Ingredients (makes around 45-50 pops)
2 tablespoon of roasted white sesame seeds
½ teaspoon salt or to taste
2 tablespoon white sesame seeds for garnish
oil for making the handvo in appe pan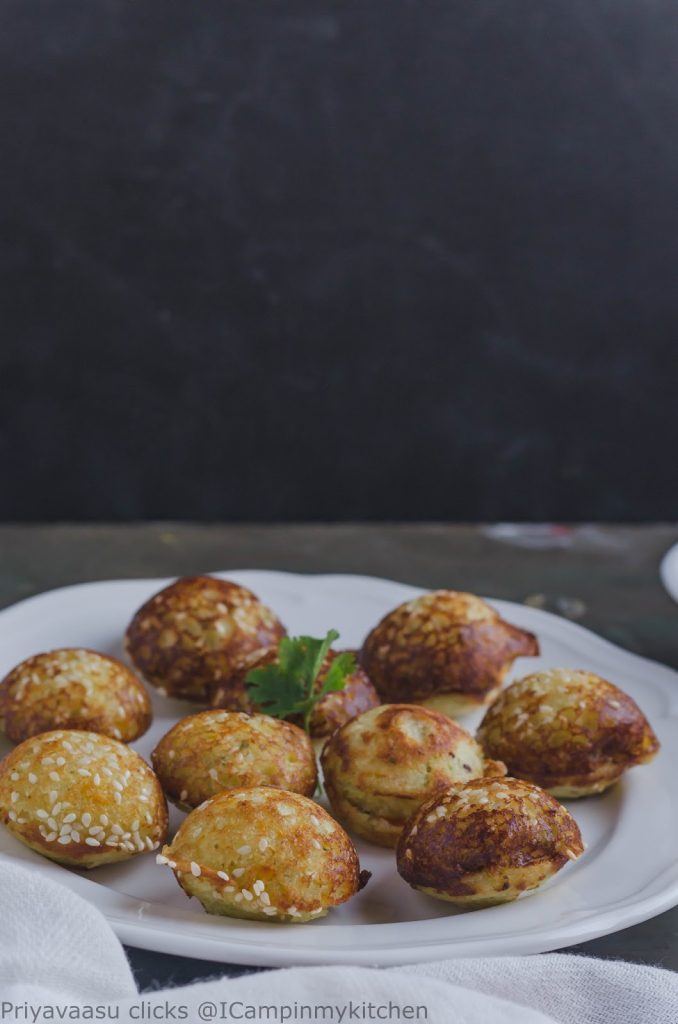 Grind to a paste
¼ cup chopped coriander leaves
Method
Take the handvo flour in a large bowl. Add butter milk and water to the flour and mix it well. It will be a thick batter. Let it sit overnight of atleast 6-8 hours to ferment.

I made the batter around 7 in the morning and made the handvo around 5 in the evening for my kiddo's snack.

After the said time, take the ingredients given under 'To Grind' and grind to a fine paste and add it to the handvo batter and give it a good stir. Add grated carrots, shredded cabbage, roasted white sesaem seeds and salt to this and mix it well.

The batter will be thick, but pourable. If you find the batter too thick, add another ¼ cup of water to it and mix well. I made the handvo in the appe pan, you can make it like a pancake too.

Heat the appe pan, divide 1 teaspoon of amongst the pan holes. add 2 pinches of sesame seeds to each hole and our 1-2 teaspoon of batter into each hole. Reduce the flame to simmer, cover it with a lid and let it cook for a minute or 2 in a simmer flame.

Do not be tempted to increase the flame, that will burn the handvo and leave it uncooked in the center. Once it is cooked at the bottom, using a pick or a fork, gently turn it to the other side, spread 1 teaspoon of oil on them. Let it cook for another minute in simmer flame.

Remove the handvo pops on to a serving plate and serve it warm with chutney of your choice. I served it with coriander chutney.
Ingredients
For the Chutney
2 fistful of coriander leaves
2 tablespoon of freshly grated coconut
Method
Take all the ingredients in a mixer and grind it together to make fine chutney. Transfer it to a serving bowl.