My first choice for alphabet "J" was Joladda rotti. Later i wanted a dosa with J. Thanks to PJ, i got this idea of Jackfruit Dosa - Savory version and paired it with Breadfruit Chutney. PJ gave me the idea of making jackfruit appam or breadfruit bajji. Though i made up my mind for the appam, i wanted to give a final try if there is any dosa with jackfruit. And yes, there is a sweet dosa with jackfruit, now i didn't want another sweet dosa this week, so i tried for a savory version and luckily somebody has already made it here and gave their confession that it definitely tastes good.
Now for the chutney, never in my wildest dream i though breadfruit peel can be made into chutney. I willtalk about it in the chutney post. For now, let us move into making Savory Dosa's with Sweet Jackfruit.
1 Cup raw rice, i used sona masuri
1 cup chopped ripe jackfruit
¼ cup of freshly grated coconut
handful of coriander leaves
¾ teaspoon salt or to taste
¼ cup of chopped onion (optional, i didn't add)
oil/ghee for making the dosa, ghee preferred
Method
Soak rice for 2-3 hours. After the said time, drain the rice, take it in a mixer along with chopped jack fruit, chilies, curry leaves, ginger. Grind it to a fine batter. I didn't add any water, the luscious jack fruit was enough to give the moisture required. In case the mixer stucks while grinding, add ¼ cup - ½ cup of water.

once done, remove the batter to a clean vessel. Wash the mixer with ¼ cup of water and add it to the batter. Let it sit for 15 minutes. It can be poured immediately, no need for fermentation or waiting. But then i was in no hurry, so i left it for 15 minutes.

Not to this batter, add cumin seeds, salt and chopped coriander leaves. You can even try adding chopped onions, but since my kids don't like it, i haven't added. Check the consistency of the batter, it shouldn't too thick or too thin. Pourable and spreadable consisteny.

Heat a tava to pour the dosa. Once the tava is hot enough, pour a ladle of batter in the center, spread a little to make a circle, using the backof the ladle. Dot the edges with oil/ghee, ghee is preferred.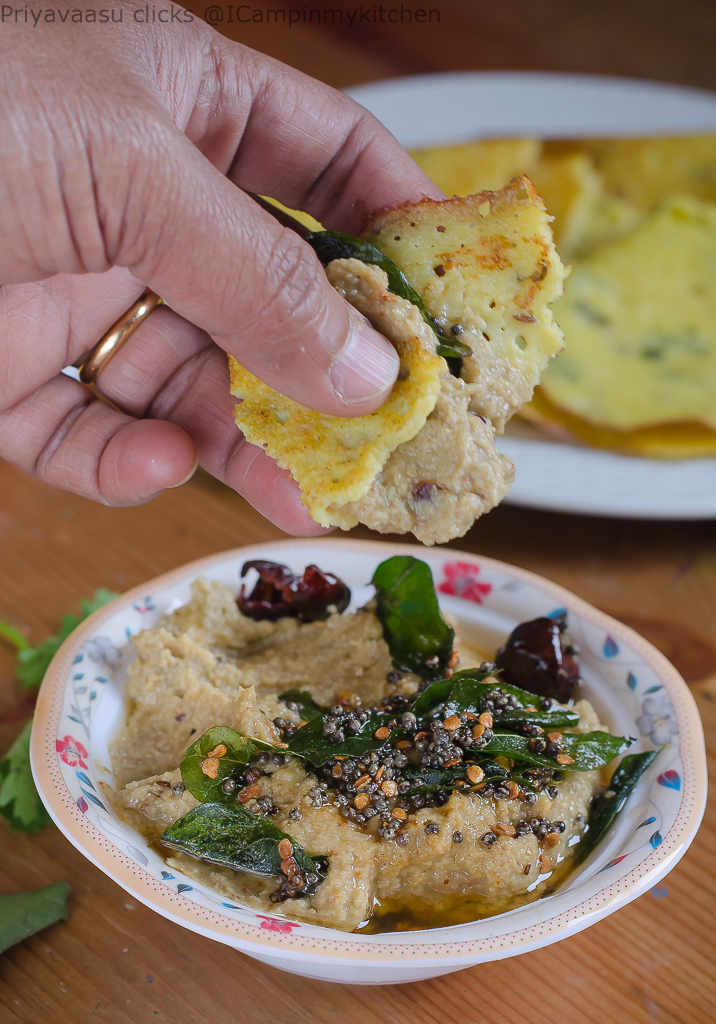 Cover and cook in a simmer flame for a minute, for the edges to brown/crips. Flip the dosa and cook the other side for another minute. Remove the dosa, and serve it hot with chutney of your choice. I recommend a spicy chutney to go with this yumm dosa. I served it with Breadfruit skin chutney/Jeegujje sippe.