My Kiddo is an ardent fan of Dosa. Anytime, anyday, you give Dosa and a bowl(bucket) of Sambhar he is a Happy Kid. I bought an Appam Pan Last year from india, and haven't used it yet.Thought it is high time to take out that pan, so this weekend, i made him his Favorite dosa in a different Shape for Breakfast. He enjoyed it much.What attracts kids to this appam is the shape of it, the boat/bowl shaped Dosa, with a spongy center, they just love it!!!!
Salt to taste

1 and half Cup of Coconut Milk (Equal Mixture of Thick and thin milk)
Method
Soak Rice and Dal together for 3-4 hours. Drain and Grind them together to a Thick fine batter with little water. Add Salt and Mix together.

Leave this batter on the Kitchen-top overnight for fermenting.

Next Day Morning, Add the Coconut Milk Extract, Baking Soda, Sugar and Mix well.

I have used Store-bought Coconut Milk. I used 1 cup Coconut Milk mixed with half Cup Water.

Heat the Appam Pan, When it is hot, Pour a laddle of Batter in the center, and take the appam pan by its ears and Swirl around, so the batter coats the sides of the pan.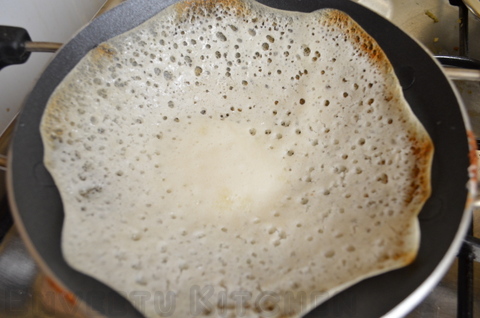 Keep it back on the flame, Cover and cook for 2 minutes. Appam should be cooked by this time, Carefully take it using a Flat laddle and Keep it on a plate.

Serve Hot with your favorite Curry.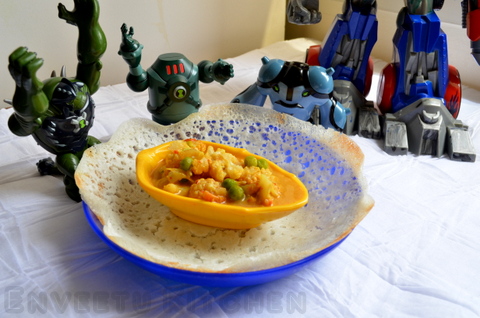 Cauliflower-Peas Milky Curry
The Actual side-dish for appam would be Begetbale stew made using Coconut Milk, since the appam itself is rich with coconut milk, i wanted to try a less-calorie version using Plain Milk.
1 teaspoon Red Chili Powder
1 teaspoon Coriander Powder
½ Cup Milk (I used Low-Fat Milk)
Cut the Cauliflower into Florets. Soak them in Salt water for 10-15 minutes. Blanch them in Hot water with little turmeric and Salt. Drain and Set aside.

In a non-stick pan, heat little oil, splutter cumin seeds, Add onions and saute till translucent.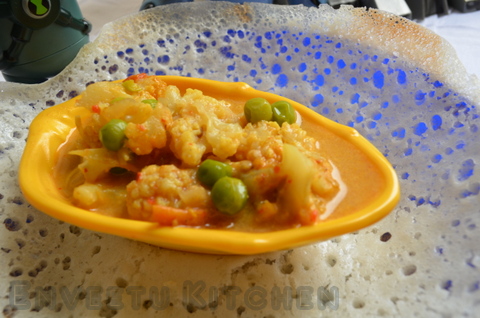 Add Chopped tomatoes and half cup water, add all the dry masalas to it and Cook till tomatoes turn mushy and oil separates out.

Add the Drained Cauliflower and Peas and milk, add Salt. Cover and Cook for 10-15 minutes. Garnish with Coriander leaves and Serve Hot with Appam/Roti's.
Notes
If you don't have an Appam Pan, you can make it as a plain dosa on Tava or use your paniyaram pan/Abeleskiver Pan.

If the dosa/appam doesn't form holes/Kannu, then the Baking Soda added is not enough, so add little more and Give it a brisk stir and try again.

Add only required/specified amount of coconut milk or else the appam/dosa might stick to the Pan.