For Day 2, i m here with a sweet dosa. When i came across the recipe, i was in two thoughts, whether to try it or to look for another recipe. But then, when we love sweet pancakes, why not a sweet dosa?? So, i went ahead and made this dosa for our breakfast. On a safer side, i made a spicy chutney to balance the flavors. I was little worried that my elder one, my dosa master, would not approve it, but when he tasted it with the spicy chutney he just loved it and gave a thumbs up!!
I strongly suggest you to go for a spicy chutney if you are not used sweet version of dosa/pancakes. This dosa has to be served hot, straight from the pan, so forget about packing in lunchbox. Serve hot and enjoy them flying away from your pan.
1.5 cups Whole wheat flour
½ cup grated jaggery (See notes)
2-3 pods of cardamom crushed
Take wheat flour, salt and baking soda in a wide bowl. Mix well with your hands.

Take grated jaggery in a sauce pan, add ¼ cup of water, add crushed cardamoms to it. Let it simmer and the jaggery melt. Take it off the stove, strain for impurities.

Add the strained jaggery water to the flour, add a cup of water along and mix to form a pour-able dosa batter.

The batter will be thick, add water little by little to get the correct consistency. I added about 2 cups of water to get the right consistency, apart from the jaggery water.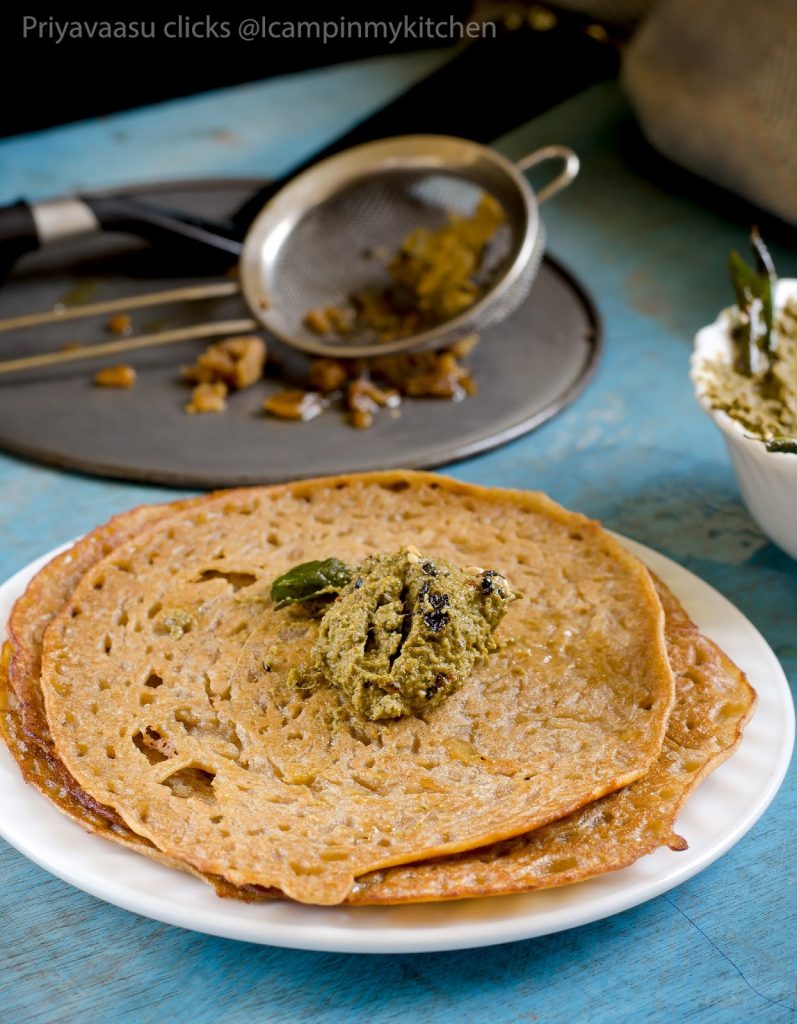 Heat a tava, once it becomes hot, reduce the flame to simmer. Pour a ladle of batter in the center and quickly spread to form a circle.

Dot the edges with little ghee and let it cook for a minute, carefully flip to other side and let it cook for 30 seconds. Remove the dosa onto a serving plate.

This dosa has to be served hot with a spicy chutney to balance the flavors. I served it with spicy beerakaya pachadi/Ridgegourd chutney for a yumm combo.
Notes
The original recipe, which i referred used ¾ cup of jaggery, but it was way too sweet for our taste-buds, so i have reduced the quantity here in the recipe