Leftover rice is always a headache at home. Me and my hubby though eat rice, but not daily. I make white rice only for my kids. So, whenever there is leftover, it is always me who has to finish it next day. I normally try to make a mixed rice with it and pack it for my hubby and save some for me.
This chickpeas rice, is one of the variety i make with leftover rice. The addition of pav bhaji masala gives a nice aroma to the rice. While i thought my lil ones, might not like this variety, to my surprise my elder one loved it and asked me to make it for weekend lunch sometime.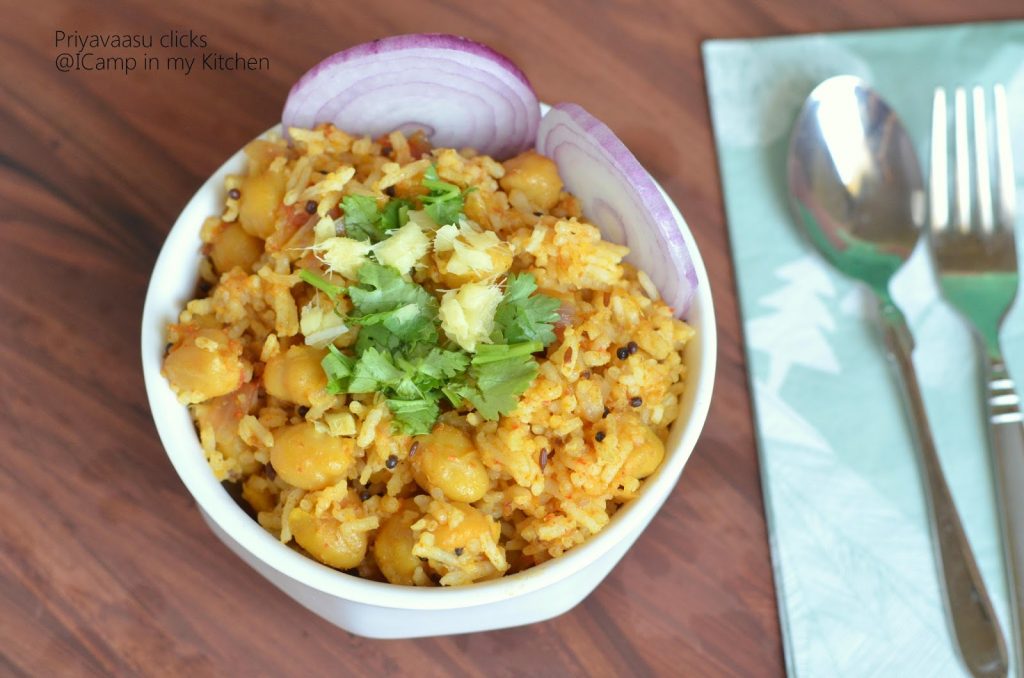 Ingredients
1 Cup cooked rice (i used yesterday's leftover rice)
½ cup cooked chickpeas or ½ of canned chickpeas, drained
½ teaspoon red chili powder
½ teaspoon coriander powder
¼ teaspoon pav bhaji masala
2 pinches of turmeric powder
fresh coriander leaves and ginger julienne's for garnish
Tempering
2 teaspoon oil
¼ teaspoon mustard seeds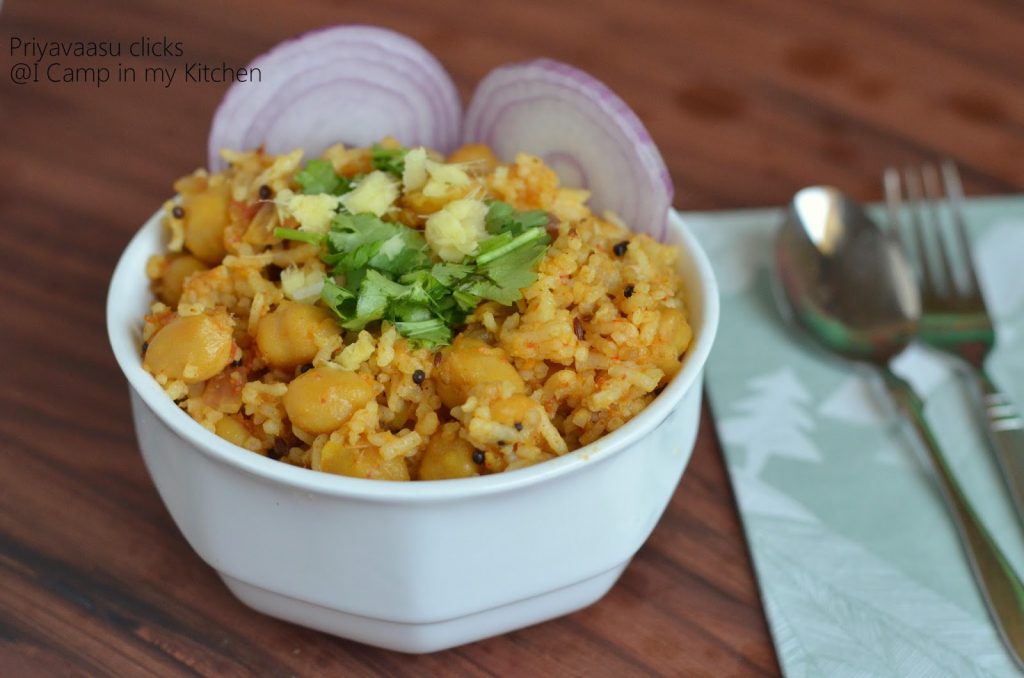 Method
I always keep boiled chickpeas ready in my freezer. if you don't, then soak chickpeas overnight or 8 hours,, drain the soaked water, add fresh water and pressure cook until soft with little salt and turmeric. Drain and keep aside until use.

Chop the onions and tomatoes. Heat oil in a pan, crackle cumin seeds and add curry leaf. Next add onions and saute until translucent.

Next add tomatoes, followed by red chili powder, coriander powder, turmeric and salt. Add ½ cup of water to this. Let the tomatoes cook until soft.

Now add the boiled chickpeas and another ½ cup of water. Let this cook until the spices soak up the chickpeas and the liquid is almost absorbed.
Now add the cooked rice and give it a good stir, take it off the stove. garnish with ginger julienne and coriander leaves and Serve hot with curd, onions and some crisps.