Staying at Mom's place, comes with its own advantages. Apart from not doing any work, i also get to enjoy my favorite food without sweat. Amma knows that i eat millets for my lunch. So, she cooks a different variety everyday.I loved this kambhu choru/saadham in that variety. It is pretty simple to make, but has loads of health benefits and makes you feel full for a longer time.
Bajra/Pearl millet/Kambhu is known to possess phyto-chemicals
that lowers cholesterol. It also contains folate, magnesium, copper, zinc, and vitamins E and B- complex.
It is also rich in calcium and unsaturated
fats which are good for the body
and also has an high energy content compared to other flours/millets.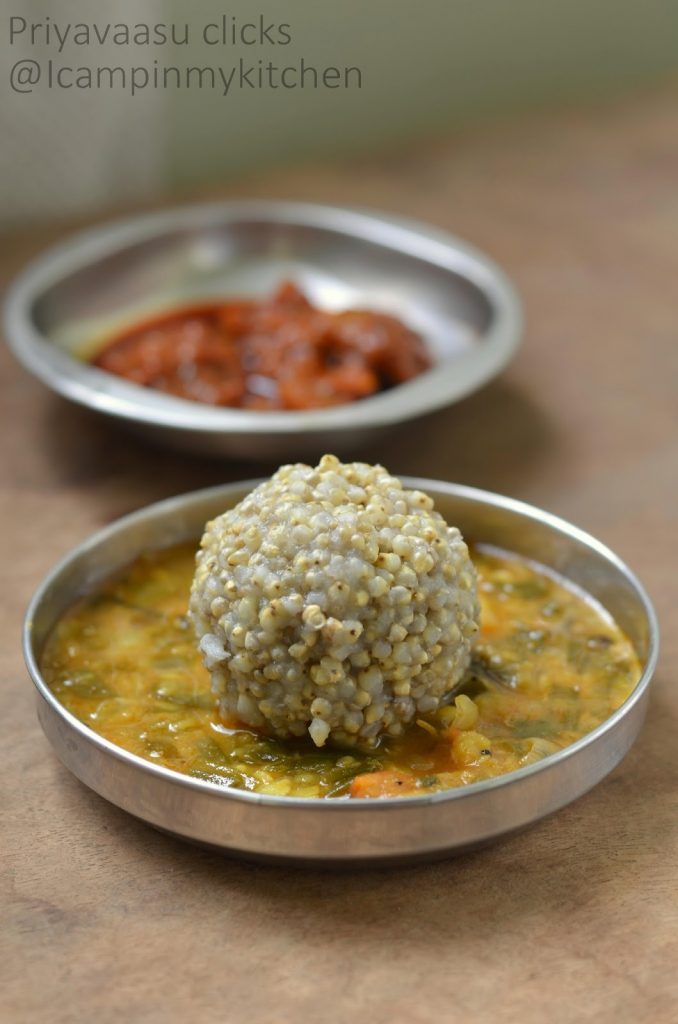 It being one of the high energy food, might be the reason why our farmers who grow our food, used to have it for their breakfast as porridge before heading out to the fields or for lunch as mentioned in this recipe. My amma, grew up in a pucca village, near vellore called Setharampattu, where they had their own farm land, big house with a granary. She is used to eating fresh food, be it rice or vegetables or lentils straight from the farm land to their plates. Little did she know, such a life would be considered a blessing these days, where there is plastic even in the rice we eat, leave alone the rest.
Ok, enough lamenting, let us check the recipe for today. Easy to make kambhu choru, only thing you need to do is to soak it ahead of time. Amma usually soaks it as the first thing in the morning, so by the time she prepares lunch it will be soaking for atleast 4-5 hours, and cooks very easily in the pressure cooker.


Ingredients
1 cup Kambhu/Kambu/Bajra/Pearl millet
Soak Kambhu/bajra for a minimum of 3-4 hours for easy cooking. You can even quick soak in hot water for an 2 hours prior to cooking.

Wash the soaked bajra well for 3 or 4 times. In a pressure cooker, take 4 cups of water, let it come to a rolling boil, add salt and the washed bajra to it. Let the water begin to boil again, now close the pressure cooker, put the whistle on and pressure cook for 4-5 whistles.
The bajra must have well cooked and soft with all the water absorbed. Serve it warm with your regular sambhar/rasam and curd.

I had it with keerai sambhar and curd for today's lunch. Not to forget the pickle!!! 🙂