I m loving the variety of dosa's i m adding up to my kitchen menu. As an adult when we get bored easily of the same routine, just think about kids, they want something new to eat every day. Take my lil one, if he eats an apple today for his evening snack, he will not eat it for tomorrow, i have to literally squeeze my brain, when he comes "Amma i want something to eat". When i ask him "what you want?" he would reply "i don't know!!!", nerve-wrecking moment i would say!!! How come you want to eat something and don't know what it is??? I immediately turn into a Restaurant waiter and give him options, he would say No, No for every option and finally asks for a junk snack!!!!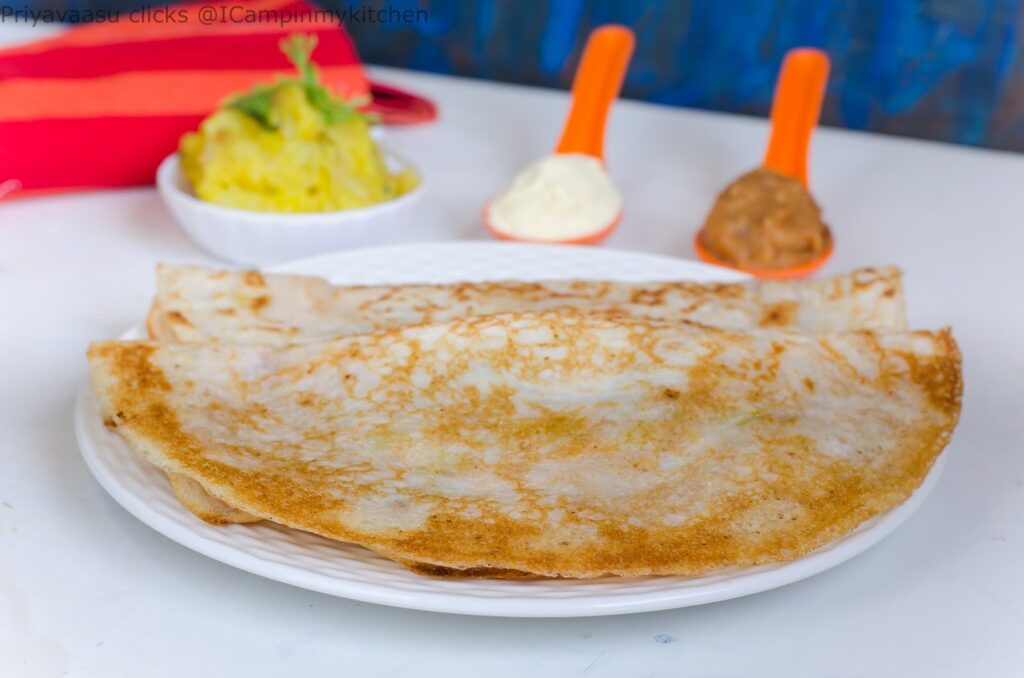 Why a big story for a dosa recipe, you might ask!! coming to that, so when i say him dosa everyday, chances are there he might even dismiss me from the kitchen, so i name it differently accommodating his mood!! He gets excited at the name and laughs, ha ha, what is that? There begins another adventure of making him believe that what he sees is not normal dosa!! Rants of a mother with a overly inquisitive child, never mind, lets go today's recipe.
Erra Karam Dosa is a Rayalseema special dosa recipe, our normal dosa, smeared with spicy red chutney, sprinkled with chutney podi and can be stuffed with potato masala. The description itself should bring water in your mouth. I am always attracted to this name, though i have made it before, i love the way it sounds, Erra Kaaram, catchy right?
The recipe is from Suma's blog, which i bookmarked long before. Do try and let me know your comments.
Erra karam (6-8 dosa's)
8-10 nos round red chilies
Take the above ingredients in a mixer, except oil. Grind well to a smooth paste.
Heat oil in a small pan, add this ground paste and sauté until the water evaporates and the paste becomes little thick.
For dal powder/putnalu podi
¼ cup chutney dal/putnalu pappu/roasted gram dal
1 fat clove of garlic (optional)
Take all the ingredients together in a mixer and grind to a fine powder. Keep aside until use.
For the Potato Masala
1 large onion, finely chopped
¼ teaspoon turmeric powder
¾ teaspoon salt or to taste
Tempering
3 nos green chilies, slited lengthwise
Wash, peel and cut the potatoes into cubes. Cook them with water, until soft. I cooked on stove top, you can also microwave it for 10 minutes.

Drain the excess water completely. Mash it well with a a potato masher or back of a ladle.

Heat oil given under tempering in a pan, splutter mustard seeds, add hing , curry leaves. Sauté for a minute, add onions and saute until translucent. Next add the mashed potato, turmeric powder and salt. Let it cook in a simmer flame for the flavors to mingle.

After 5 minutes, stir and take it off the stove, garnish with free coriander leaves.

Keep aside until use.
To Make the Dosa
Heat a tava/pan for making the dosa. Pour a ladle of batter in the center, and quickly spread it into a circle using the back of the ladle.

Drizzle a teaspoon of gingely oil around the edges. Let it cook for a minute or two, till the edges turn brown.

Flip and cook the other side, for a minute and flip back again. Quickly spread a teaspoon of Erram Karam/Onion-red chili chutney on top of the dosa, sprinkle ½ teaspoon of putnalu podi/chutney podi on top.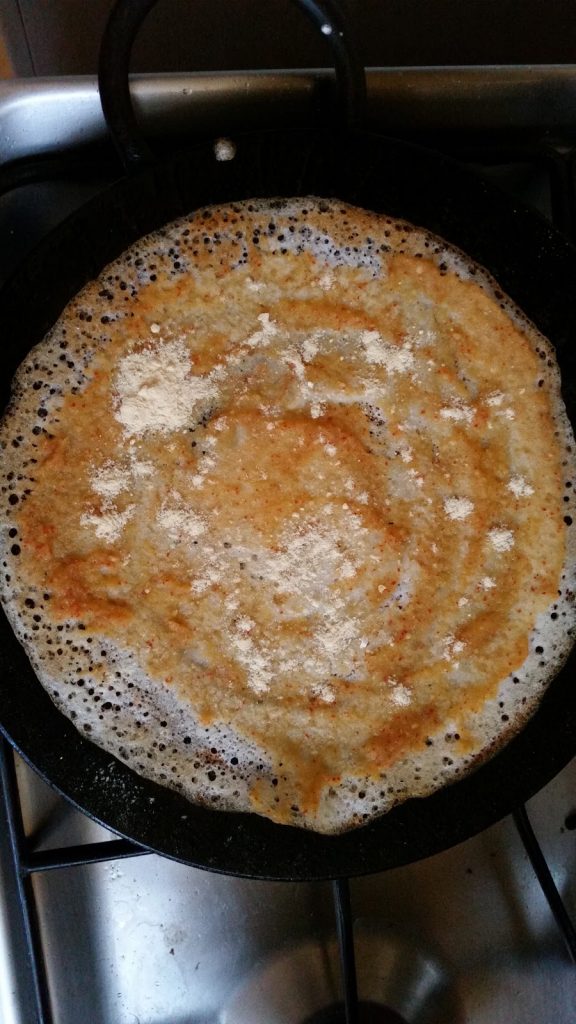 Place 2-3 tablespoon of potato masala on one half of the dosa, drizzle a teaspoon of gingely oil on top. Fold the other side over. Drizzle ½ teaspoon of oil on the dosa, flip and let it sit for 30 seconds to get crisp.

Remove the dosa onto a serving plate. Serve hot straight from the tava to enjoy the flavors to the full extent.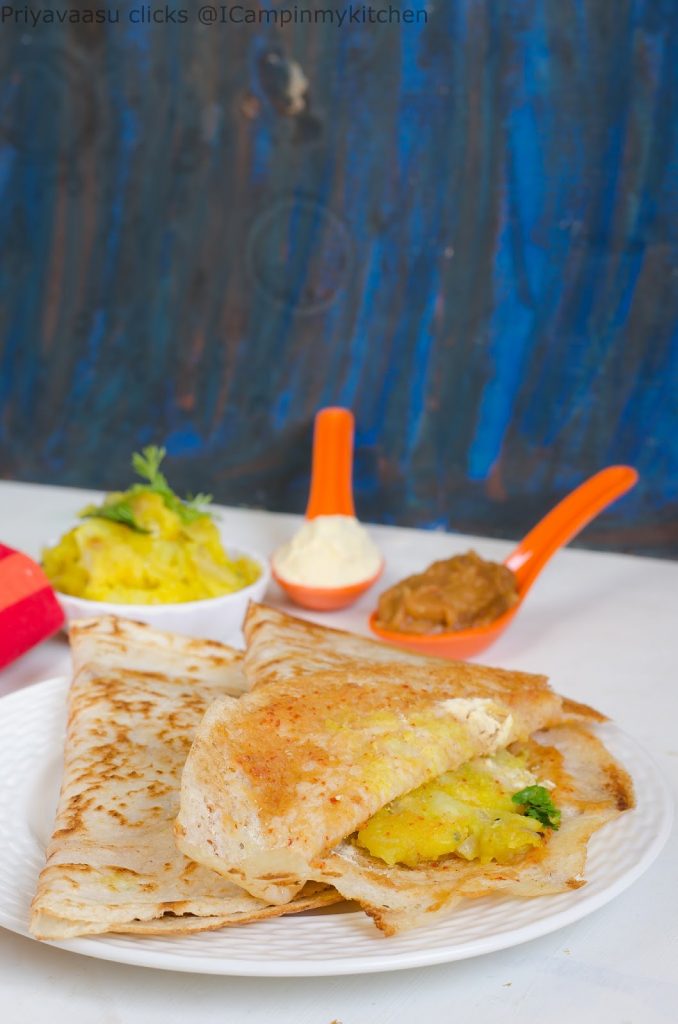 I simply relished it for my lunch when i made this. To eat it straight from the pan, is something amazing.