Thinking of a Breakfast on a Weekday Morning is a real Work, that too with somebody like my little devil!!!!!
Amma (Me) : Naras shall i make Poori?
Naras : No,
Amma (Me) : What do you want?
Naras : mmm!!!!, Dosa with Sambhar!!!!!!
So, i got to think about Dosa Varieties to keep myself happy with Dosa's!!!!!Coz, he is happy with the same type of Dosa everyday, only demand is SAMBHAR!!!!!! Without Sambhar, No Dosa!!!!! 🙁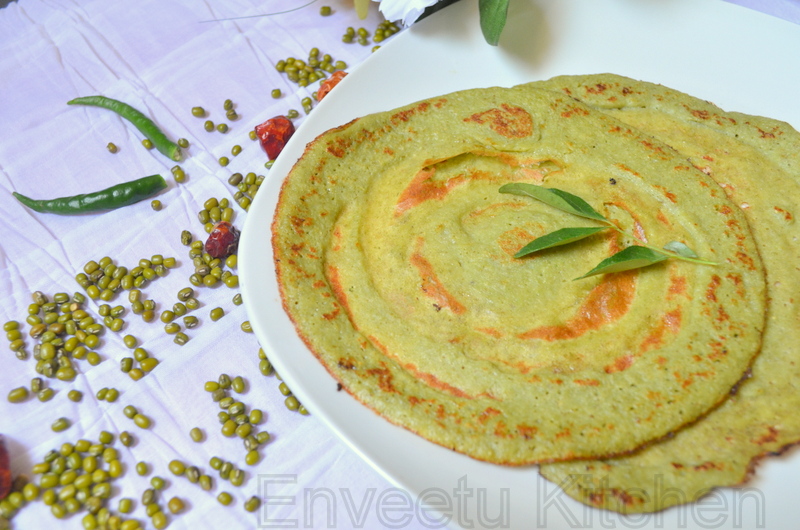 I often make this Green Gram Dosa and Lentil Adai along with the regular Dosa. Though i make it often, now only got time to post it!!!! A Delicious, Healthy and Protein-Power Packed Breakfast Recipe, that gives all the freshness and energy we need on a busy Morning!!!!!!
Ingredients
1 Cup Green Gram/Mung Bean
4-5 Green Chilies, chopped
1 medium-size onion,chopped roughly
Soak Green Gram and Rice together for 3-4 hours. I normally soak them at night and grind in the morning. This way, the green gram will also develop some small sprouts , though not full, it is healthy.

Drain the excess water, Grind the dal and rice together with rest of the ingredients to a smooth batter, with half cup of water, in a mixer.

Transfer the contents to another vessel.

I prefer to grind the onions along with the batter, since my kiddo prefers a smooth dosa. You can add chopped onions to the ground batter, before pouring the dosa.

Heat a Non-stick Pan, Add 2 drops of oil and wipe out well with a tissue. Take a laddle of batter, pour in the center of the pan and make a circle using the back of the laddle.

Add little oil along the sides, Once the sides start to brown, turn the other side and cook for a minute.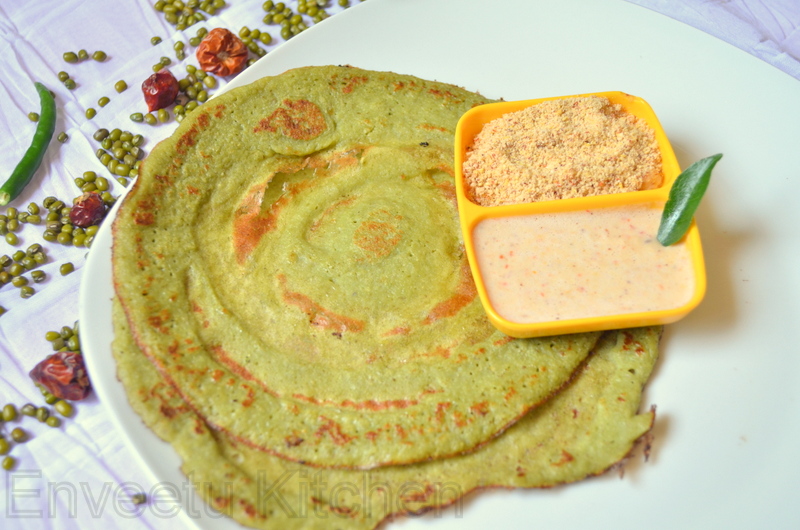 Again my kiddo prefers a soft dosa, so i dont leave it to become crisp. So Cook according to your preference.

Serve Hot with your favorite Chutney or Podi or Sambhar.