I don't know what i was thinking when i signed for this month's marathon. I m going on a holiday next week and tomorrow is varalaksmi pooja, I still have 100's of things to do, but here i m, sitting and editing this post!!!
Last week, when i checked the theme, i was happy that i chose Lunch box recipes for week 1. Since it is vacation here, kids at home, and they are hungry all the time. Sometimes i get so tired thinking what to cook.
With such a darling theme, I cooked 3 dishes in one go today, not only cooking, clicked and also did 3 videos as i cooked!!. I made 3 of their favorite dishes today along with some Masoor dal, they enjoyed it well. Both thought, amma is in a weekend mood, that is why she has cooked all their favorite dishes at one go today!
Let them be happy with that thought, i m happy that i m ready with my theme. Enough of my banter, let us go to today's recipe. A simple tomato pulao, an one-pot meal, that gets ready in 15-20 minutes. If you take the soaking time into consideration, it takes approximately 30 minutes.
This is a regular at home, that too when i have to pack 2 lunch boxes for my elder one, for his extra classes. The pulao is mildly spiced, if you need more spicy, adjust red chili powder accordingly. Do try and let me know how your liked this pulao.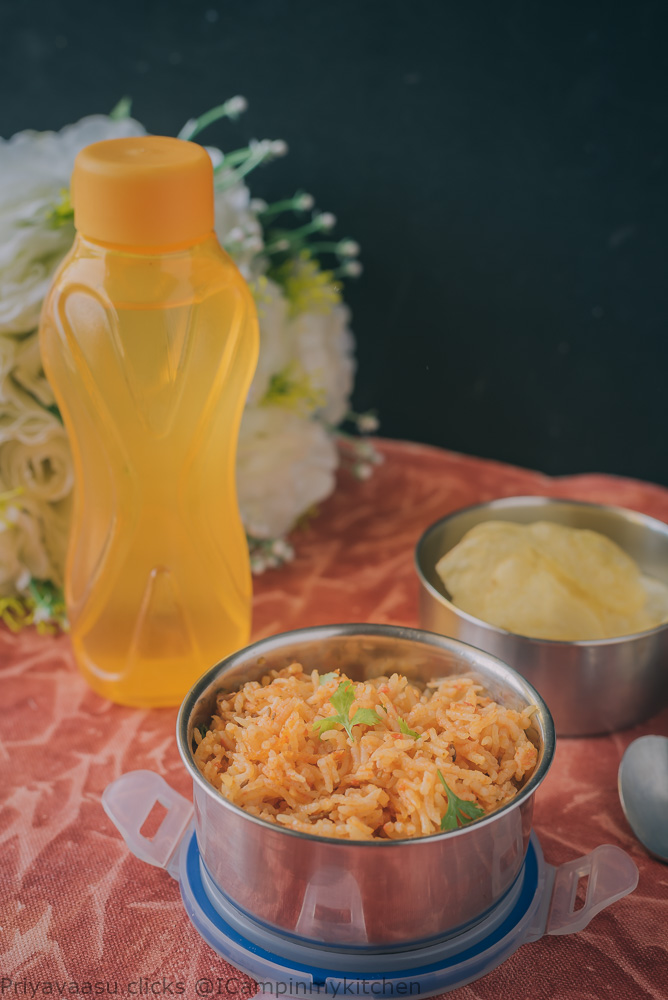 ½ cup Basmati rice, i use Tilda basmati
¼ teaspoon red chili powder
½ teaspoon coriander powder
¼ teaspoon turmeric powder
½ teaspoon salt or to taste
fresh coriander leaves for garnish (optional, if kids dont prefer, do not add)
Tempering
¼ teaspoon cumin/jeera seeds
Video :
How to make Tomato Pulao
Method
Wash the rice in running water until it runs clear. Do not waste the rice-washed water, if you have plants in your balcony or backyard, water them with this water.

Take chopped tomatoes, garlic, curry leaves and green chili in a blender add ½ cup of water and blend smooth. This liquid will measure to 1 cup.

Soak the rice in a cup of water for 15 minutes. In a wide pan, heat oil, when it is hot, add clove, cardamon and bay leaf. Saute for 30 seconds. Next add cumin seeds.

After adding cumin seeds, immediately add blended tomato puree to it and saute in a medium flame for a minute. Next add red chili powder, coriander powder and turmeric powder.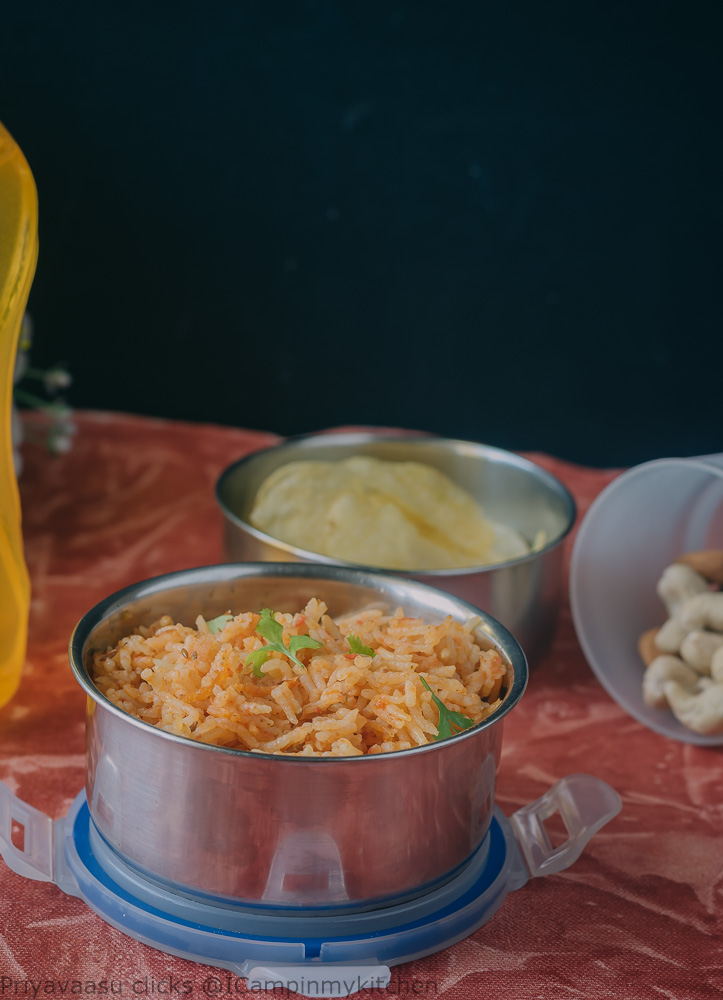 Let it begin to boil , add rice and salt, mix well. Add another 1 cup of water to it, mix well. Cover and cook for 10 -12 minutes in a medium flame.

The rice would have cooked by this time, if not, let it be on flame for another 2 minutes. Once done, take it off the stove, fluff it up with a fork, garnish coriander leaves.

Pack it with some crisps or a vegetable curry or raita for your kids. I packed it with some store-bought crisps and nuts.
I m hosting this month's Kids Delight - Lunch box recipes, an event by +srivalli jetti . The event runs from 15th July 2017 - 15th August 2017. So, do send in your lunch box recipes to my email id : enveetukitchen@gmail.com. I have listed the rules for the post below, kindly read before you send in your entries
Read Me
Cook any kid approved Lunch box dishes and post in your blog between July 15-August 15, 2017. Multiple entries are allowed. Mail id : enveetukitchen@gmail.com.
I will accept one month old entries, provided you will update the post with the event announcement link.

This is a vegetarian blog, so do not send meat recipes. Eggs are allowed in baked goods.

Link to this post and Valli's Kid's Delight announcement post is mandatory.
Kindly mark your email subject as "Kids delight - Lunch box recipes", it is easy for me to group the entries correctly.

Send in your name and recipe link alone, i will take the picture from your blog.

Please make sure the picture is crisp and clear. I will not accept blurred images for the round-up. Sorry for being rude.

Non-bloggers are also welcome to send in your recipes, please email me your recipe along with a crisp and clean picture, i will include them in my final round-up.