My Mom and Dad are here, looking after me and my Bala Kutty. Mom Never Allow me in the kitchen these days, she wants me to take Good rest, but my dear hubby wants me to Cook!!!! What to do? So, Me and My Mom have divided the Kitchen Duty among ourselves. Weekdays Amma and Weekends Me!!! So Last Weekend, My Daddy asked me to make Masala Dosa for Breakfast. But Amma doesn't like Potatoes, so i made this Vegetable Masala Dosa and they both enjoyed these without any guilt!!!!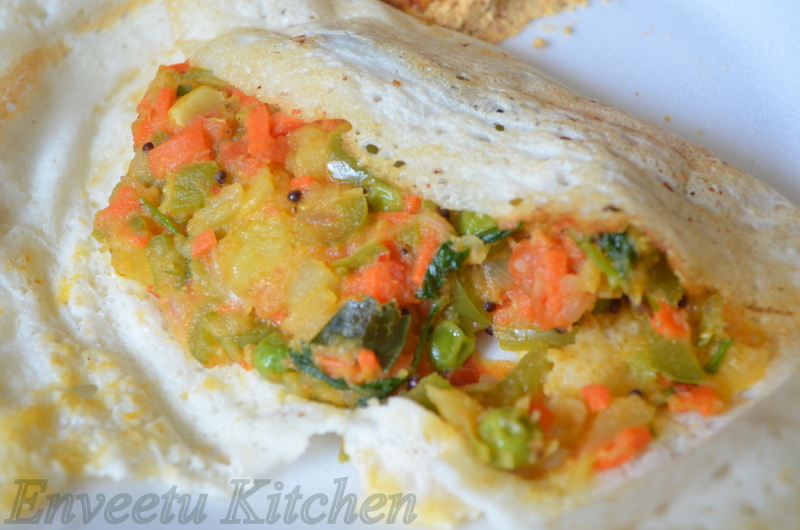 Ingredients
For Vegetable Masala
1/2 Cup Peas (I used Frozen)
2 Medium Tomato, Chopped or 2 -3 tsp of Tomato Paste
2 cloves of garlic, shredded
a small piece of ginger, shredded
1 tsp of Red Chilli Powder
2 tsp of Coriander Powder
1/2 tsp Garam Masala Powder
Coriander leaves for garnishing
Method
The Masala
Peel the Potatoes and carrots and Cut them into cubes. Chop Capsicum thin.

Heat oil in a Pan, Splutter mustard seeds, add curry leaves, Onion,Ginger and Garlic. Saute until onions turn Pink.

Add Tomato Paste or Tomatoes and the dry masala powders(Red Chili Powder, Corinader Powder, Garam Masala, Turmeric Powder) and Add half cup of Water. Let this Cook until Tomatoes turn Mushy or till the oil separates.

Add the Veggies now,add Salt and another half Cup of water and Cover and cook till the veggies are cooked. This takes about 10-12 minutes in medium flame. Garnish with Fresh Coriander leaves and Take it off the Stove.
To Serve
Heat a Non-Stick Pan, a little oil to the pan and wipe it well with a tissue paper in a circular motion. This coats the pan uniformly with oil.

Pour a laddle of Dosa Batter in the center of the pan and spread it using the back of laddle in a circular motion. Dot the sides with a little gingely oil.

Let the top side Cook. Some like it crisp and some like my Son likes it Soft, So cook according to their taste buds.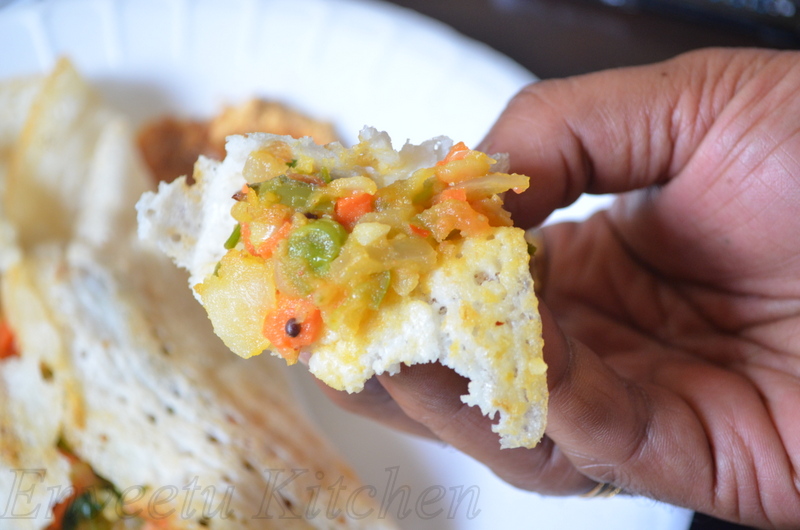 Note
Sometimes the dosa might stick to the bottom of the pan, In such cases, Heat the pan, Pour a 2-3 tsp of Gingely oil in the pan, Let it sit in a Simmer flame for 2 minutes. Then Wipe it well with a tissue Paper. The Pan is ready to make Crispy, Tasty Dosa!!!! This Works for me all the time.

Try to have two separate pans for Dosa and Chapthi/Roti.
Sending it to Dish it out – Potatoes and Bell Peppers, happening @ Tomato Blues, Event by Vardhini of CooksJoy