Welcome to 87th edition of our Blogging Marathon. A 4 week non-stop blogging (except sundays) with interesting themes every week. For week 1, i have chosen Breakfast Dishes as my genre. 
As a south-indian, primary breakfast for us is Idly-dosa, we can eat idly/dosa for dinner too. There are so many idly and dosa varieties, you will never get bored of it. For day 1, i chose to make Aval/poha idly for breakfast.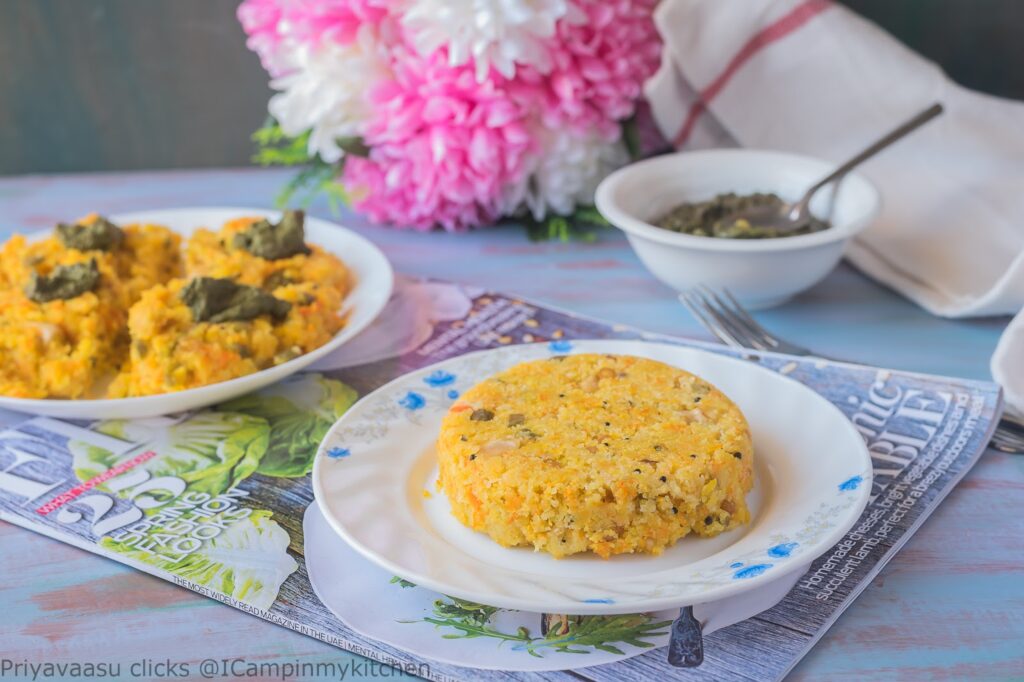 An instant idly that gets ready in 30 minutes. The mix can be made ahead and stored in an air-tight container, to be used anytime. The recipe is inspired from Jeyashri Kitchen. The original recipe uses only poha, the first time i tried i made a mistake in the liquid ratio, it didn't come out well. So, the next time i tried by adding a tablespoon of sooji to the poha and was careful with the liquid ratio, the result was a soft and fluffy idly.
Poha/aval/Rice flakes usually absorbs more liquid, so this actually tricks us to think that it might need more water, so be watchful there.  A simple recipe, that is so handy when you run out of your usual idly/dosa batter.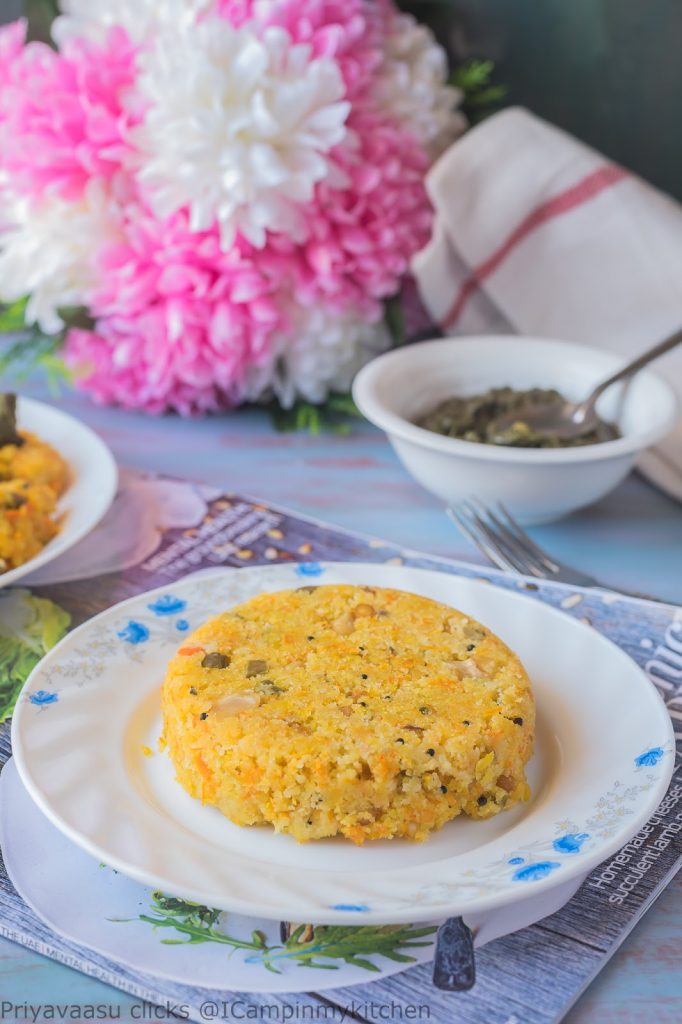 Ingredients
¾ cup buttermilk (Poha to liquid ratio is 1:1.5)
2-3 tablespoon broken cashewnuts
½ teaspoon salt or to taste
a pinch of hing/asafoetida
a pinch of turmeric powder
Dry roast 1 cup thin poha until they turn crisp. Let it cool completely. Grind them to a coarse powder in a mixie. Measure the ground poha, take ½ cup in a bowl, add 1 tablespoon of sooji to it and mix well. Store the remaining coarse poha in an airtight container. 

In a saucepan, heat oil, splutter musard seeds, add hing, slit green chili, chana dal and roast until the dal turns golden brown. Add grated carrots and cashewnuts to this and saute for a minute or two. Now dump the poha and sooji mix in to this and take it off the stove. Mix well and let this mixture cool down.

Once it cools down, add buttermilk and salt to this and mix well. The poha mix will absorb all the added liquid, it will look little tight. Do not add more liquid. Just before steaming, add baking soda to this and give it a brisk stir. 

Heat a idly steamer and fill the idly moulds with the batter and steam for 10 minutes. I used shallow bowls for steaming the idly, grease the bowl with oil, place ¼ cup of poha mix into the bowl, smoothen the top with back of the spoon, dipped in water. Steam for 10 minutes.

If steaming in idly plates, i suggest to steam the whole batch at the same time. Since the batter would become more dry as it waits. If it becomes too dry, add just a tbsp of water to the mix, stir well and steam. 
You can also wet your hands, roll the mix with your hands and place them into the idly moulds or bowls and steam. This will add rquired moisture to the poha mix.

Serve the poha idly hot with a spicy chutey or podi, i served with mint chutney.