The Sun God, tested my patience a lot today!!!! Phew!!!! Partly my Laziness too. Attempted to do the Baris only day before yesterday!!! 🙂 :). So, all these tests were on my Invitation!!!! 🙂 But anyways, the Baris were worth these sothanai's!!! They tasted damn yummy as raw batter (sure, all of you wud have tasted it!!!), now when all dried, i m waiting to taste them in some curry!!!
My Mother feels that this Baris are same like the Karuvadam, we make minus the fermenting and other extra spices we add. We just Grind the batter, add Ash-gourd and salt. Both are Sun-dried, so it is normally made during those Extra-Sun Months Mar-Apr-May!!!! Though we have good sun even now, but this isnt enough for the baris to bone-dry, these comments are also from my Amma Darling!!!!
Now Coming to the recipe, I have followed a mix of Mamta' recipe and Sharmila's Recipe!!!
Lentil Grinding and Soaking was done according to Mamta's Recipe, wheras the spice mix i took it from Sharmila's.
I m giving you the measurements, which i followed.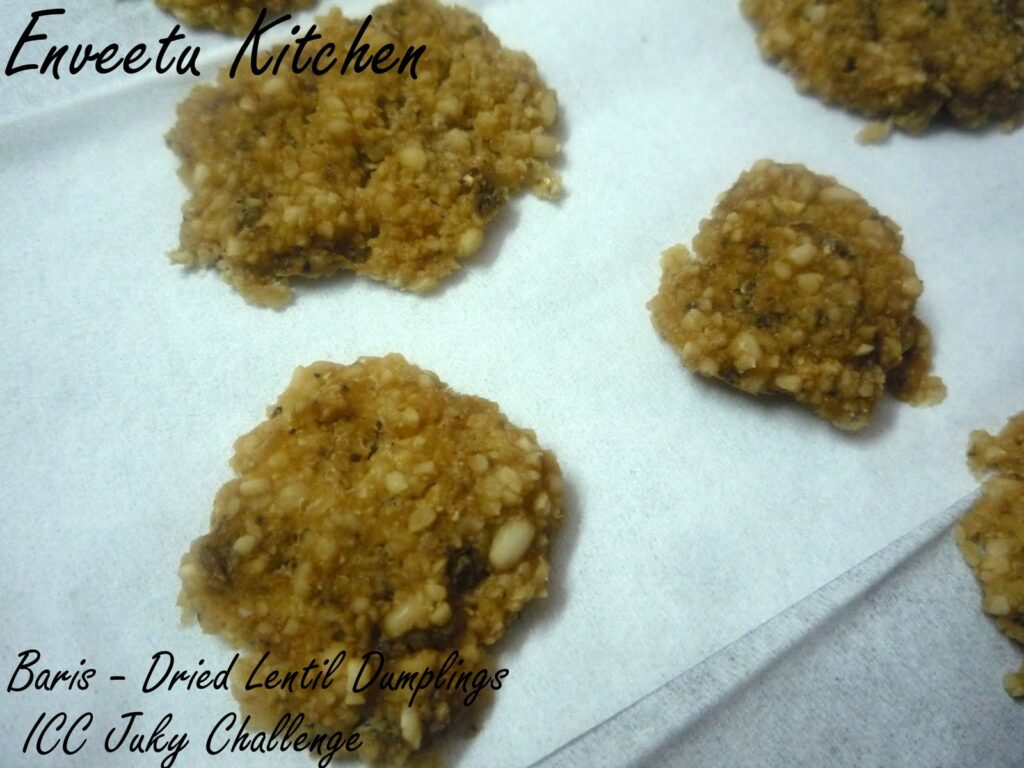 Ingredients
1/2 cup Urad dal
1/2 cup grated Ash-gourd
1/2 tsp Methi seeds
2 Green Chillies
1 red Chilli
1 tsp Pepper
1 tsp Cumin
2 sprigs Curry leaves
A small piece of ginger
Hing a pinch
Salt to taste
Method
I Grinded the urad dal coaresely, then soaked in enough water for the dal to immerse, 1/2 inch above the dal. Added hing and left the dal overnight to ferment. Next day morning, grind Chillies, Pepper, Cumin, Curry Leaves and ginger all together and mix with the Dal mixture. Squeeze out the extra water from ash-gourd add it to the dal mixture. Mix Well. It has to be stiff, dropping consistency. If you drop a blob of mixture in a bowl of water, it should float.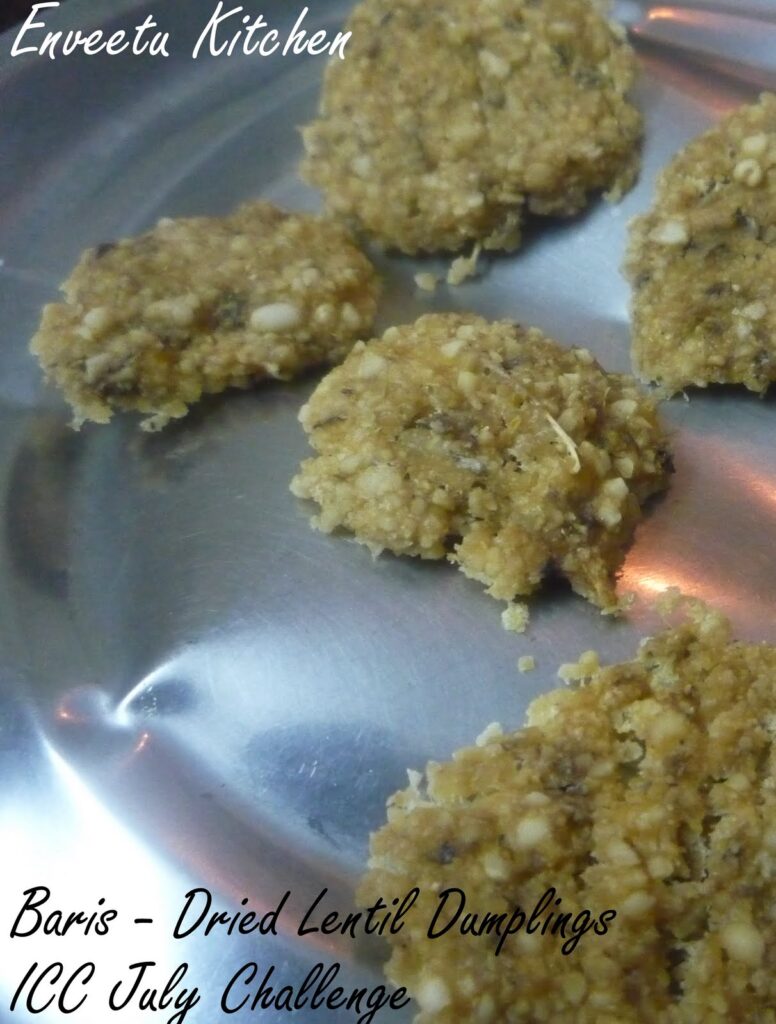 Grease Two Flat plates with little oil and Place small blobs on the plate. Pray Sun God for his Mercy and Sun-dry them. Mine is 90% Done, But need to dry some more tomorrow morning with the mercy of Mr.Sun.
I didnt want to miss this Month'a ICC, so i sun-dried yesterday and air-dried today 🙁 (since it was cloudy) and took the pics jus now @ 11:30 PM and posting it!!!! Sorry Valli, Amma veedu, Sorgam + Somberithanam, Aug 27th reaching my place, so will come be inline for next challenge!!!! 🙂
It was a Good Experience making these baris, now i know how much pain both my appa and amma take to make Vadam  of all sorts for us!!! Even now i have Dabba full of these yummies!!!