Another popular potato snack is definitely Aloo bonda. I must admit i have never made this at home. Tasted it many times in restaurants, dipped in coconut chutney they taste like heaven. Then why haven't you made it till now, you might ask? I wasn't sure that my kiddo's would like it, if they don't than it will me and my hubby hogging them unnecessarily. Since it is holidays now and all the boys are at home, they keep pestering me to make some snack, i feel i m really camping in my kitchen all through the day!!
So, i made these for our snack today, kuttu loved them totally, whereas my LO, ate only the topping and left the aloo as such!!!I didn't bother much, coz, he sometimes eats boiled potatoes for his breakfast, yeah, plain boiled potatoes, no salt! So, i wasn't worried much.Overall, it is a hit dish and my evening went well and they are still busy in their own world, without yelling, "amma i m hungry!, give something to eat!:)


Ingredients
For the batter
¼ teaspoon red chili powder
2 pinches of turmeric powder
½ teaspoon red chili powder
½ teaspoon coriander powder
2 pinches of turmeric powder
1 teaspoon shredded ginger
Method
Wash,peel and boil potatoes until soft. Mash them well using a potato masher. Heat a pan, with a teaspoon of oil, splutter mustard seeds, add curry leaves, chopped onion and ginger. Saute until onions turn translucent. Since i was making it for my kids, i have avoided adding green chilies and chopped coriander.
Add this sauted onions to the mashed potato, add turmeric, red chili powder, coriander powder and salt. Add lemon juice and mix well with you hands. Divide the potato mixture into balls.
I divided into 18 ping-pong sized balls. Since i was making it for my kiddo's snack i wanted it to be in small size. You can even make it a bit more big, about a golf-ball size.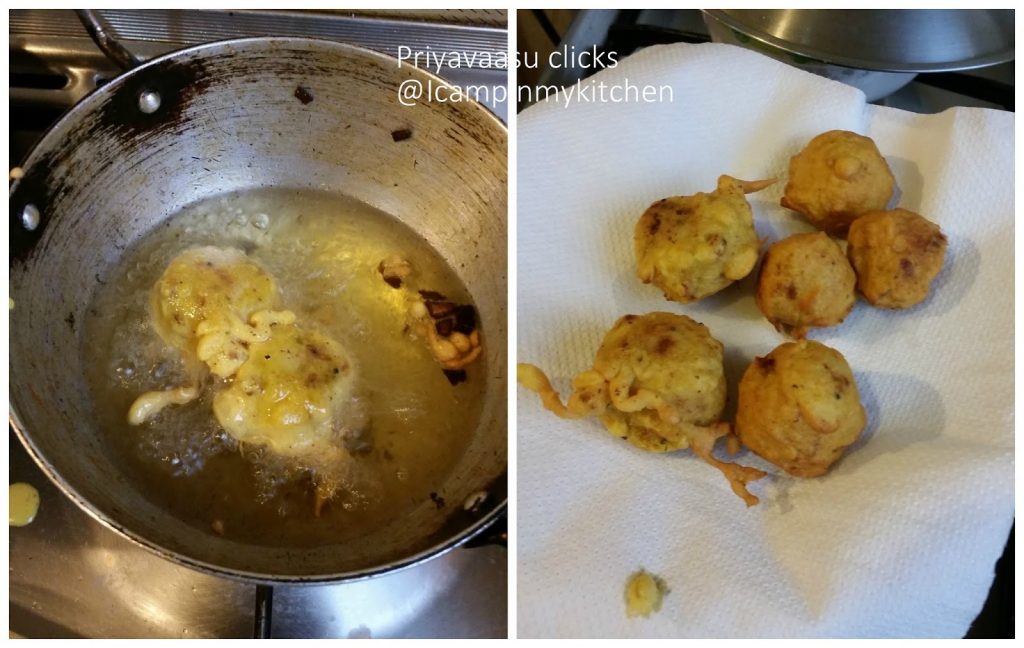 Lets us prepare the batter, take all the ingredients given under batter, add around ¾th cup of water and make a batter of flowing consistency,it should be like dosa batter. Not too thick nor too thin.

Now heat a pan with oil for deep-frying. Dip each ball of potato into batter, shake a bit to remove the excess batter and slowly slide them into hot oil to fry.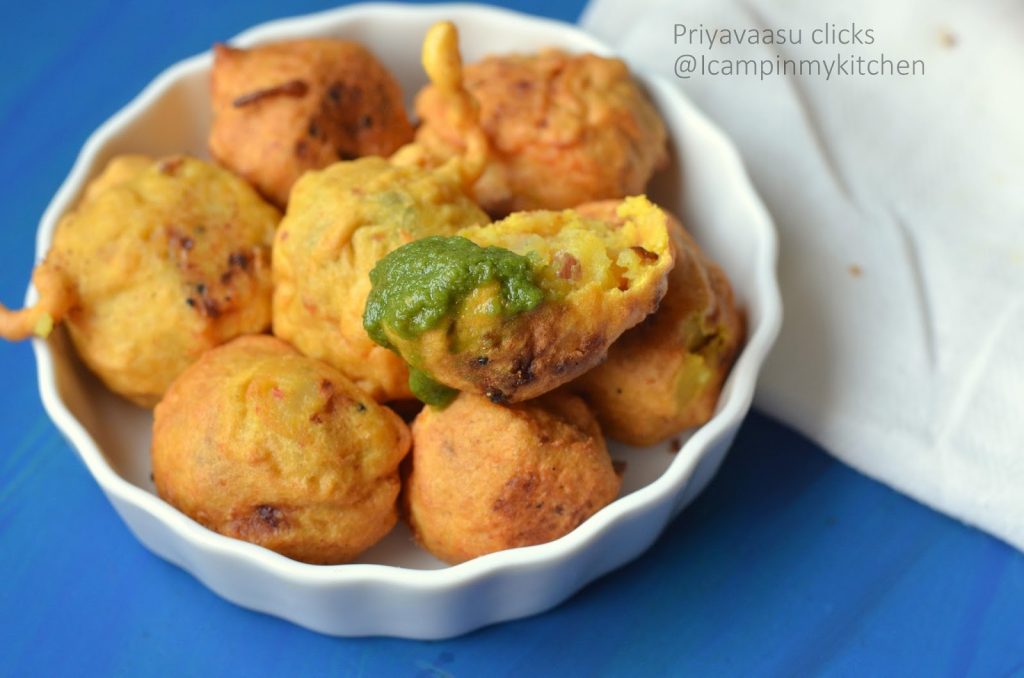 Fry them well until golden brown on all sides and drain on paper towel. Serve them hot with mint chutney or Coconut chutney and see them vanish.
Check out the Blogging Marathon page for the other Blogging Marathoners doing BM#50