Today's Color theme : Pink, i give you a simple and delicious stir-fry of beets.
Beets Stir-fry, this post is long overdue.
These Pink beauties are full of health
benefits, they contain
fiber and potassium and is an excellent source of fol-ate.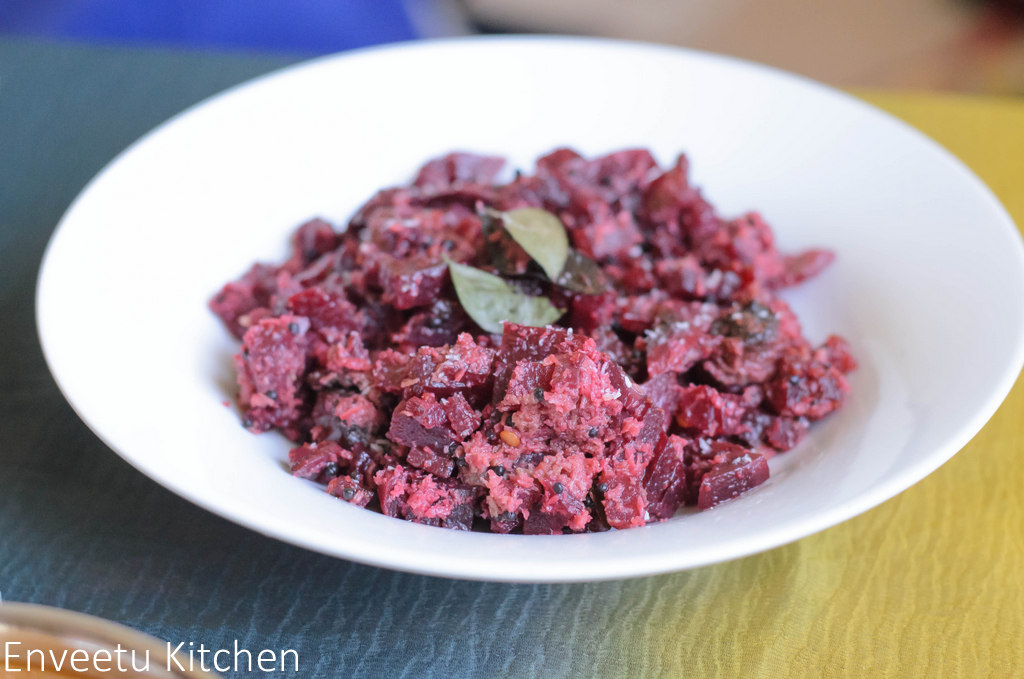 According to Wiki :
Beetroot is a rich source of potent antioxidants and nutrients, including magnesium, sodium, potassium and vitamin C., and
betaine
, which functions by acting with other nutrients to reduce the concentration of
homocysteine
,
which has been suggested to be harmful to blood vessels and thus contribute to the development of
heart disease
,
stroke
, and
peripheral vascular disease.
I know kids don't prefer this veggie, i normally hide this with Dal and Rasam to feed my kiddo, but with a bright color like this , it is hard to hide and with so much nutrients it is ever harder to avoid.
Ingredients
3 tablespoon Freshly grated coconut
Tempering
3 nos Red Chilies, i used long variety broken into 2
Hing/Asafoetida, Turmeric each a pinch
Method
Peel the Beertoots and Chop them into roundels first. Then cut each roundel into small cubes.

Heat Oil given under "

Tempering"

in a pan splutter mustard seeds,broken red chilies, curry leaves, hing and turmeric.

Once the leaves turn a bit crisp, add the chopped beetroots and saute for a minute or two.

Add freshly grated coconut and a Cup of water. Add salt and mix well.

Cover and Cook for 12-15 minutes or until the beetroot is cooked. It will take a bit longer for the beets to cook, so be a little patient.
Once Cooked, remove the cover and cook until all the moisture is absorbed and the curry/subzi is Dry.

Serve it Warm with Rice, goes well with a Tangy gravy and Rice.