I always have a confusion on a cutlet and a croquette? So while naming i read Wiki again to know the difference. What i understood is cutlet is thinly shaped, whereas a croquette is shaped like a cylinder, wiki says both are breaded. Now i haven't used bread or bread crumbs in my recipe here, so i was a bit skeptical about naming them croquettes. But them i shaped them cylindrical, so croquette it is, if you want you call it cutlet, please do so! after all what is in a name? Now let us get away from the naming confusion and get to the recipe.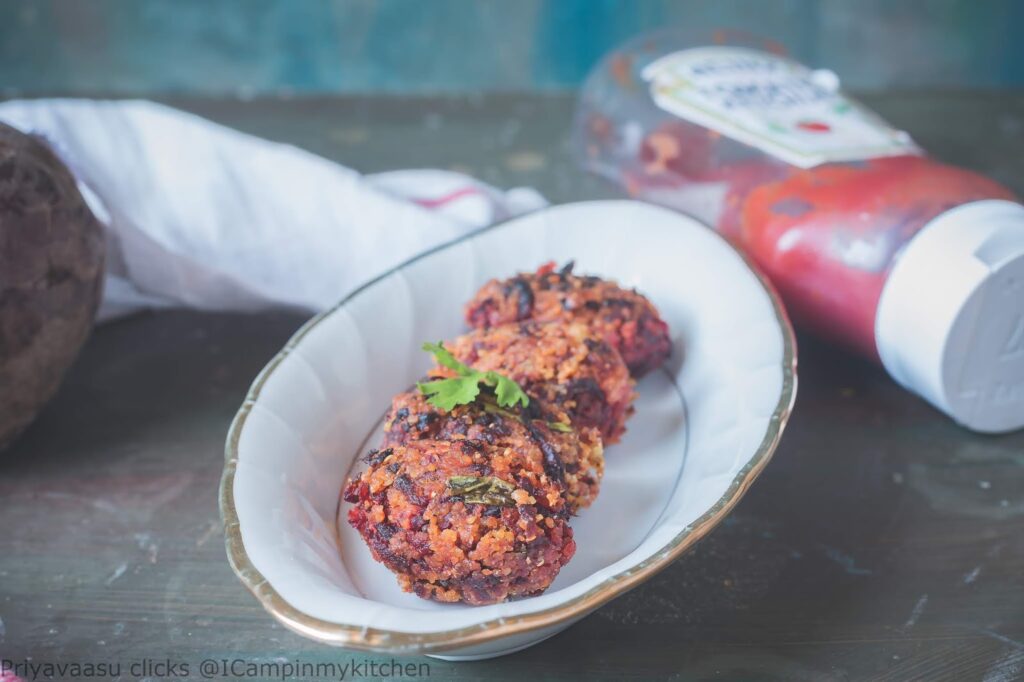 A simple recipe with cooked millet mixed with veggies, binded and shallow-fried, they would vanish straight from the tava, but since i made it just after lunch kiddos were too full, so they left it for me to click in the evening, and they enjoyed it as an evening snack, after warming it up in the microwave for 20 seconds.
They make delicious snack, and can be used as filling for wraps and sandwiches, just add some cream cheese/labneh with some greens, you will have a filling meal!!!!
Ingredients
½ cup Samai/Little millet/Samo/Vrath ke chawal
¼ teaspoon red chilli powder
¼ teaspoon coriander powder
¼ teaspoon fresh turmeric grated (turmeric powder can also be used)
⅓ cup of oil for shallow frying

Method
Take samai/little millet in a microwave safe bowl, wash it twice with water, add twice the amount of water to it and cook for 10 minutes at high. This will give you well cooked millet.

The millet can also be cooked on stove-top, add twice the amount of water and cook on open pot or pressure cooker. Once cooked, let it cool.

Let us get the beets ready. Peel and grate the beetroot, it yielded around 1 cup tightly packed beetroot.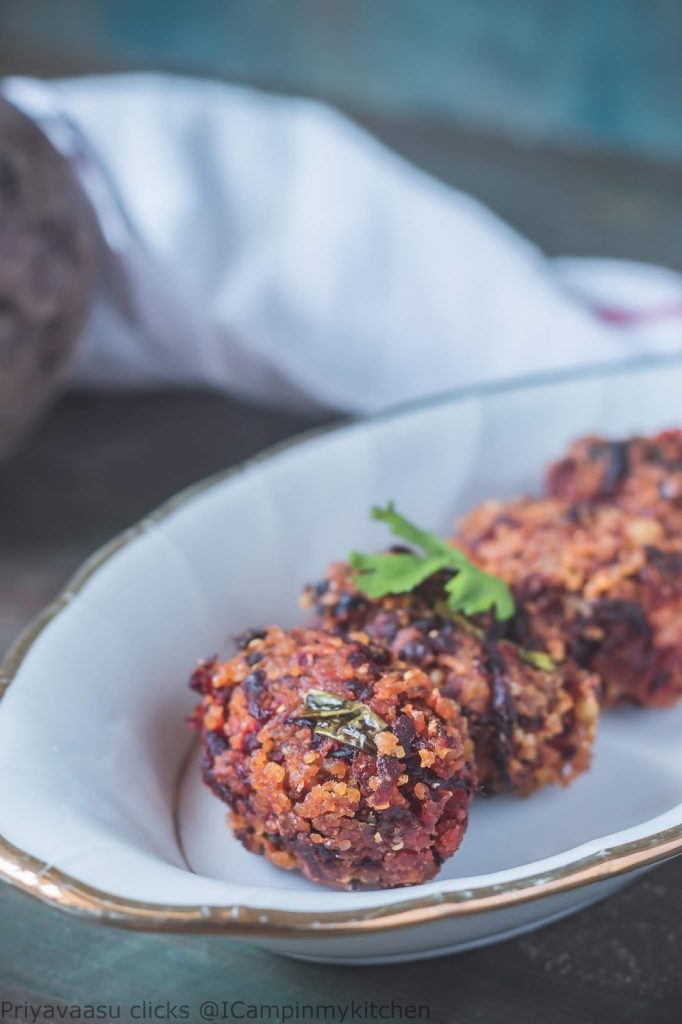 In a pan, add 1 teaspoon oil, add the chopped green chilies, curry leaves, grated ginger and turmeric,let it saute for a minute.

Add the grated beets to it and saute for a minute. Add salt, cover and cook for 8-10 minutes in a medium flame. We need the beets ¾th cooked. Once done, take it off the stove and let it rest.

Take the cooked millet in a wide bowl/plate, add the cooked beets, to it, now add red chili powder, coriander powder, rice flour to it and make a dough.

The dough comes together on its own. The starch in the millet makes the binding easy. Now divide the dough into 10-12 portions. Either shape them into flat discs or in the shape of croquettes. I shaped them oval size.

Heat oil for frying ina shallow pan, place the croquettes 6-7 at a time, or how muchever the pan can comfortably hold, as we have to turn them after few minutes, so do not overcrowd them.
Once you place the croquettes in the hot oil, do not disturb them immediately. Turn them after 5 minutes, by that time, the bottom of the croquettes would be brown, cook them all sides until golden brown.

Remove the cooked croquettes on to a flat plate, laid with kitchen towel. Serve them warm with tomato sauce. These can be used in wraps too with some cheese and greens for a filling meal.