After 2 days of deep fried doughnuts, i settled for a baked one today. Though traditionally doughnuts are deep fried yeast bread, today's post is like 2 birds in one stone. yes, this goes for today's Bake-a-thon and as well as Blogging Marathon on the theme Doughnuts.
Ok, now coming to today's recipe Berliner. German Berliner is a sweet pastry, made using yeast dough, filled with jam and deep fried in fat. The yeast dough contains a good deal of eggs, milk and butter. The classical Pfannkuchen made in Berlin consists of two halves filled, stuck together and deep-fried in lard(pig fat), whereby the big bright bulge occurs. The filling is related to the topping: for plum-butter, powdered sugar; for raspberry, strawberry and cherry jam, sugar; for all other fillings, sugar icing, sometimes flavored with rum. But, these days the filling is injected with a large syringe or pastry bag after the dough is fried in one piece.
Since i have already tried the Krafne/Pokladnice, croatian doughnuts which are some what similar to German Berliner,but filled with Apricot jam. I wanted to try these baked versions with chocolate filling inside. i would say it came out good, i might have baked for a tad bit extra time, so the tops turned a bit dry, but then the sugar glaze took care of it.
2 cups Bread flour/All purpose flour
1.5 teaspoon instant yeast
½ cup Warm milk
2 tablespoon oil
2 tablespoon sugar
2 pinches of salt
Oil for deep frying
Filling
100 gms dark chocolate bar
Sugar glaze
¼ Cup powdered sugar
2 tablespoon of water

Method
In a large bowl, take flour, yeast, sugar and salt together. Whisk well to mix together. Rub oil/butter into the flour mix. Now slowly add warm milk to this and start kneading a soft dough.

The dough is pretty easy to handle. Knead the dough for 5 minutes to get a soft dough. Let the dough rest in a well oiled bowl for 90 minutes or until it is double in volume.

Punch down the dough, roll the dough into an rectangle about 0.5 inch thick. Using a round cookie cutter (about 5cm in diameter), cut roundels of the dough and let it rest on a parchment laid baking pan. i got about dozen doughnts for the above quantity.

Let the doughnuts rest again for another hour or until it doubles in size. Brush the top with milk and butter.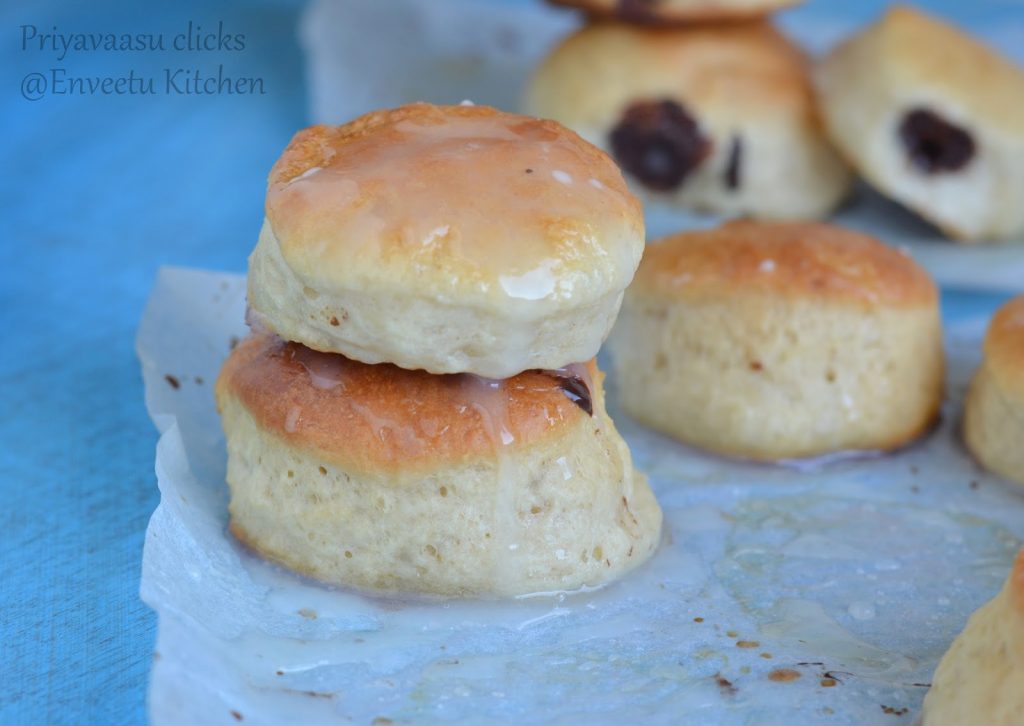 Preheat the oven to 220C and bake around 15 minutes or until it is browned. Do not bake more or it will become dry.

Once they are out of the oven, brush the top again with some butter.
For the Filling
Melt the chocolate in microwave for 2 minutes.
Once melted, fill it in a piping bag and punch the sides of the doughnut with the pipping bag and pipe some chocolate into the doughnut.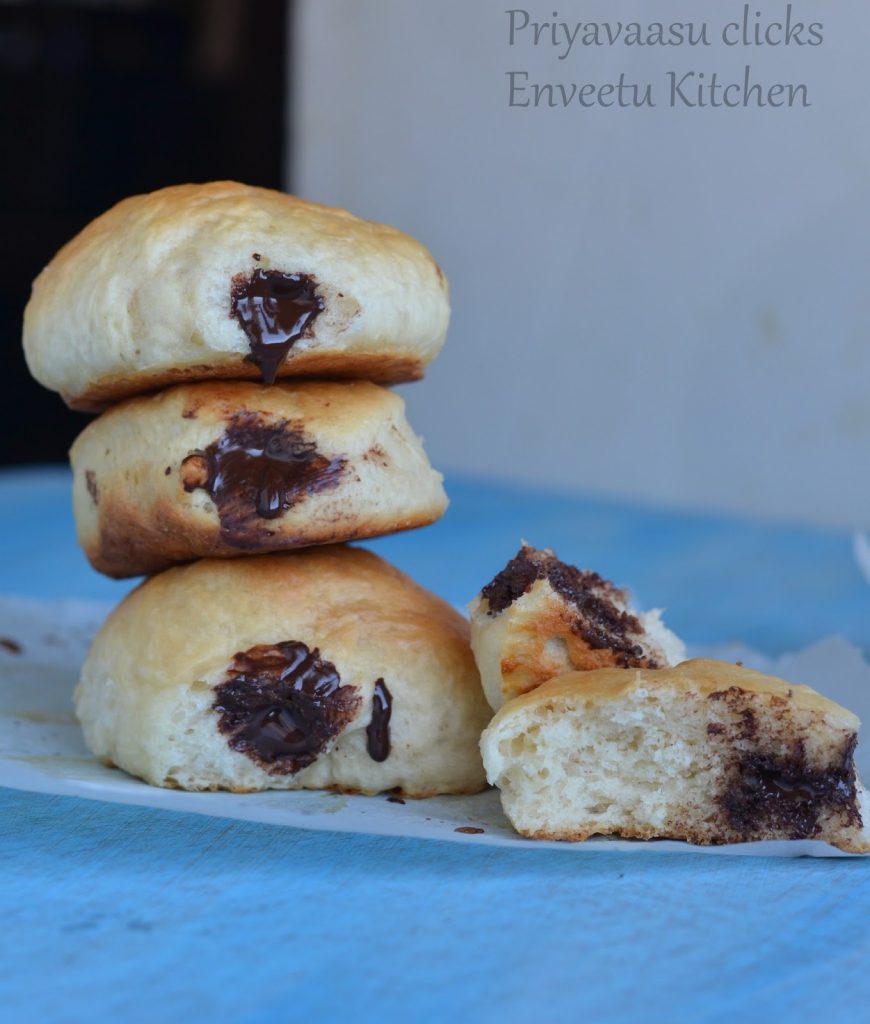 For the glaze
Take sugar in a bowl, add water to it and make smooth liquid. Pour the glaze over the doughnuts and let the glaze dry a bit and serve.