Peanut chikki, the name itself evokes a lot of memories in one! It is my favorite snack till date. Every time i go chennai, i will stock some Rajaram brand chikki/balls at home and me and my appa will fight and finish them.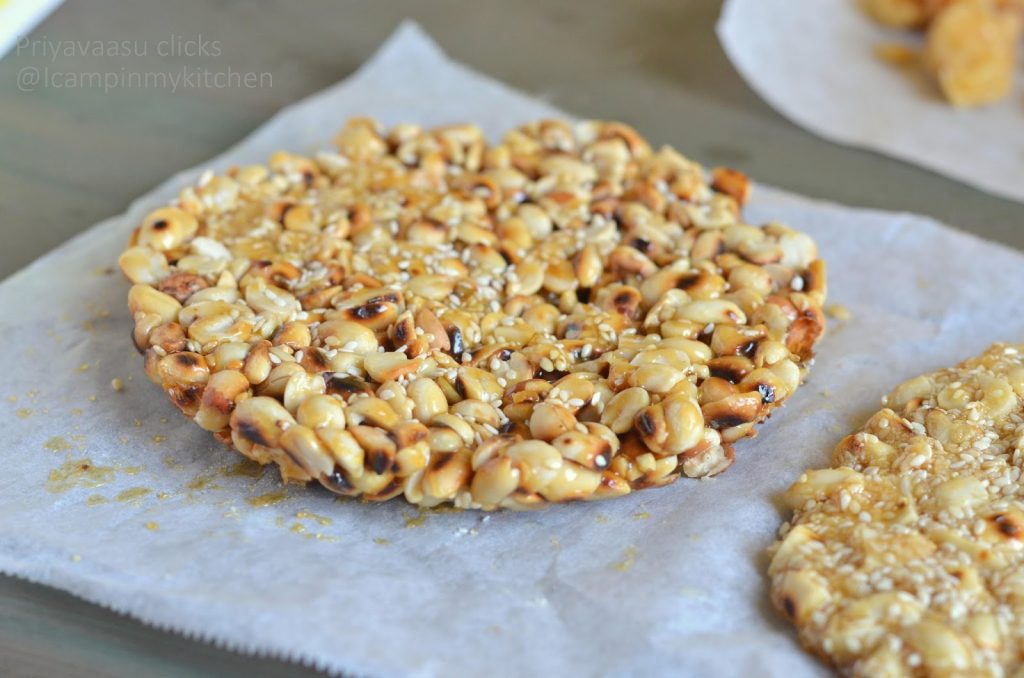 My chithi/aunt used to get a big flat round chikki from her office. It used to very thick and tastes awesome.  It's my longtime wish to recreate the same chikki at home, but never got the time or the thought till date. When i was going through the list of Indian desserts, i saw our humble chikki too, immediately decided to make it for this week's theme.
Needless to say, the chikki came out super delicious. Mild hint of cardamom and toasted sesame make it all the more yumm!!
Ingredients
1/2 Cup Peanuts, skinless
3-4 pods of cardamom, crushed 
1 tbsp desiccated coconut (optional)
1 tbsp of toasted white sesame seeds 
(optional)
Method
Before switching on the stove, lets prep the table. Grate the jaggery and keep it ready. Crush cardamom pods and discard the skin, crush the seeds well and keep aside. Grease a small plate with ghee and keep it ready.
Now i normally have a bag of skinless peanuts ready in my pantry, but when i checked the quantity, it was very less than 1/2 cup, fortunately i had peanuts with skin. 

If you are using peanuts with skin,then we have a little work. Roast the peanuts in medium flame, until you hear crackle sound. Take the peanuts in  a wide plate and rub it with kitchen towel to remove the skin. I had a big bamboo dustpan, i took the peanuts in it and rubbed it well and removed the skin. 

Now lets prepare the jaggery syrup,take the grated jaggery in a pan, add 2 tbsp of water and heat it, when it melts, strain for impurities and take the jaggery water again to the stove. 

When it starts bubbling well, check for hard ball consistency, use a spoon, dip it in the syrup and drop it in a bowl of water, you should be able to roll the dropped syrup into a ball.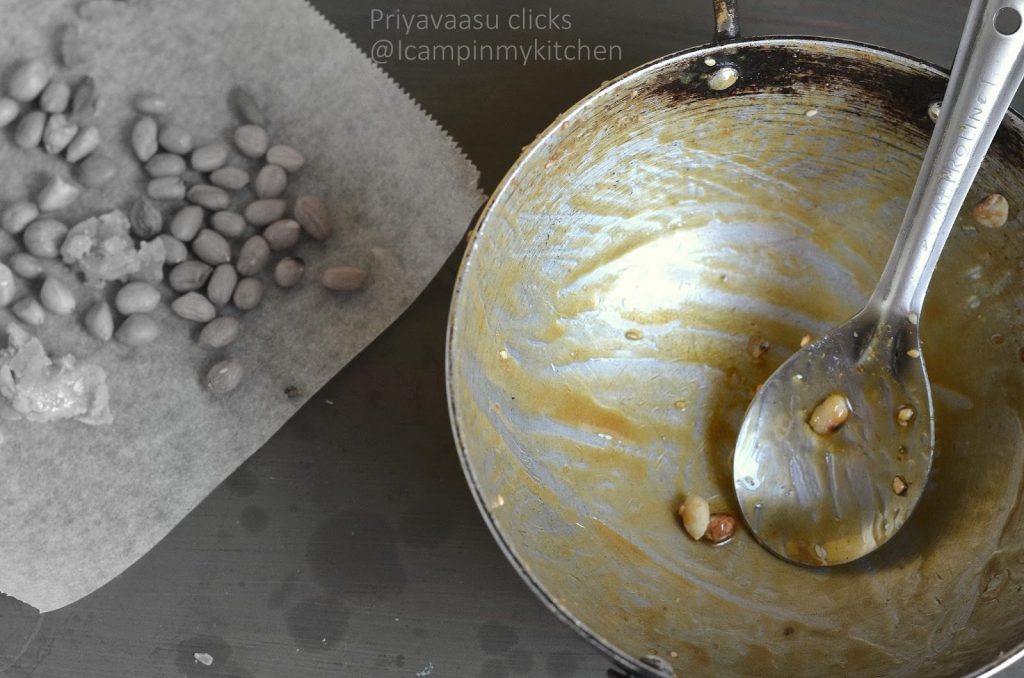 Now add the roasted peanuts, crushed cardamom, coconut and sesame, give it a quick stir. Take it off the stove, pour it on the greased plate. Use a parchment paper and flatten the top. 

I made another chikki with peanuts and sesame, used the same measurements, but used 1/4 cup sesame seeds extra.
Let the chikki set, for about 30 minutes. Then carefully run a blunt knife around the corners of the greased plate, invert the chikki on a flat surface, cut and serve. 
Cover the unused chikki tightly with a plastic wrap and store in on the kitchen counter. Stays good for days.