Peanut Chikki, aka burfi/brittle, quick and easy sweet snack made with roasted peanuts and jaggery. A delicious and healthy homemade snack.
Jump to Recipe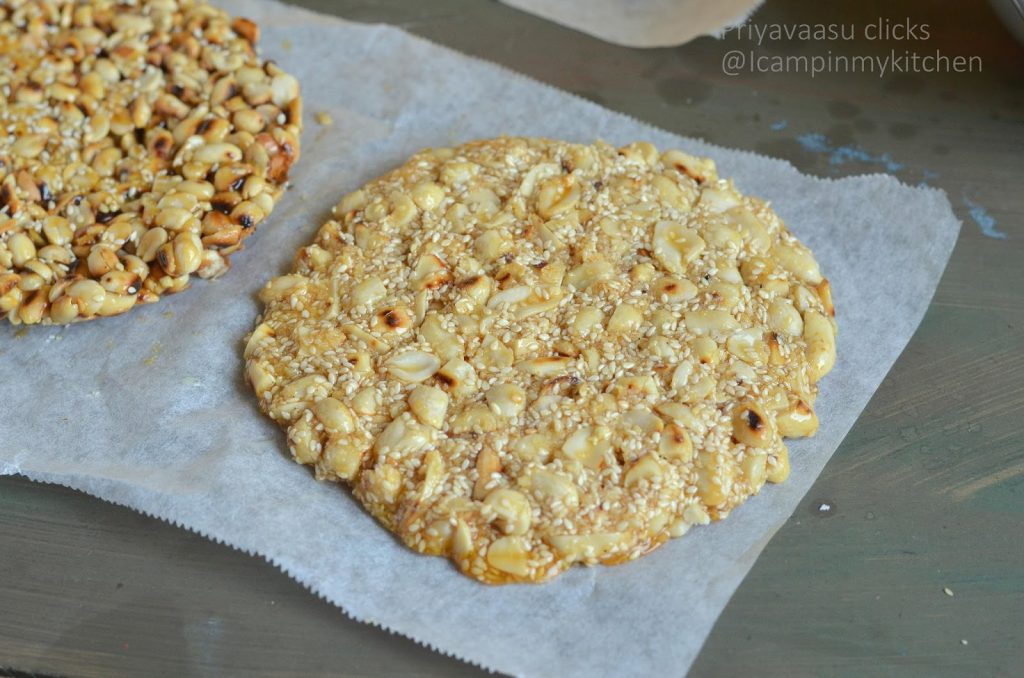 Food Memory
Kadalai burfi, the name itself evokes a lot of memories in one! It is my favorite snack till date. Every time I goto Chennai, I stock some Rajaram brand burfi/balls at home and me and my appa will fight and finish them. With appa's passing this November, this chikki holds a sweet memory of him.
My chithi/aunt used to get a big flat round disc like chikki from her office. She was working with Agriculture Department of Tamilnadu and they have this market below their building where you get amazing stuff right from food, clothing, etc.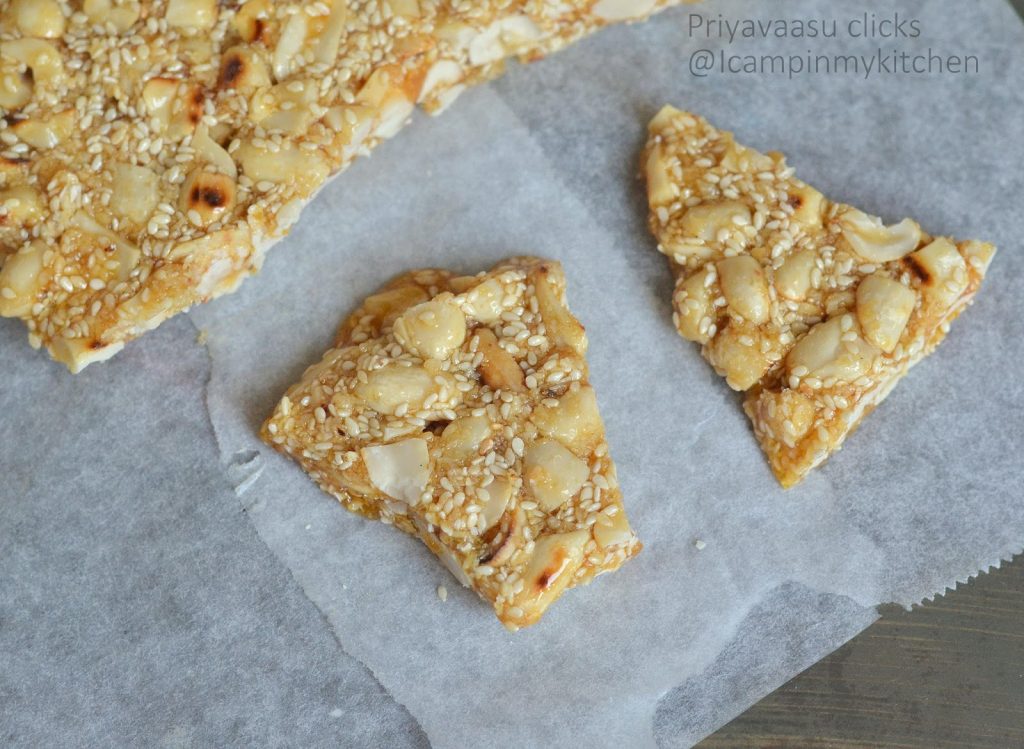 The big disc like peanut brittle, was our favorite snack while growing up.  It's my longtime wish to recreate the same chikki at home. This Kaarthigai Deepam, instead of making peanut balls, i tried making this flat peanut brittle/Peanut Burfi. Needless to say, the chikki came out super delicious. Mild hint of cardamom and toasted sesame make it all the more yummy.
More Karthigai Deepam Recipes
The Ingredients
Peanuts, unsalted peanuts are preferred for making this chikki. If you can get skinned and roasted peanuts then the job is half done.
Jaggery, the sweetener used to make this kadalai burfi/peanut brittle.
Cardamom, is used to flavor the kadalai burfi
Dessciated coconut and sesame seeds, both are optional, but add a nice texture to the brittle. Especially the toasted sesame seeds.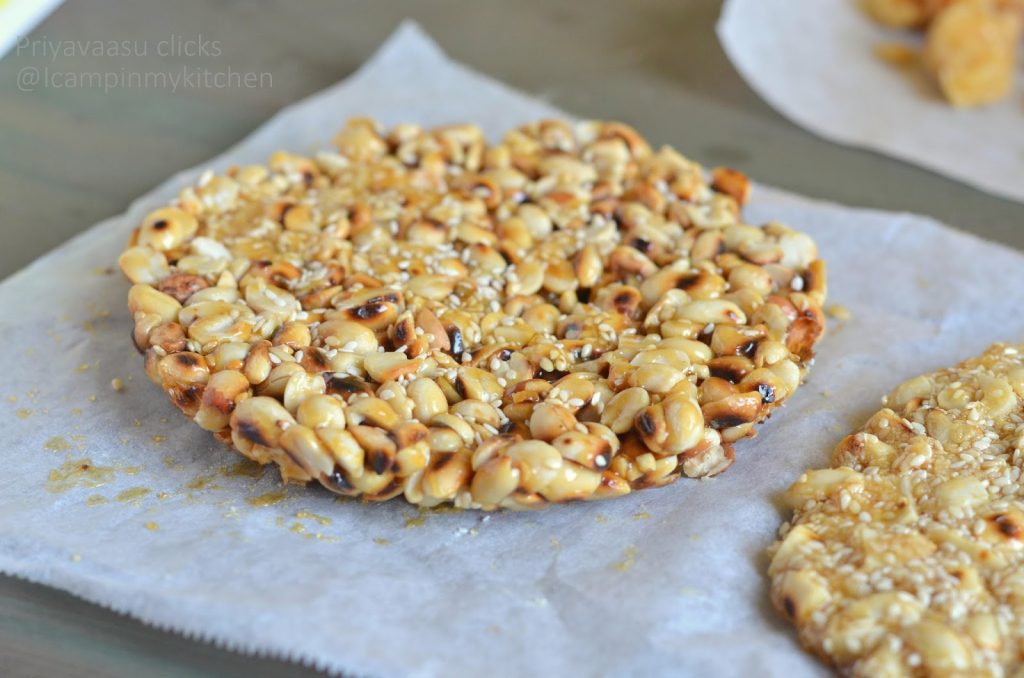 Step by Step Instructions to make Kadalai Burfi
Please check recipe card below for exact measurements of each ingredient used and also for the detailed instructions
Grate the jaggery and keep it aside. if you have got peanuts with skin then we have to remove the skin. Roast the peanuts in a wide pan, in a medium flame. Once nicely roasted, take it in a kitchen cloth and rub to remove the skin. Keep the skinned and roasted peanuts aside.
Before beginning, keep a flat plate greased with oil/ghee ready to pour and shape the brittle.

Let us make the jaggery syrup. This is a very important step to get a good brittle. Add 2-3 tablespoon of water to the grated jaggery, and heat it. Let it melt, strain for any impurities. Wash the vessel well. Take the jaggery syrup to heat again. Let it come to a rolling boil.

To check for the syrup consistency, keep a small bowl of water by the side, dip a spoon in the syrup and add it to the bowl of water, you should be able to roll the syrup into a ball. We are looking for a hard ball consistency.

Once the syrup reaches the consistency, add the roasted peanuts, cardamom powder and roasted sesame seeds to this and mix well. Pour this into the prepared greased plate/tray. Smoothen the top with parchment paper, you can also sprinkle some toasted sesame seeds on top.
Let this sit for 30 minutes, then using a blunt knife release the sides and remove the chikki and enjoy.
More such Candy Recipes
Recipe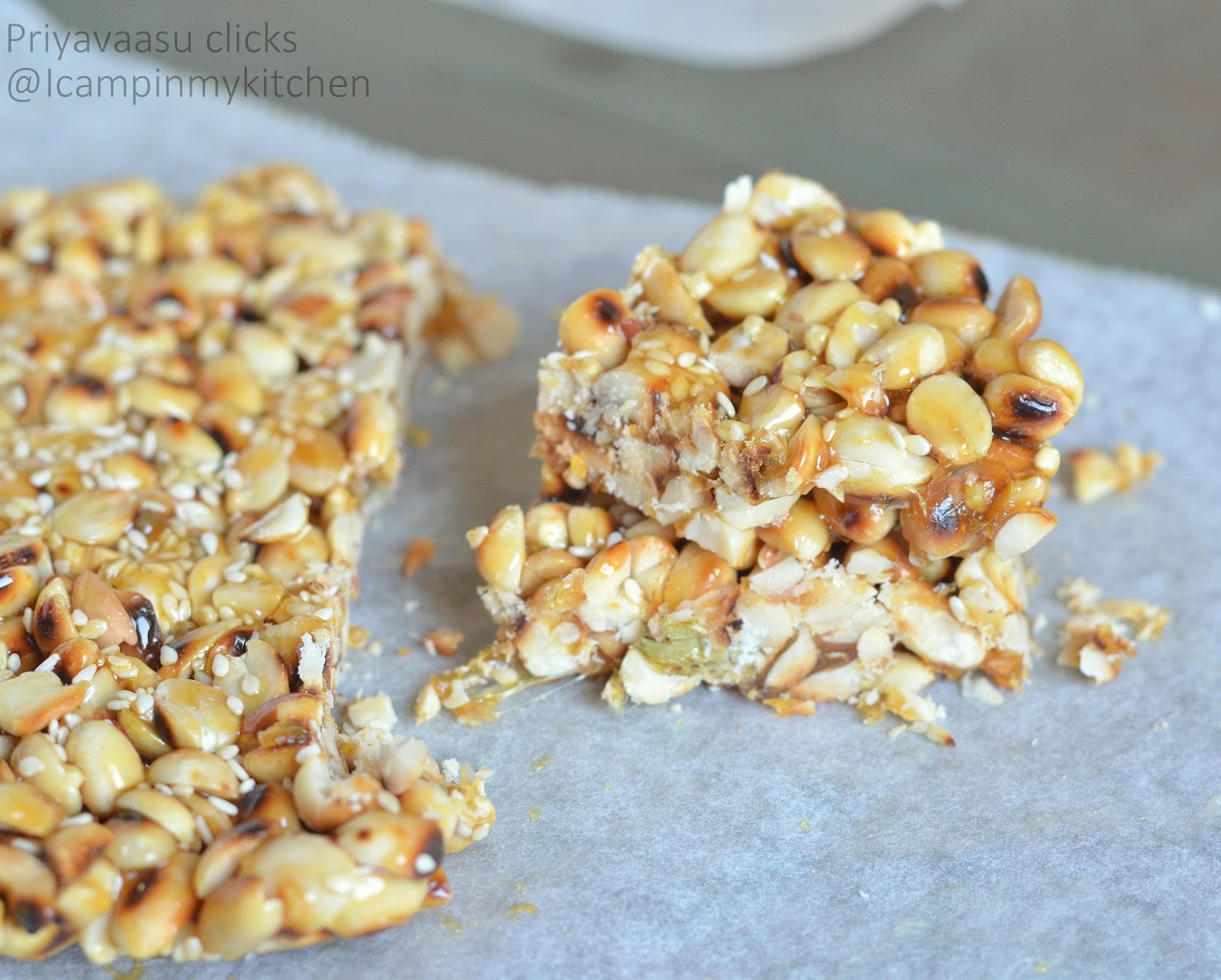 Peanut Chikki | Kadalai Burfi | Peanut Brittle
Kadalai burfi, peanut brittle a quick and easy sweet snack made with roasted peanuts and jaggery. A delicious and healthy homemade snack.
Print
Pin
Rate
Ingredients
½

Cup

Peanuts

skinless

¼

cup

grated jaggery

3-4

pods

cardamom, seeds alone

crushed

1

tablespoon

desiccated coconut

optional

1

tablespoon

of toasted white sesame seeds

optional
Instructions
Before switching on the stove, lets prep the table. Grate the jaggery and keep it ready. Crush cardamom pods and discard the skin, crush the seeds well and keep aside. Grease a small plate with ghee and keep it ready

If you are using peanuts with skin, then we have a little work. Roast the peanuts in medium flame, until you hear crackle sound. Take the peanuts in  a wide plate and rub it with kitchen towel to remove the skin. I had a big bamboo dustpan, i took the peanuts in it and rubbed it well and removed the skin. 

Now lets prepare the jaggery syrup, take the grated jaggery in a pan, add 2 tablespoon of water and heat it, when it melts, strain for impurities and take the jaggery water again to the stove. 

When it starts bubbling well, check for hard ball consistency, use a spoon, dip it in the syrup and drop it in a bowl of water, you should be able to roll the dropped syrup into a ball. 

Now add the roasted peanuts, crushed cardamom, coconut and sesame, give it a quick stir. Take it off the stove, pour it on the greased plate. Use a parchment paper and flatten the top. 

I made another chikki with peanuts and sesame, used the same measurements, but used ¼ cup sesame seeds extra.

Let the chikki set, for about 30 minutes. Then carefully run a blunt knife around the corners of the greased plate, invert the chikki on a flat surface, cut and serve. 

Cover the unused chikki tightly with a plastic wrap and store in on the kitchen counter. Stays good for days
Disclaimer
I m not a Doctor or a Nutritionist The Nutrition information provided above comes from the plugin and is only an estimate.
These mildly sweetened peanut chikki's tastes delicious and nutritious too. These homemade traditional snacks are better than store bought snacks laden with preservatives.
This peanut candy stays good on the kitchen counter in an air-tight container. They also make a great gift to your friends and family.
Do you like the recipe? PIN IT