Bhindi paneer - a unique combo, slimy bhindi with spongy paneer. But when cooked properly, bhindi doesn't show that sliminess !! Only care i take is to wash the bhindi first, pat it dry and then chop it. The 29th edition of Blogging Marathon begins today. For the first week i have chosen : Cooking with Colors as my theme. So, for today i m choosing white : Paneer.
Paneer is my all time favorite and luckily even my hubby too likes it. I make it alteast once in two weeks and now since my hubby is taking Roti for lunch, it appears in our lunch menu often. Bored of trying it with usual
capsicums and mixed veggies, i tried it with Bhindi/okra, though i made it with a little hesitation, but to my surprise it turned out great.
I have cooked Bhindi directly with onion and tomatoes, you can also pan-fry the bhindi's separately and add it to the curry along with paneer at the end.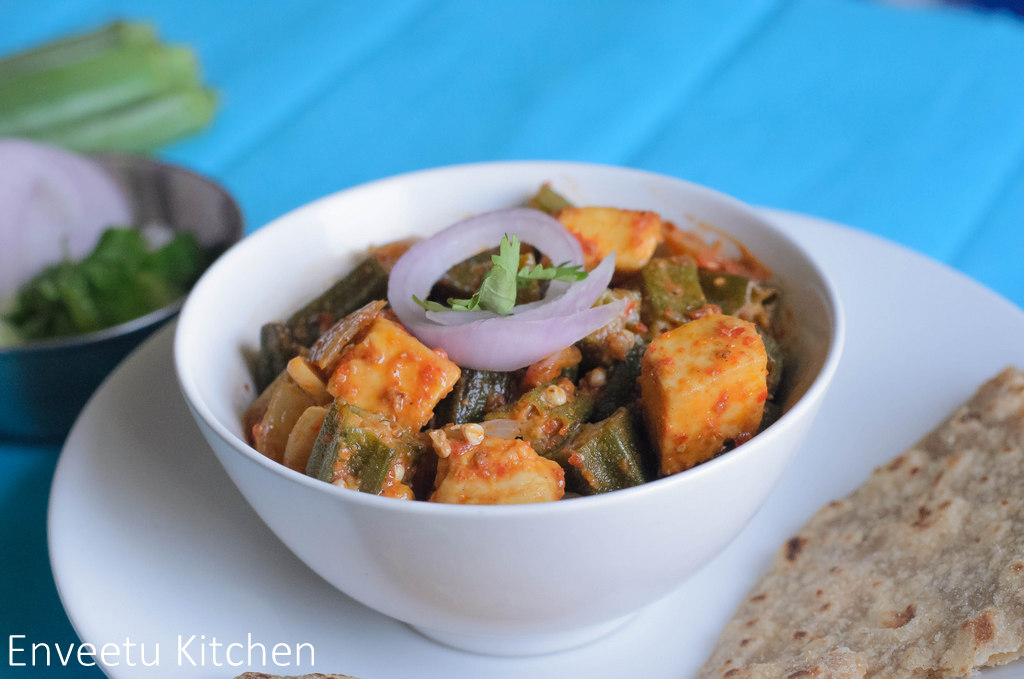 Ingredients
100 gms of Bhindi/Okra
100 gms of paneer/Cottage Cheese, i used frozen paneer
1 Large Onion
1 Large Tomato
1 tablespoon Tomato Puree (purely optional, for the color)
1 green chilli, slited lengthwise
2 cloves of garlic, chopped
1 teaspoon of shredded ginger
1 teaspoon Red Chili Powder
1 teaspoon Coriander Powder
½ teaspoon Garam Masala
¼ teaspoon turmeric powder
¼ teaspoon Cumin seeds/jeera
1 teaspoon Kasuri methi
Salt to taste
Shredded ginger,Coriander for garnishing


Method
Wash the bhindi, pat it dry using a kitchen towel. Chop the crown of the Okra/Bhindi, and Chop each Okra/Bhindi into 2-3 pieces depending on the size.

Chop Onion fine, Tomatoes into cubes. In case of using frozen paneer, then keep it soaked in hot water, until use.

Heat oil in a pan, crackle cumin, add Chopped onion, green chili, chopped garlic, shredded ginger and saute until onions become translucent.
Add Tomatoes and tomato puree and 1 Cup Water and add red chili powder, coriander powder, garam masala powder and turmeric powder. Let this cook until the tomatoes are soft and oil oozes out.

Add Bhindi to this a,Cover and Cook in a medium flame for 10-15 minutes. By this time the bhindi must be soft and cooked.

Open the Cover, Add Salt and Cook until the curry is almost dry. At this point, drain the paneer from hot water and Add it to the curry and Mix well. Add dried fenugreek leaves to it and mix well. Let it sit on the stove in a simmer flame for another 8-10 minutes for the flavors to infuse.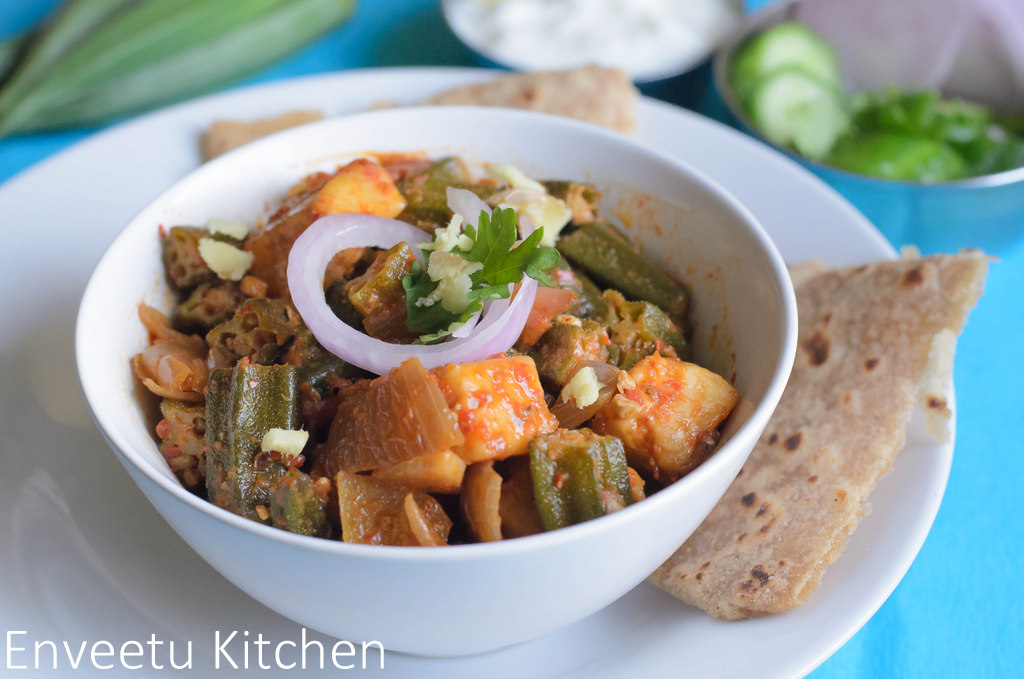 Take it off the stove, garnish with fresh coriander and shredded ginger, Serve Warm with Roti's.
Check out the Blogging Marathon page for the other Blogging Marathoners doing BM#29