We at home, love paneer a lot, i try to make paneer curry atleast twice a week. Capsicum paneer dry, is one of our favorites and also paneer butter masala. When i chose the theme of Adapted cuisines for this week's Blogging Marathon, i wanted to make indo-burmese cuisine, i even chose two recipes, saw some videos and collected some articles on that line. But somehow, i wasn't satisfied enough with all the reading i did, so at last minute, i changed mind and did Indo-chinese cuisine, a very famous adaptation indeed!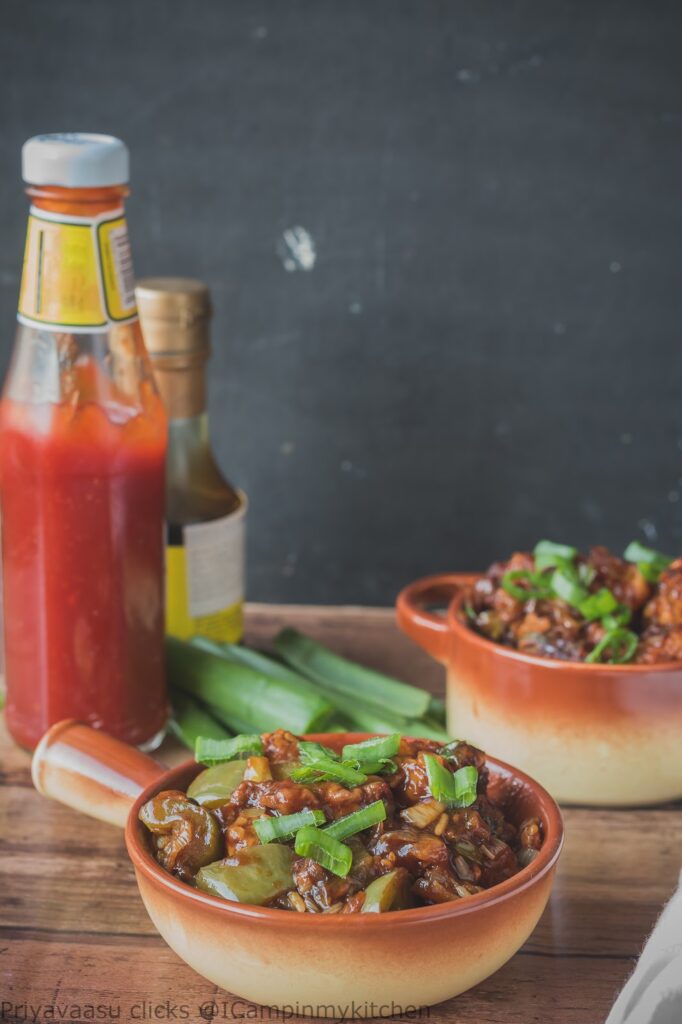 We have such a variety of chinese recipes in our cuisine, even the chinese would be astonished!!! I have to admit, this is the first time i m trying indo-chinese at home. When we eat at restaurants we order chinese, but i was never tempted to try at home. Recently we stopped eating outside, yes it is almost 2 months now, we ate just once since December. So kids are not getting to taste their usual manchurian and chilli paneer regularly, obviously it is time to learn to make tham at home.
I cannot quote just one source for this recipe today, i read and saw numerous videos to get the consistency,color and taste right. Voila, it is a hit! Kids and hubby were so delighted to taste Paneer chili and Gobi Manchurian dry for Lunch today. My lil one brightly exclaimed "Hey, this taste exactly like kamat Gobi" there i earned my masterchef title!!!!
Let us move the recipe today, the only work here is to fry the paneer, if that is done, rest is a breeze. I have used a combination of flours for the batter as i dont use all purpose flour at home.
If you are ok to use maida, kindly go ahead and replace the besan, wheat and rice flour with maida
.
Ingredients
For the Paneer
a pinch of turmeric powder
½ teaspoon red chili powder (optional)
Notes: Since i don't use All purpose flour, i have used a combination of flours. you can use ½ cup All purpose flour and corn flour alone to make the batter for frying the paneer

For the sauce
1 green chili,slited lengthwise
2 fat cloves of garlic, finely chopped
1 inch piece of ginger, finely chopped
¼ cup of spring onions, chopped
1 teaspoon peppercorns, freshly pounded
3 tablespoon tomato sauce (i used tomato-chili sauce)
few greens of spring onions for garnish
Method
Prepare the paneer first
Mix together wheat flour, besan, rice and corn flour in a large bowl, whisk to combine. To this add turmeric powder, red chili powder an salt, mix well to combine. Now to this add ¼-cup to ½ cup water and make a batter. The batter should neither too thick nor too thin. It should coat the paneer well.

Heat oil in a sauce pan for deep frying the paneer, Dip the paneer slices into the batter and drop into hot oil and fry until golden brown. While frying do not add more paneer cubes into the oil, they might clump together and not fry well. Believe me, been there, done that, so i m giving you heads up! Drop only 4-5 cubes at a time, and do not crowd them together.

This frying part is a bit of a job, once this is done, rest is all breezy. So take care while fring the paneer slices.

Once the paneer turns golden brown, remove them with a slotted spoon, onto a kitchen towel. Repeat the same with rest of the paneer, keep aside until use.
Let us make the gravy
Heat a pan, add oil, once it is hot, add chopped onion, garlic, chili and ginger to it and saute until translucent. Take care not to burn them, it will spoil the taste bad.

Now to this add spring onions and saute for a minute in high. Now to this add chopped capsicums and pepper to this and saute for a minute in high.

To the veggies now add soy sauce and tomato sauce and stir. In a small bowl, mix corn flour and water together and add this to the pan, stir well. The sauce will start thickenining almost immediately. Keep stirring for a minute.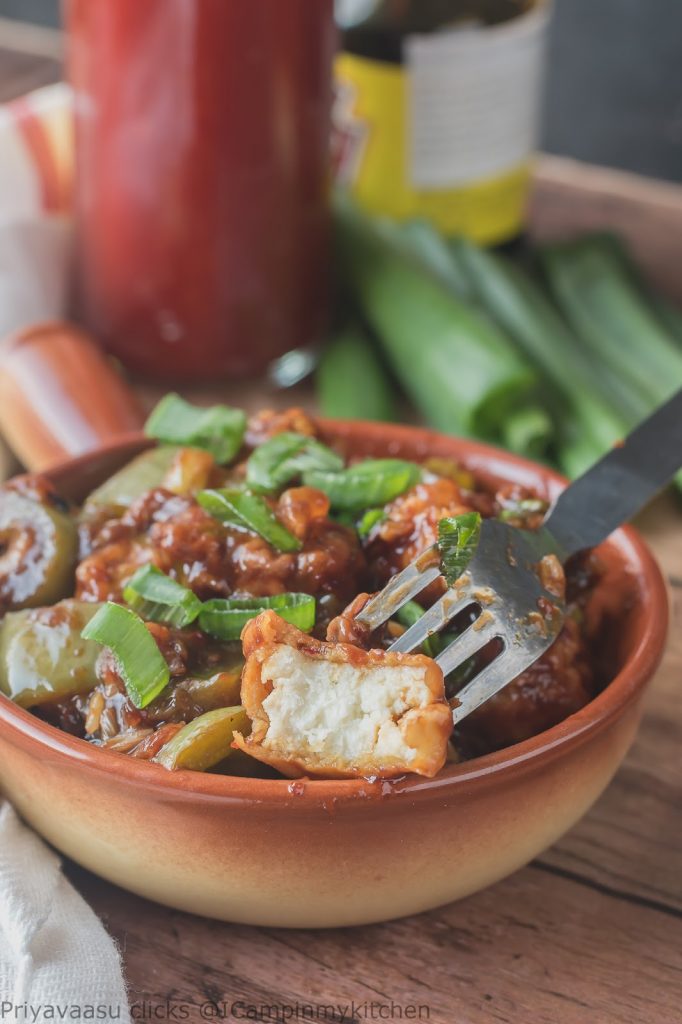 Now add the fried paneer, mix well. Take it off the stove. Garnish with spring onions greens and serve it warm with Fried rice or Roti.