The second dish i made for my thanksgiving theme meal is this yummilicious cauliflower tikka masala. I have been making paneer masala for a quite long itme now, though the recipe is not here in the blog. So, i first thought i would make my favorite paneer tikka masala, but then with cauliflower in season, i have got two beautiful flowers sitting in my refrigerator.
Didnt want to waste them, so i made this finger-licking gravy and served it with beautifully roasted cauliflower. The roasted florets had a nice crunch and the gravy complimented it so well.
If you are planning for a simple meal i would definitely recommend this tikka masala. It can be paired with roti and as well as rice. I served it with Lime and sesame seeds rice. The rice had only less spice and it paired so beautifully with this side. Altogether a delicious meal, that got ready in minutes.
For the dessert i made a simple No Bake Oreo cheesecake, recipe is coming next in my kitchen.


Ingredients
200 grams cauliflower florets
a pinch of turmeric powder
1 - 1.5 teaspoon tsp tandori masala
Mix together
½ teaspoon red chili powder
½ teaspoon coriander powder
¼ teaspoon turmeric powder
2 tomatoes, roughtly chopped
2-3 cloves of garlic, minced
¼ teaspoon red chili powder
¼ teaspoon coriander powder
2 pinches of garam masala powder
Method
First let us prepare the cauliflower
Clean the cauliflower florets, In a bowl, add the florets and pour hot water on top, until the florets are fully submerged. Add turmeric powder to this and let this sit for 8-10 minutes. Drain and keep aside.

In a small bowl, take oil, tandori masala and salt. Mix well. Take the florets in a baking pan, pour this spice oil on top, and using your hands coat the florets well with this oil.

Preheat the oven to 200C and roast the cauliflower for 45-50 minutes or until the top of the florets are nicely browned. Since i was making this for my meal, i removed the florets when they are nicely browned, if you prefer a little charred florets, let it roast for another 10 more minutes.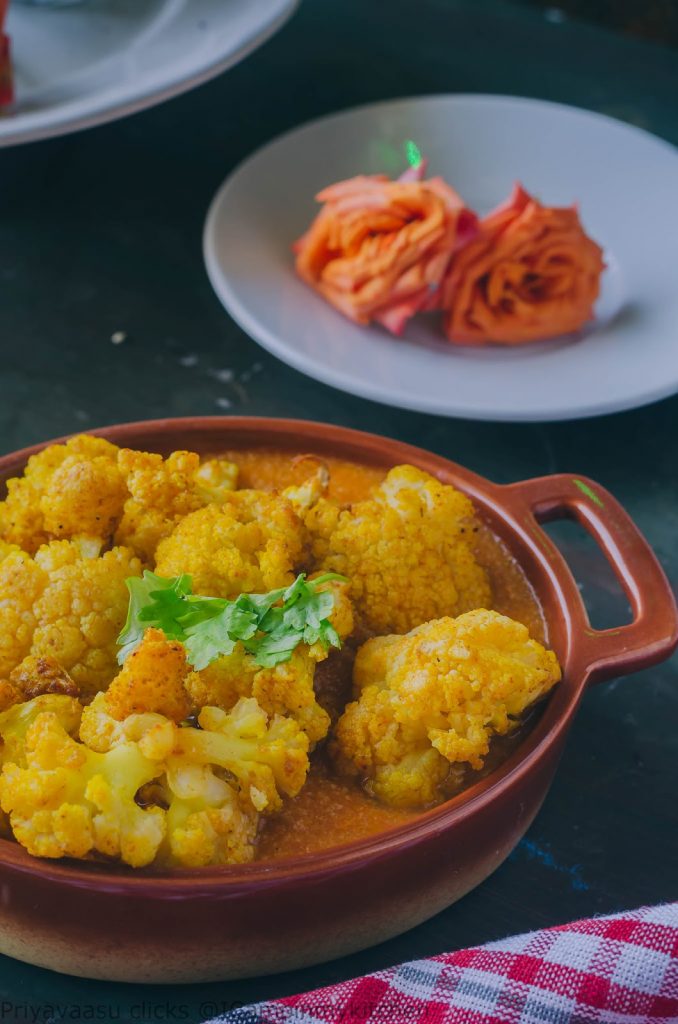 While the florets are roasting. let us prepare the masala. Heat a pan, add a teaspoon of oil, when it is hot, add onions, green chili, and garlic. Saute until the onion turn translucent. Next add the tomatoes and ¼ cup of water. Let it cook until the tomatoes turn mushy. Now add all the spice powder, salt and the cashews, and another ¼ cup of water, let it be on the heat for another 8-10 minutes for the spice powder to blend well.

Once done, remove from heat, let it cool for 10 minutes. Now blend the ingredients with ½ cup of water. Blend it smooth.

Now again, in the same sauce pan in which you sauteed the ingredients, heat another 1 teaspoon oil, when it is hot, add the blended masala to it. Let it cook until the oil separates on top, about 8-10 minutes, if you feel the gravy is too thick, add 2-3 tbps of water to it.
Remove the gravy from heat, just before serving, add the roasted cauliflower florets on top and serve hot with rice or roti.
Check out the Blogging Marathon page for the other Blogging Marathoners doing this BM