Kuzhi Paniyaram takes a special place in Chettinad recipies. The traditional chettinad recipes are delicious as well as nutritious. thought of making a Stuffed Kuzhi paniyaram. Instead of regualr veggie stuffing, tried stuffing cheese, worked well.
Fenugreek seeds – 1/2 tsp
Medium sized onion – 2 nos
curry leaves, fresh coriander leaves, salt – as needed
Shredded Mozarella cheese – 1 cup
Soak raw rice, parboiled rice, poha and urad dal ,fenugreek seeds overnight. Grind it to a fine batter along with green chillies,onion,curry leaves, coconut and coriander. Add Salt. Let it sit for an hour.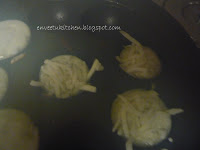 Heat the Kuzhi paniyara pan, fill each kuzhi till half ,with the batter, now add 1/2 – 1 tsp of cheese to it and cover with some more batter. add oil/ghee and cook both sides.
Since Cheese, already has salt so adjust the salt added to batter accordingly.
I made some Tomato-peanut Gravy for this. Tastes wonderful with Ketchup too.
Medum sized onion, – 2-3 nos, finely chopped
Tomatoes – 4 nos, finely chopped
Ginger-garlic paste – 2 tsp
Red chilli powder – 1-1/2 tbsp
Mustard seeds, cumin – 1/2 tsp for seasoning
Soak peanuts for an hour or two and pressure cook until soft. Heat oil in a kadai splutter mustard seeds, cumin, add green chilli, ginger-garlic paste, add onions. cook until  translucent, add tomatoes. add lil water for the tomatoes to cook. Add Peanuts, add red chilli powder, dhaniya powder and salt.
Add water as needed for the gravy.Instead u can even add 1/2 cup milk for the gravy to be more rich.Let it cook for 10-15 minutes in a simmer flame.Garnish with fresh coriander.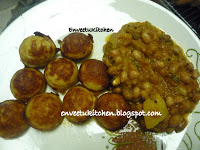 I left it on the stove for a couple of minutes extra, so the gravy got dried up a bit. So u guys take care of that!!! 🙂
I m packing this to Food for 7 Stages of Life co-hosted by Radhika and Sudheshna featuring food for ages 4 to 14 until December the 5th.