I love my post title for today, yeah, i can smell the flavors as i say the name. hmmm, my kitchen smells roses for the past 1 week. Oh yes, since i noted down the title, i was thinking what strange flavors should i bake. Suddenly i remembered a packet of roses i got from Global  Village last year, from the yemeni pavilion. No second thought, i wanted to bake something with rose syrup. Made the rose syrup last week, and from that time, whenever i open the refrigerator all i smell is roses.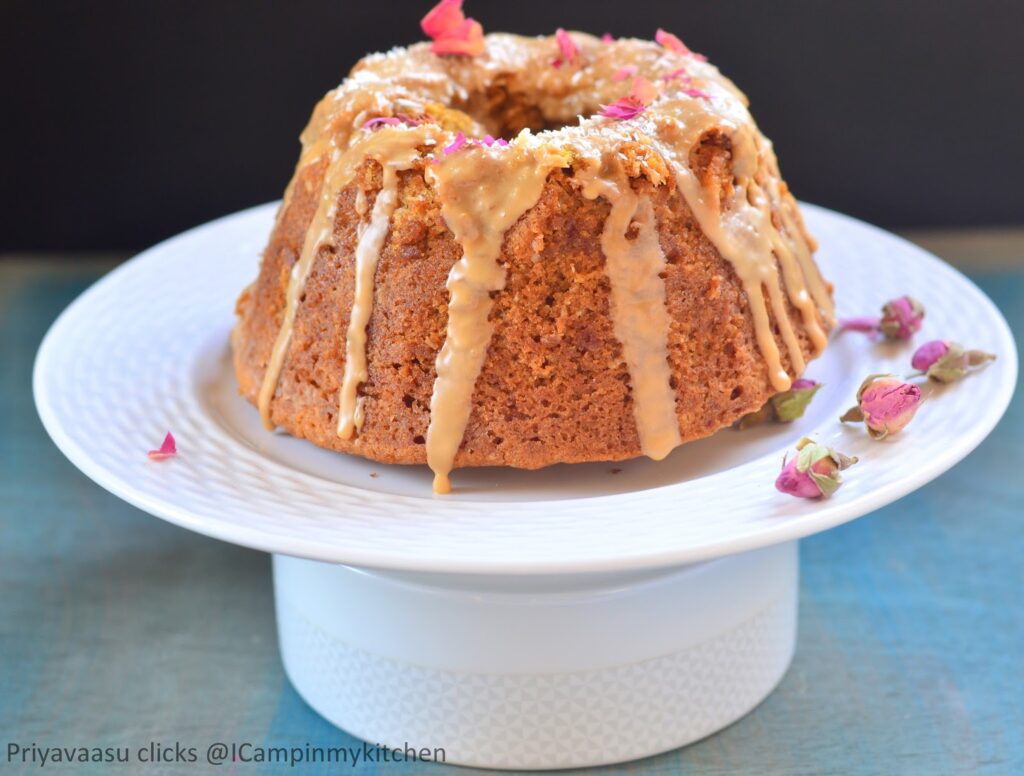 After experimenting with Barley flour for #BreadBakers this month, i wanted to another bake with the same flour. So first i baked half the quantity as two big muffins last week. Voila, it was a hit. Loved the flavors and combination of coconut and roses. Yesterday i baked them again with plain flour, the only difference is the color, the barley flour cake was a bit a dark in color, taste wise, both were excellent.  
A big hug to this month's host  June Burns of Philosophy and Cake for challenging us with this such a great theme Strange but good-weird flavor combinations, loved it to the core.
Ingredients
1 cup All purpose flour/Barley Flour/50:50 of both the flours
½ cup Rose syrup (homemade)
¼ cup desiccated coconut, slightly toasted + 1 teaspoon for garnish
Note : No Sugar used, since the homemade rose syrup is sweet enough for the cake.
For the glaze
2-3 tablespoon of Rose Syrup (homemade)
Method
Take Buttermilk in a measuring jug, add baking soda to it. Whisk well to dissolve and let it stand for 10 minutes. It will rise a bit and become airy and light. Now take rose syrup and oil in another mug, stir well to combine. 

If using combination of flours, then sift them well thrice, or else sift the flour once or use a balloon whisk and whisk well.

To this flour, add dessicated coconut and whisk well. Now slowly, add the buttermilk and rose syrup-oil mixture to this. Combine using a spatula.

While mixing, do so lightly and also in one direction. Remember this is a cake batter and not idly/dosa/pancake batter where you stir vigorously on all directions 🙂 Be genteel!!!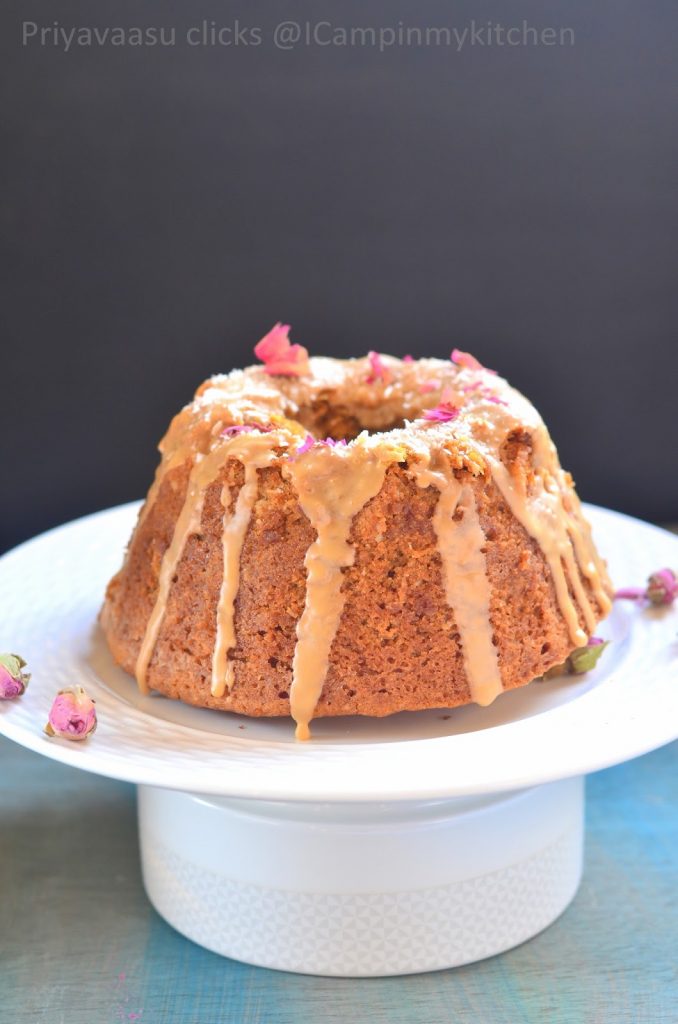 Grease your bundt pan, i used my mini bundt pan for baking this beauty. Pour the batter till ¾ th of the pan. I got about 2-3 tablespoon of batter excess, which i baked into a muffin. Tap the pan  for the batter to settle well.

Preheat the oven to 170C, bake the bundt for about 40-45 minutes. The muffin took just 25 minutes to bake. 

Remove the pan from the oven, let it cool for 5 minutes, run a blunt knife around the cake, remove it onto a wire rack. Let it cool completely.
For the Glaze
Mix together sugar, rose syrup and water together to get a thick pour-able glaze. Spread on the cake and sprinkle some toasted coconut. Cut and serve. 
#BundtBakers is a group of Bundt loving Bakers who get together once a month to bake Bundts with a common ingredient or theme. You can see all of our lovely Bundts by following our Pinterest Board. We take turns hosting each month and choosing the theme or ingredient.
Updated links for all of our past events and more information about BundtBakers can be found on our homepage.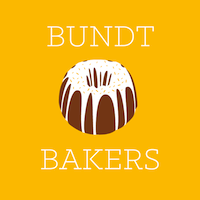 Here is the list of Strange but good- weird flavor combinations we baked