Coconut milk pulao, a simple,yet flavorful rice recipe that i make often at home. I made this first time for my kiddo's birthday party. It was a small get together with our friends, so i made roti, subzi and this rice. I wasn't sure how it will turn out, but surprisingly, it was a great success, even kids loved it.
The rice is cooked with half coconut milk and half water. I even did the tempering with coconut oil, this imparts a great flavor to the rice. I normally use basmati rice while making pulao, but you can use sona masuri rice too.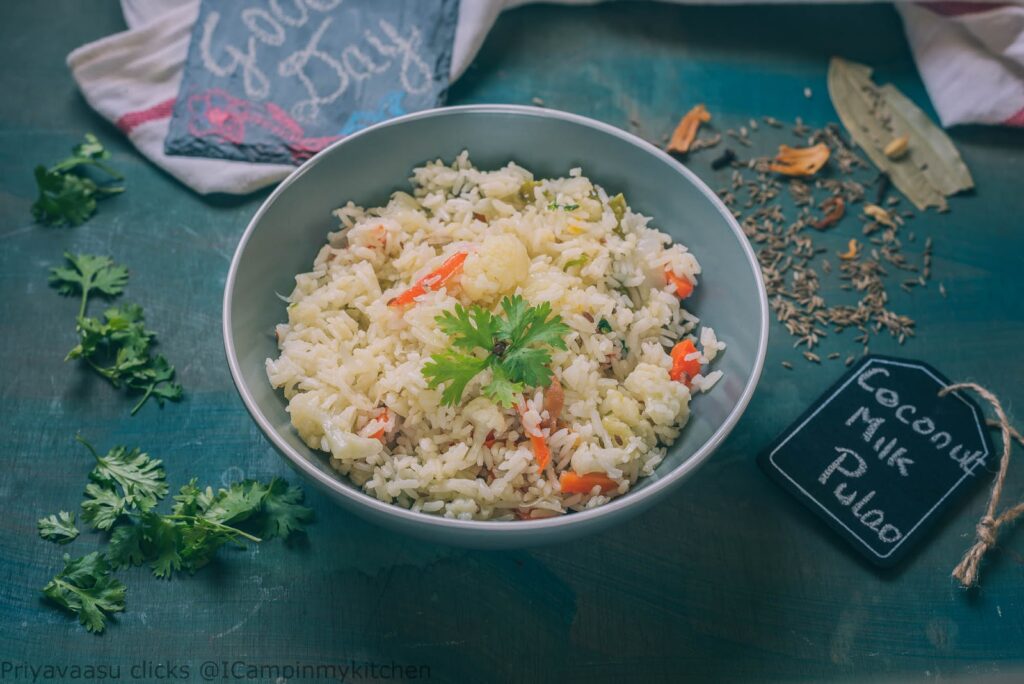 The ratio to rice and water is 1:2.5 cups, if using a different rice, please follow your ratio. 
This rice was made for lunch today, so i have made it less spicy for my kids, if making for adults, adjust the spice level to your taste. But i would suggest you pair it with a spicy side, instead of increasing the spice in the pulao. 
This is for 
Srivalli's Anniversary Celebration
, 
with Kids Party
Ingredients
1 cup Rice (Sona Masuri/Basmati)
1.5 cups mixed vegetables ( i have used carrots, cauliflower, capsicum and cabbage)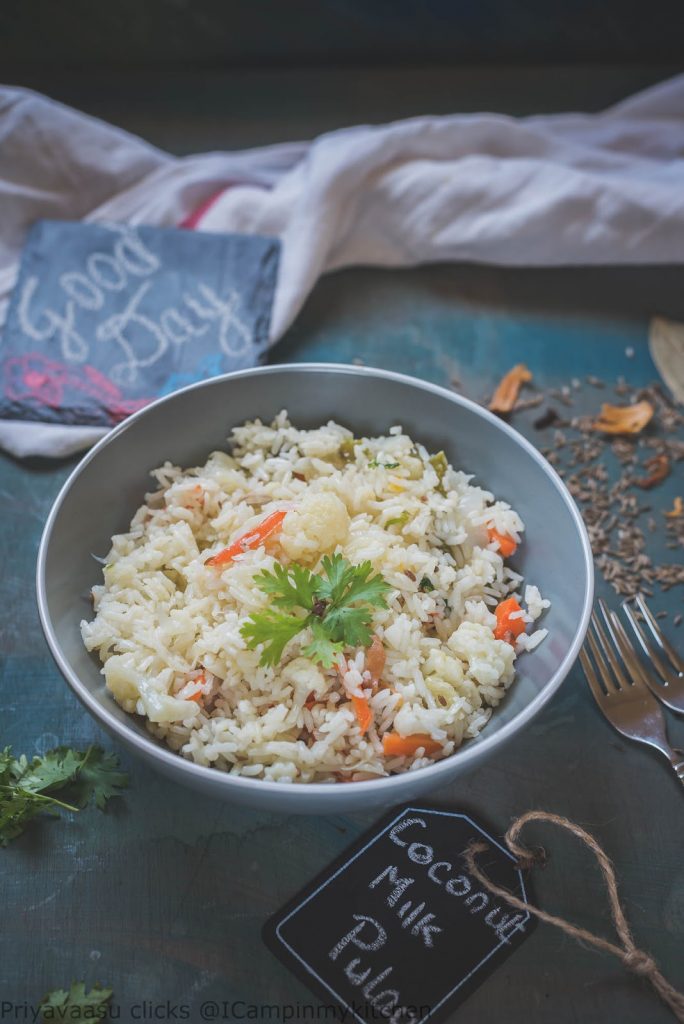 Tempering
½ teaspoon cumin seeds/jeera
2 green chilies, slit lengthwise
2 nos small green cardamom
Method
Wash and rinse rice with water until it runs clear. Soak the rice for 20 minutes. Prepare the veggies when the rice is soaking.

Heat a wide pan with coconut oil, when the oil is hot, throw the whole spices and chilies in, saute for a minute.

Now add the chopped veggies to it and saute for 2 minutes. Drain water from the rice and add it to the pot. Saute for a minute.

Now add coconut milk and water, mix well. Add salt, cover and cook in medium flame for 15-20 minutes or until done.

Once done, remove the cover, fluff it up with a fork, add fresh coriander to the rice and serve warm with chips or any spicy side. We love this rice as such without any side, though kids prefer it with chips.  
The same recipe can be made in rice cooker too. Do the tempering and saute the veggies on stove, then add it to the rice cooker along with rice, add water and cook until done.