I used to watch a lot of cookery shows previously, read before my second child. Now i watch Barney, Doc Mcstuffins, Zou, Mickey Mouse,Garfield the whole day, with repeated telecast atleast 3 or 4 times each. I feel i can mute the TV and tell the dialogues myself. uff!! 
2 or 3 weeks back, I luckily had the opportunity to watch a cookery programme in Vijay TV. Yes, my b(u)oyz, thought of giving me some ME time, so went down to play in the lawn for an hour. I happily settled down with the TV remote,it felt so good to touch the remote after a very long time!! 🙂
It was Vijay TV Venkatesh Bhat Cookery show, the theme was leftover magic. Loved the concept and the way he presented boring,day old food into something totally new and gloriously appetizing! Today my recipe too a is a Leftover magic, inspired from that show. I had some idlies from last night dinner, i normally steam and have it for my breakfast next day. But today, i thought of giving it a little makeover and show our traditional idly into a chic breakfast! The taste was awesome, the flavors were amazing. Definitely a kids favorite, if you have a teenager, they will definitely love this transformation.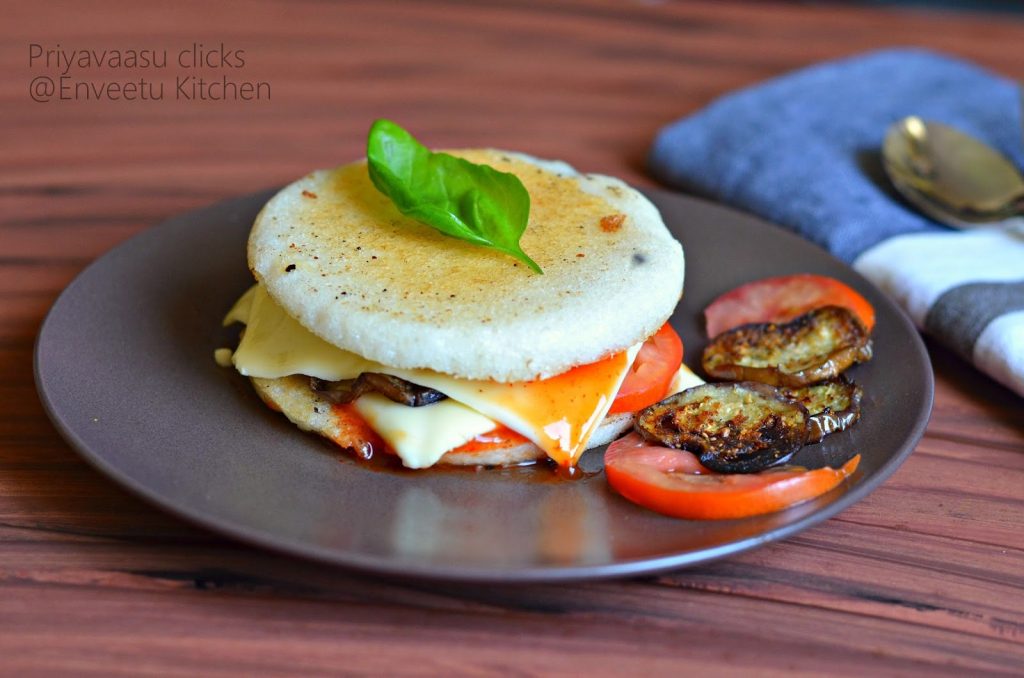 Ingredients
1 idly steamed in a bowl (i used my coffee bowl for steaming to get a burger shaped idly)
1 no japanese eggplant/brinjal/aubergine
1 small tomato, juicy, but firm
2 pinches of red chili powder
2 pinches of coriander powder
2 or 3 basil leaves (optional)
2 tablespoon tomato ketchup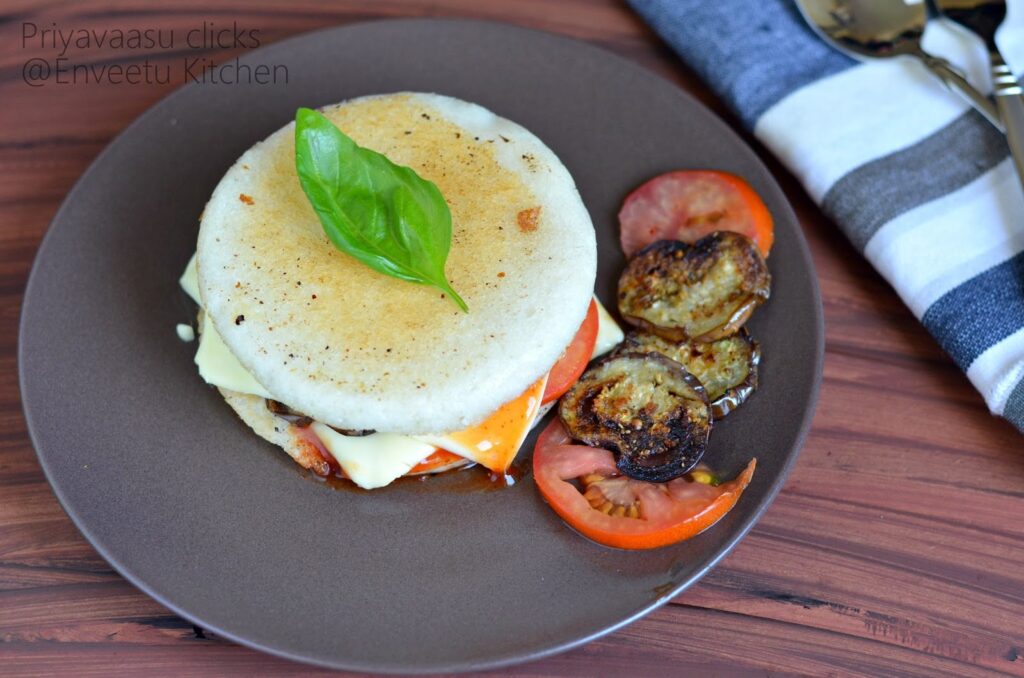 Method
I have used leftover idly from yesterday's dinner. If planning to make fresh idly, please do steam in coffee dabara(coffee bowl, the one with a flat base).

Cut the idly in the center to make two sides of the burger. Toast it until golden brown on both sides on a warm tava. Add a teaspoon of oil to both the sides while toasting. Take care not to flip it often, or else the idly will break.
Place one side of the idly on the tava, keep the flame low, add a teaspoon of oil.Let it toast for a minute or two, until it gets a mild honey color on the side. Flip carefully and do the same for the other side too. Carefully transfer it to a plate and keep aside until use.
While the idlies are toasting, cut the eggplant into roundels. Keep the size the same, not too thick or too thin. Since we will be cooking it on the tava, way too thin slices might end up sticking to it and thick slices might not cook evenly. So keep a medium size, thick about a rupee coin.

Once you remove the toasted idlies, place the cut brinjals on the hot tava. Keep the flame medium. Add a teaspoon of oil to the brinjals. Let it cook for a minute or two, Flip and cook again for minute or two. Now flip again, Sprinkle red chili powder and coriander powder on top of the brinjals and add another teaspoon of oil. Flip and cook again the other side. 

Remove the brinjals once they turn nicely browned and crisp on the edges and would have shriveled a bit. While the brinjals are roasting, cut the tomatoes into roundels.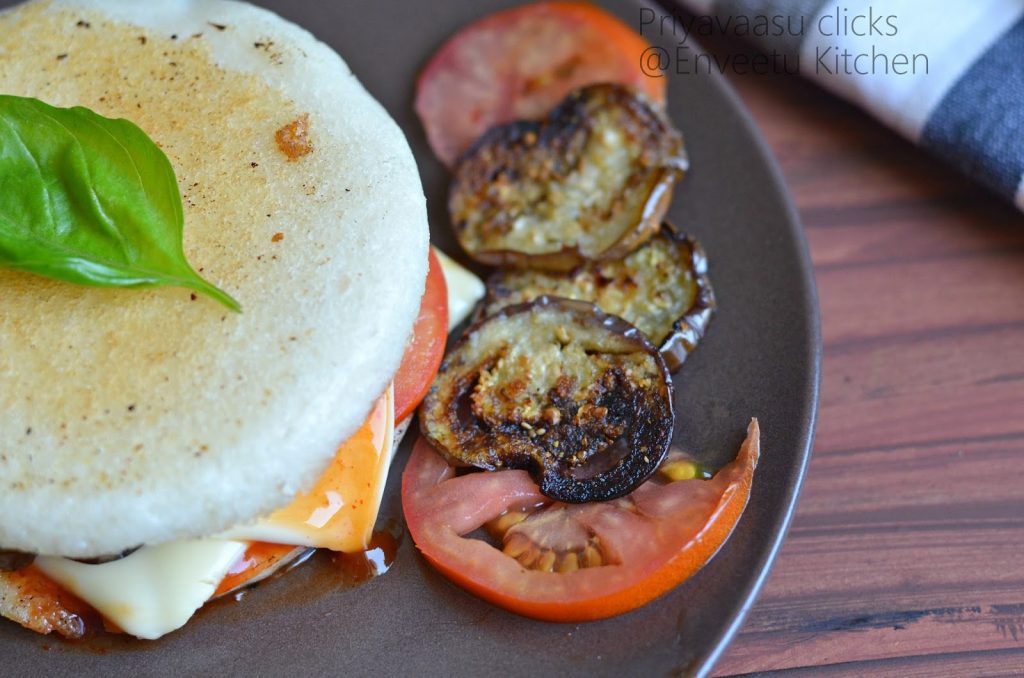 To assemble the burger, Place a slice of toasted idly on a serving plate, add a blob of ketchup, top it with cheese slice, now place some toasted aubergines, cut tomatoes, 2 basil leaves and top it again with a cheese slice. Add a blob of sauce and close it with other slice of idly. Cut and serve immediately.