It is my favorite ingredient for this month's #BreadBakers. Our host for March 2016, Shireen of Ruchik Randhap, challenged us to bake something delicious with Cocoa/Carob in any form, in short Death by Chocolate was this month's theme!! 🙂 
I immediately decided on the bread, it is in my to-do list for a long time now, Chocolate Babka.  A rich traditional Jewish bread, made of yeast-ed dough, that is filled with chocolate, twisted and baked in a high loaf pan and topped with streusel. Doesn't the description itself induce a food-coma!!!
There is also another version of babka in Central and Eastern Europe, a rich brioche dough, baked without any filling, glazed with chocolate and candied nuts. A festive bread, baked during Easter, Christmas and New Year.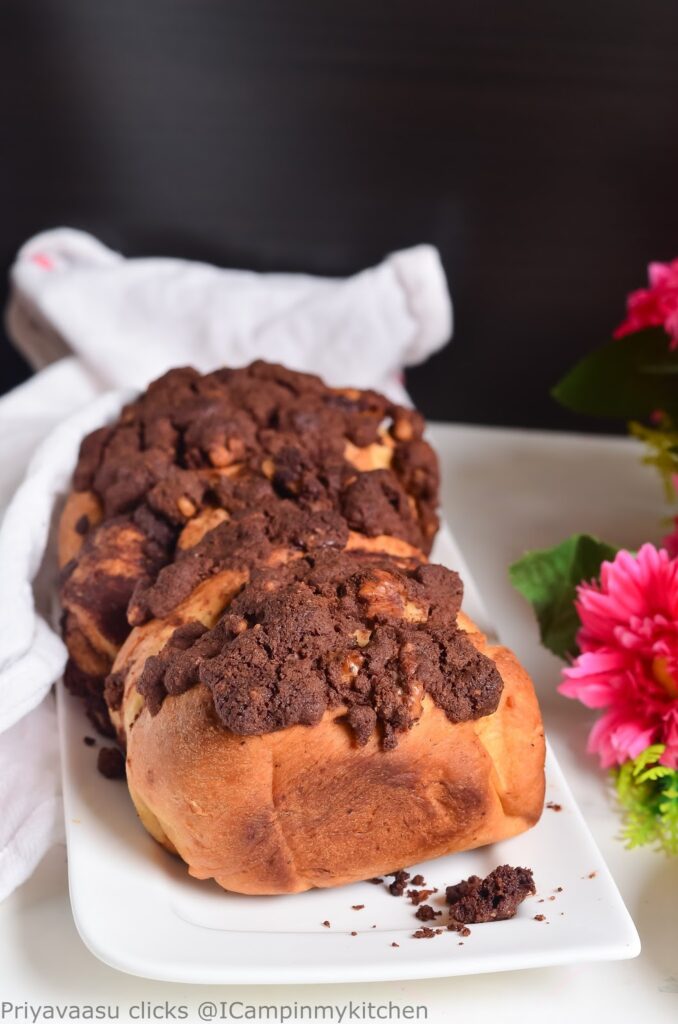 While looking for a perfect recipe, i came across many variations of babka. Each one was delicious. My recipe is inspired from here, here and here.  
One of the plus in this recipe is the dough. It can be made ahead, dumped in the fridge and just an hour before baking, remove it, fill and bake. I totally loved the idea. I made the dough in the morning, rested for almost a full day in the fridge, and baked at night around 10 pm.
Loved the texture of the bread, soft, buttery rich and chocolate, chocolate and chocolate.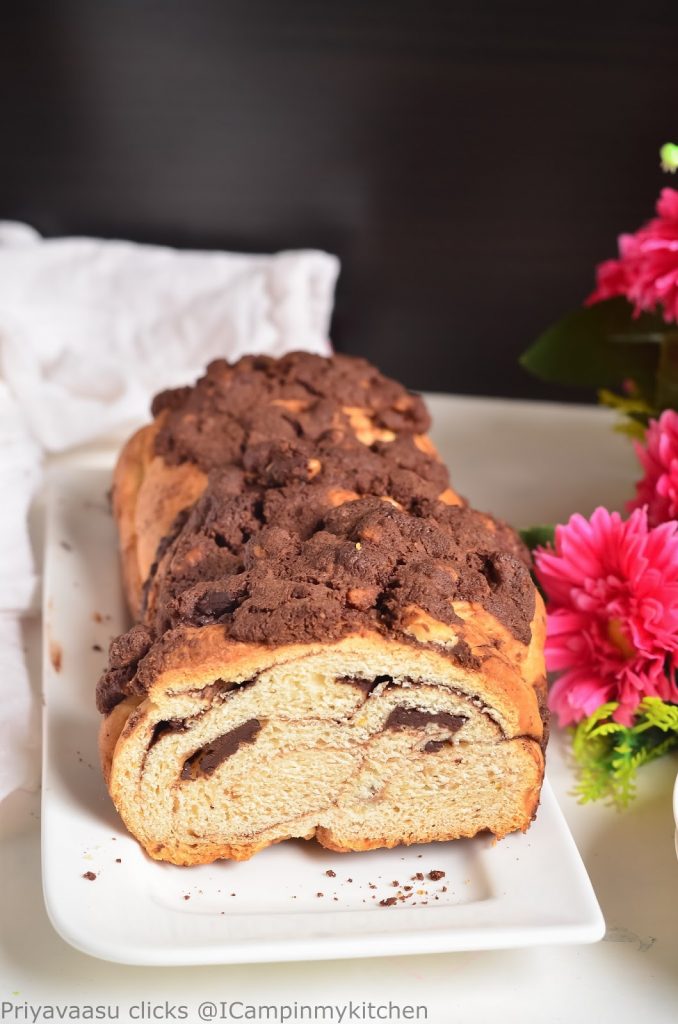 Ingredients
2 cups Bread flour, plus extra for dusting
2 ½ teaspoon instant yeast
Grated zest of ½ an orange
⅓ cup unsalted butter at room temperature
Any neutral oil, for greasing
For the chocolate filling
3 tablespoon caster sugar
2 tablespoon roasted cocoa nibs
¼ cup chopped dark chocolate
2 teaspoon instant cofee powder
2-3 tablespoon butter, melted
1 teaspoon cinnamon powder
For the Streusel topping
2 tablespoon all purpose flour
2 tablespoon caster sugar
1 teaspoon instant coffee
2-3 tablespoon chopped walnuts
Method
Take flour, sugar, yeast, salt and zest together in a food processor bowl. Run it for a minute for the ingredients to mix well.

To this mix, add butter and run it again. Now slowly add milk to this and knead a smooth dough. Knead about 4-5 minutes, until the dough pulls off the side of the processor bowl. 

Grease a bowl with oil, place the dough into it, cover well with a cling-wrap and let it sit in the refrigerator overnight or alt east half a day.

An hour before baking the bread, pull the dough out of the fridge and let it sit on the counter. The dough wouldn't have doubled, it would have barely rised half its original amount. Do not worry, you will get a rich loaf.

Let us prepare the filling, Mix together all the ingredients except butter in a bowl and set aside until use.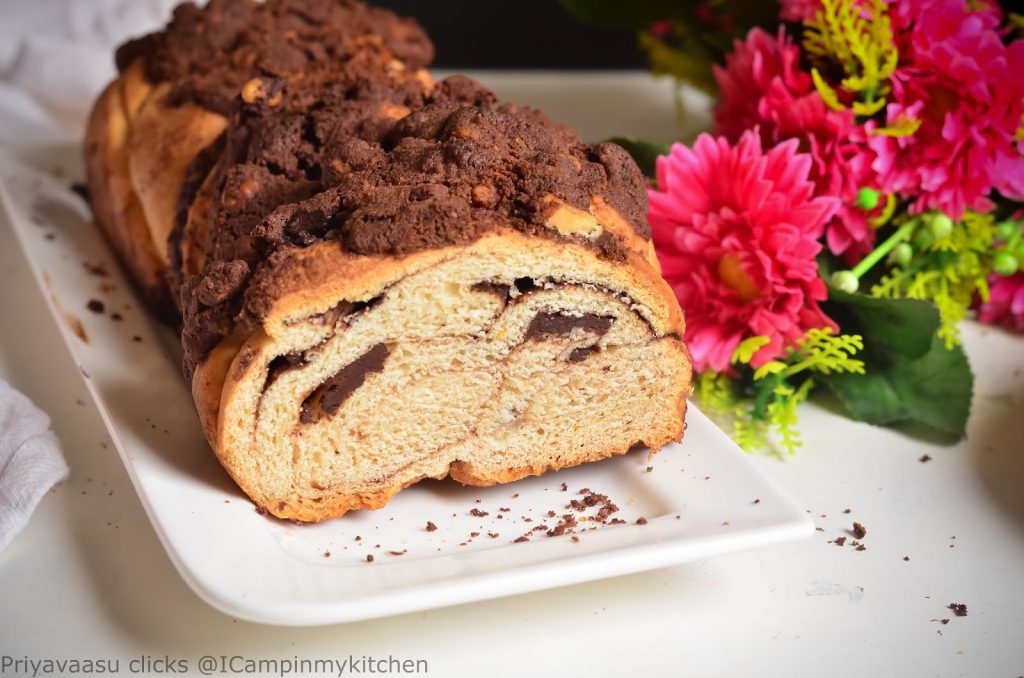 To make the bread, dust your counter with little flour, Roll the dough into a 10 x 12 inches rectangle or simply double the size of the loaf pan. 

Brush the rolled dough with butter, ;leaving 1 inch of the sides. Sprinkle generously with the filling, again leaving 1 inch of the sides.

Now roll the dough into a tight log. pinch and seal the edges. Using a sharp serrated knife, slit the dough into lengthwise, keeping one end untouched. It should be like 2 ropes, with one end secured. 

Now twist the rolls one top of the other like you are braiding. Secure the end and snuggle it under the braid.

Carefully lift the babka on to a parchment-laid baking pan, i used a 9 inch loaf pan. Let it rest for another 45 minutes. While the dough is resting, prepare the streusel by mixing everything together.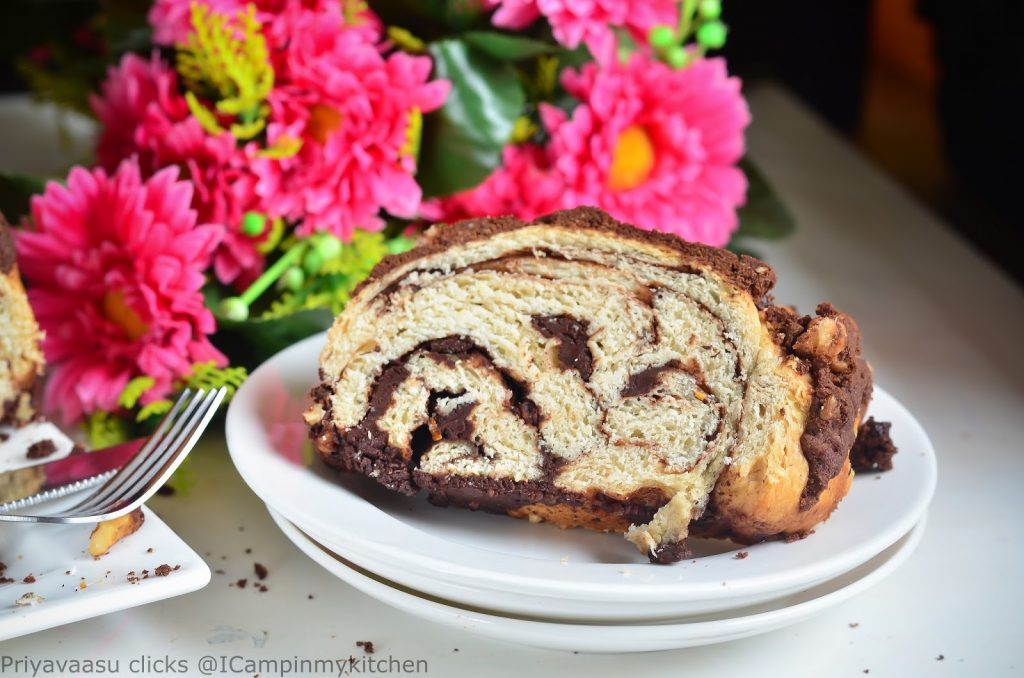 Preheat the oven to 190C. Spread the streusel mix on top of the bread and bake it for about 35-40 minutes or until it is done.

Remove the bread onto a wire rack, let it cook completely. Slice and serve a little warm along with your evening cuppa.  
#BreadBakers is a group of bread loving bakers who get together once a month to bake bread with a common ingredient or theme. Follow our Pinterest board right here. Links are also updated each month on this home page.
We take turns hosting each month and choosing the theme/ingredient.
If you are a food blogger and would like to join us, just send Stacy an email with your blog URL to
foodlustpeoplelove@gmail.com
.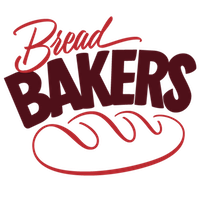 Breads with Cocoa, Cacao or Carob in any form