Its been a long time,since i baked a yeast bread. Even though my oven is busy baking cakes every week, baking bread was not of baking one.iappening. Every time i see a bread post pop in my FB feed, i think of making one, but somehow it never happened.
This month's Bread Bakers event is hosted by our own +Gayathri Kumar of Gayathri's Cookspot, and the theme is Braided Breads. A theme, which i don't want to miss.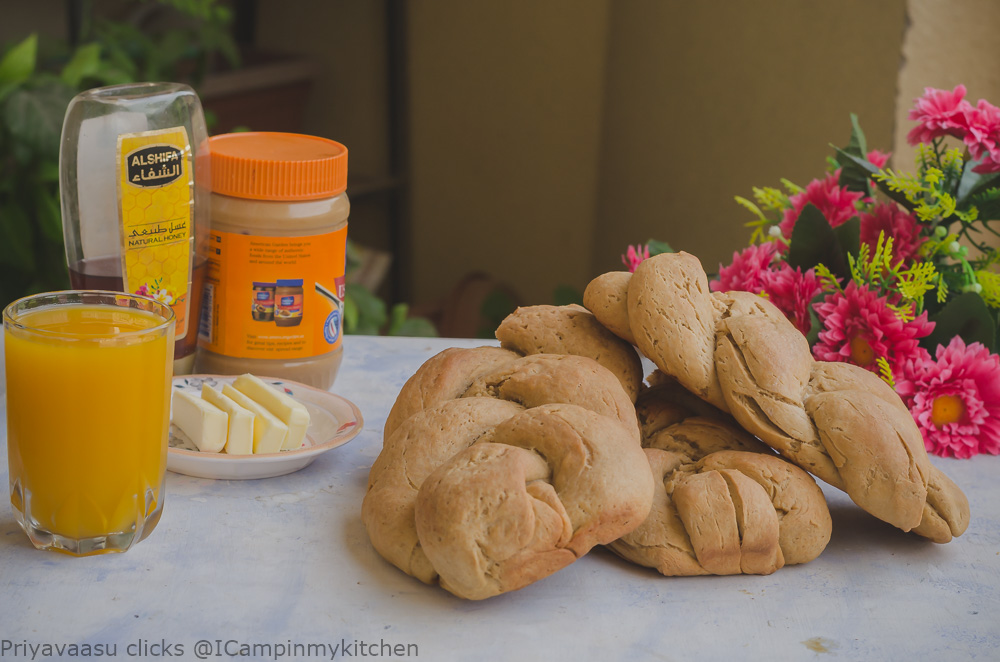 Zopf bread is a swiss bread made using flour, yeast,eggs and milk. I have used all except eggs and instead of white flour, i have used Whole wheat flour. Breads made using wheat flour are little dense, but i m baking with it for so long, we like that earthy dense taste of breads, which when toasted tastes great and with some cheesy toppings, it is out of the world.
I made a sponge with the flour first and then made the dough, it made a great difference in the texture of the bread. The taste of butter in the warm bread is so mesmerizing. Thanks +Gayathri Kumar for a lovely theme, waiting to see what all the other bakers have braided! 🙂
Ingredients
For the sponge
2 cups (280 grams) Whole Wheat flour
2 tablespoon butter, @ room temperature
1.5 cups (320 ml) warm milk
For the Dough
1.5 cups (218 grams) of whole wheat flour
2 tablespoon butter, @ room temperature
For brushing the bread
2 tablespoon milk +
2 teaspoon oil or butter, mixed together
First make the Sponge
In to a wide bowl, measure the whole wheat flour, instant yeast, salt and sugar. Whisk together to combine. Take Milk in a mesuring jug, warm it in the micorwave for 45 seconds, remove and add buter to it and whisk well.

To this flour mix, slowly add warm milk and using a wooden spoon or a spatual, mix well for the flour to mix well with the liquid. There shouldn't be any dry floor in the bowl.
Once mixed well, cover the bowl with a cling wrap and leave it in a warm place for an hour, for the sponge to double.
To Make the dough
After an hour, remove the cling wrap off the bowl, add the reamining 1.5 cups of flour to it. Divide the butter and add it to the flour mix in batches and start kneading a soft dough. The dough is pretty easy to knead.
Once the flour mix comes together as a dough , remove it to a flat kneading surface, and knead it to a smooth dough for about 3-5 minutes.

Place the smooth dough back in the bowl, cover and leave it to rest for another 1 hour. Once it rises to double, punch back the dough, remove it to the kneading surface. Now, preheat the Oven to 180C, before we starting doing the braid.
The kneaded dough weighs around 900 grams. Divide the dough into 3 equal pieces, Roll it into long ropes, and braid them together. Brush the top of the braided bread with some butter and milk mix.
Let the bread sit for 15 minutes, then Bake the bread in the preheated oven for 35-45 minutes or until the top turns golden brown.
Remove the baked bread to a wire rack, let it cook well. Slice and serve it warm with a toppingof your choice.
I made 2 batches of dough and with one batch made 2 small braids and with the other batch one big braid.
#BreadBakers is a group of bread loving bakers who get together once a month to bake bread with a common ingredient or theme. You can see all our of lovely bread by following our Pinterest board
right here
. Links are also updated after each event on the
#BreadBakers home page
.