We are visiting Georgia today. Georgian cuisine and wine have evolved through the centuries, adapting traditions in each era. Various historical regions of Georgia are known for their particular dishes: for example, Khinkali (meat dumplings), from eastern mountainous Georgia, and Khachapuri, mainly from Imereti, Samegrelo and Adjara. In addition to traditional Georgian dishes, the foods of other countries have been brought to Georgia by immigrants from Russia, Greece, and recently China.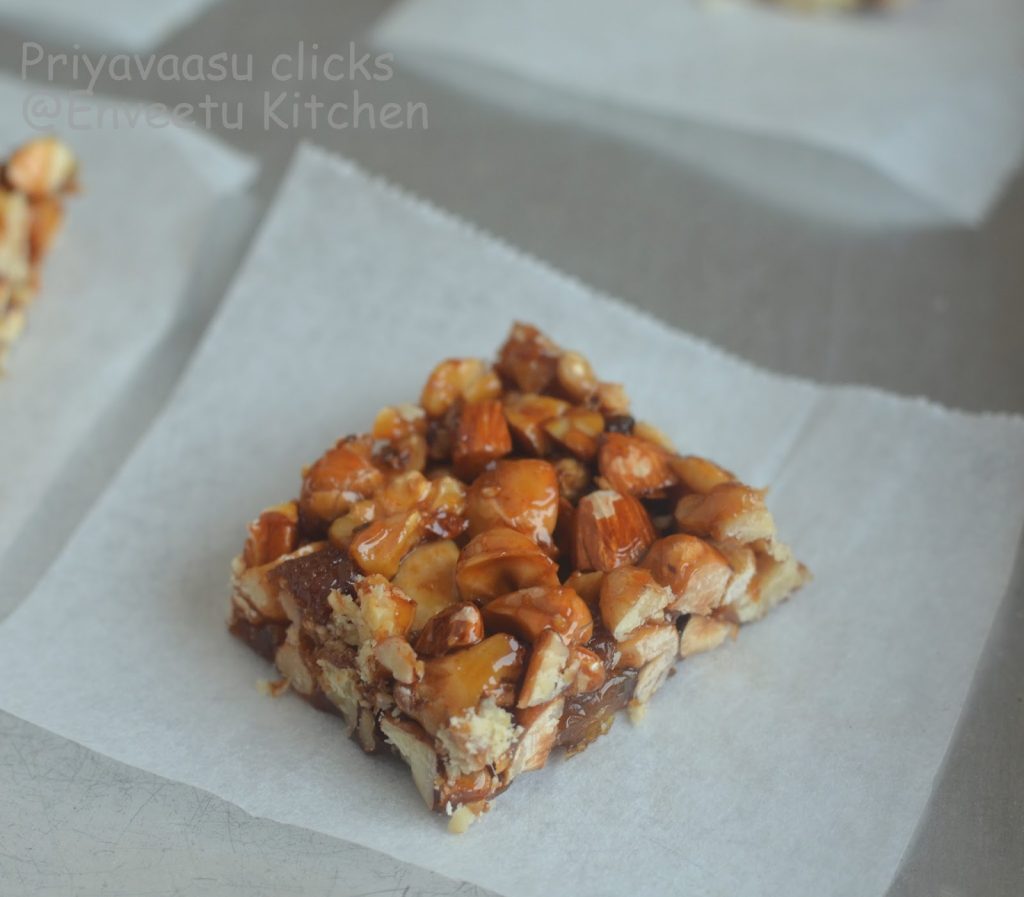 I was planning to make Kachapuri, a cheese filled flatbread, but then without the regional cheese what is the kick in making that dish. So, i settled with Gozinaki.
Gozinaki is a traditional Georgian confection made of caramelized nuts fried in honey and usually eaten on New Year's Eve and Christmas.In several of Georgia's rural areas, both walnuts and honey used to have sacral associations. According to a long established tradition, Gozinaqi is a mandatory component of New Year's Eve/Christmas celebration.
Ingredients (Makes 12 squares)
1 teaspoon powdered sugar.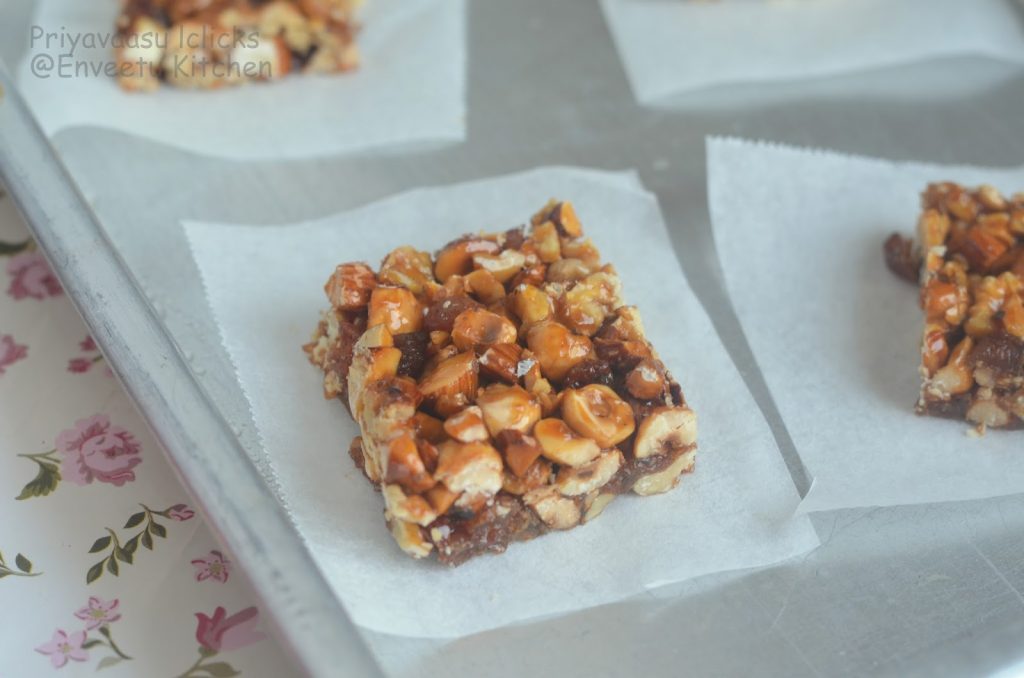 Method
Preheat the oven to 180C, in a baking pa, add a drop of oil and add almonds and walnuts. Roast it for 10 minutes. After almonds & walnuts, add hazelnuts and roast again for 8 minutes. Let it cool, rub a kitchen towel on the hazelnuts and remove the skin.

Chop the nuts into silvers. This was the painful job, chopping roasted nuts, that too with 2 kids, had a hard time keeping them from munching it off!!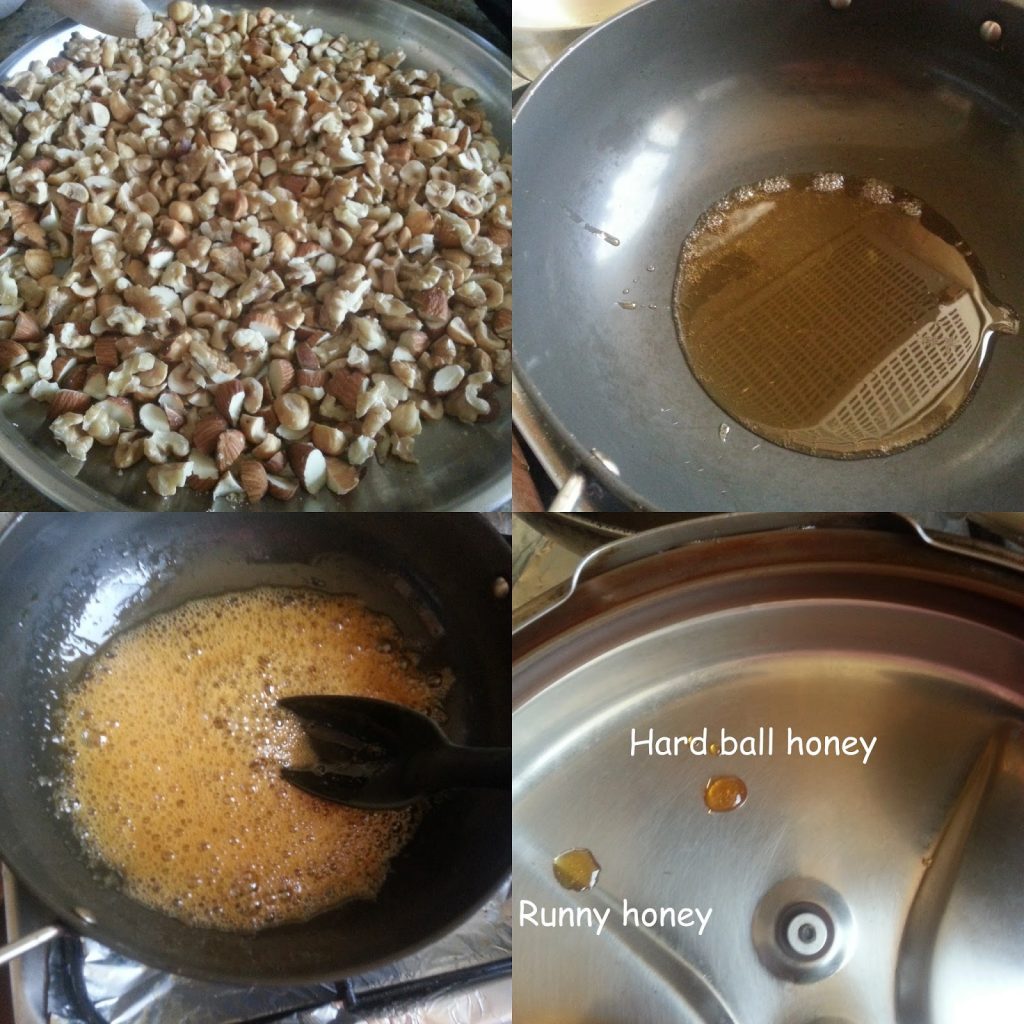 Keep a plate ready with alumininum foil or parchment paper lined.Heat a Pan, add honey to it, it will start bubbling, keep stirring. Within few minutes, the honey will reach hard ball consistency. At this point, the honey will foam well. You can check this by, putting a drop of honey on a plate, it will be so thick, and it will stay without running down.

At this stage, add sugar, whisk well and add the chopped nut silvers. Keep stirring well for a 10-20 seconds. Take it off the stove, transfer it to the alufoil/parchment lined plate. Press it well to fit the plate and smooth-en the top with wetted hands or parchment paper. Let it cool for 15-20 minutes. I left it wrapped in the alu-foil.
Remove the Alu-foil wrap, Keep it on the kitchen counter and using a sharp knife, cut the candy into squares.
Store it in an air-tight container if you have anything left. This candy makes a good gift on festive season, with nuts galore.