This is the first time i m cooking fresh figs. Can you believe this? I m wondering why i didn't try it before. Thanks to +Chef Mireille Fig & halloumi sandwich, i tried them.
This recipe was in my bookmarks for a very long time now. Everytime, i see halloumi cheese, i will pick it up, think about the sandwich. Thanks to Cooking Carnival 2016 and the theme Sandwiches, i finally made the recipe.
Halloumi is a Cypriot semi-hard, unripened brined cheese made from a mixture of goat's and sheep's milk, and sometimes also cow's milk. It has a high melting point and so can easily be fried or grilled
It is often garnished with mint, in the belief that halloumi keeps better and stays fresher and more flavorsome when wrapped with mint leaves.Keeping with the tradition, many packages of halloumi contain fragments of mint leaves on the surface of the cheese.
We loved the cheese, It gives a great texture to the sandwich. So be generous with cheese slices. The saltiness of the cheese with the sweetness of the figs and the pungent onion, creates a wonderful taste-drama in your mouth.
Ingredients
2 figs, sliced into roundels
1 large onion, cut into roundels
butter for toasting the bread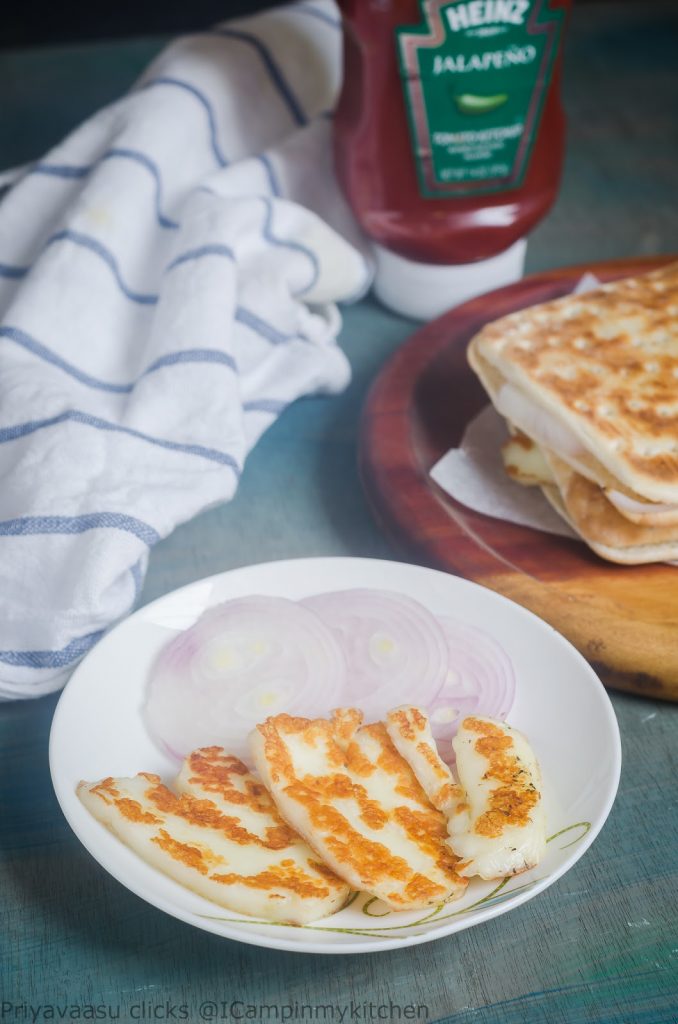 Method
Cut the cheese into thick squares. Heat up a pan, Place the cheese slices 3 or 4 at a time, drizzle 1 or 2 teaspoon of oil on top. Shallow fry on both sides, in a simmer flame. Remove the cheese on to a separate plate. Repeat the same with remaining slices.

Wash and cut the figs, into roundels.
Assembling the sandwich
Place 3 slices of cheese on a slice of bread, top it with 2 roundels of figs and 2 roundels of onion. Close it with another slice. Repeat the same with rest of the bread.

Toast the bread to make it warm and serve it with your favorite sauce. I served them with Jalapeno & tomato sauce. It was out of the world!