Blogging has become more than a hobby these days. Many of my fellow bloggers would definitely agree with my thought. It has opened us a new world of virtual friendship. An year of Blogging Marathon, has brought so many friends and we have become a part and parcel of each other's happiness and sorrow. Its an Happy Moment in the Blogging Marathon Family, Aarthi of Yummy Tummy is getting Married later this month, so some of us decided to Surprise her by throwing a Virtual Bridal Shower. Each of us picked up a recipe from her blog, cooked, clicked, relished and now posting her a virtual treat to enjoy!!!!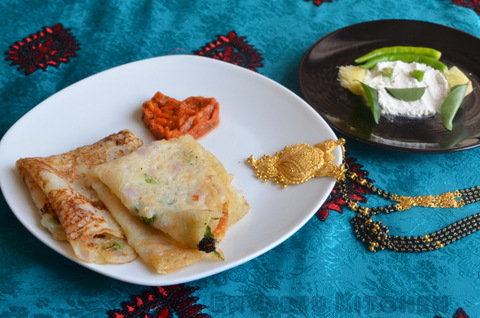 Aarthi, Wishing you a Wonderful Married Life!!! May God Bless you both with all the Goodness in this Universe and May be your Life be filled with Lots and Lots of Sweet Surprises!!!!!
Here is an Dedication for you, I Love this Song and hope you enjoy it too, a Tips and Tricks for a Happy Marriage!!!
1 Cup Maida/Plain Flour/All Purpose Flour
1 Medium size Onion, finely chopped
2-3 green Chilies, finely chopped
1 teaspoon Cumin Seeds/Jeera
Water as needed, (approximately 2 cups)
Oil for drizzling the crepes/dosa's
Method
In a mixing bowl add every ingredients, except Water and oil.Mix them well.

Add water little by little to make a thin batter. The batter should be of pouring consistency and not too runny.

Heat a non stick tawa in a medium flame, Pour a ladleful of batter, spread it thinly. You need spread fast, since the dosa sets fast.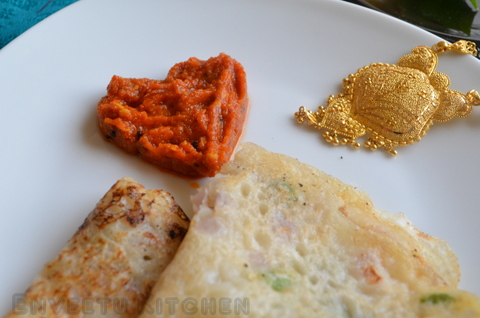 Drizzle some oil and cook untill the bottom crisp up. Flip over and cook till it turn light golden. Be little patient, it takes little time for the Dosa/Crepe to get Crisp.

Serve Hot with Sambar/Chutney.