Jeera pulao is my kids favorite rice dish. Every time we go to restaurant they either order Dal Khicdi or Jeera pulao with Dal. So when i was planning dishes for lunch box theme, i immediately decided to post this one too. 
This is one life-saving rice recipe on a busy day. It takes just 12-15 minutes to make and a simple dal tadka, while the rice cooking, you have a scrumptious meal ready in no time.
I use little milk while making this pulao just to enhance the flavor of the dish. It is purely optional, if you don't prefer milk, please avoid it. Even coconut milk can also be added, that will definitely enhance the taste and aroma of the pulao.
Check out the video on How to make Jeera Pulao
Ingredients
½ cup basmati rice, i use Tilda basmati
¼ cup of milk (optional) 
½ teaspoon salt or to taste
1.5 cups of water
fresh coriander leaves for garnish


Tempering
1 tablespoon oil/ghee
1 clove
1 small bay leaf
1 green chili
1 small green cardamaom
½ teaspoon jeera/cumin seeds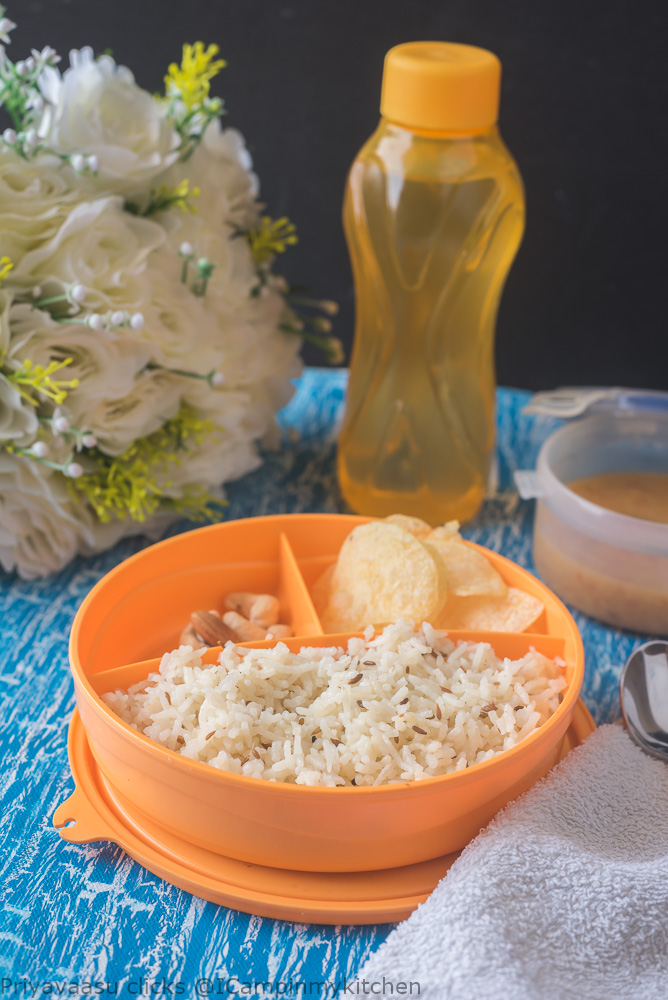 Method
Wash rice with water, until it runs clear. Do not waste this rice-washed water, if you have plants in your backyard or balcony, you can water it with this water.

Soak rice in ½ cup water for 15 minutes. Drain and keep aside. Heat a wide pan with oil/ghee, once it is hot, add green chili,  clove, cardamon and bay leaf to it. Saute for 30 seconds.

Now add cumin or jeera seeds and immediately add drained rice to it. Saute for 30 seconds. Now add milk and water. Milk is purely optional, you can replace it with water. 

Add salt to it, mix well. When it starts to boil, cover and cook for 11-12 minutes in a medium flame. The rice would have absorbed all the water and would have fluffed up well, if you find some water still, cover and cook for another 2 minutes.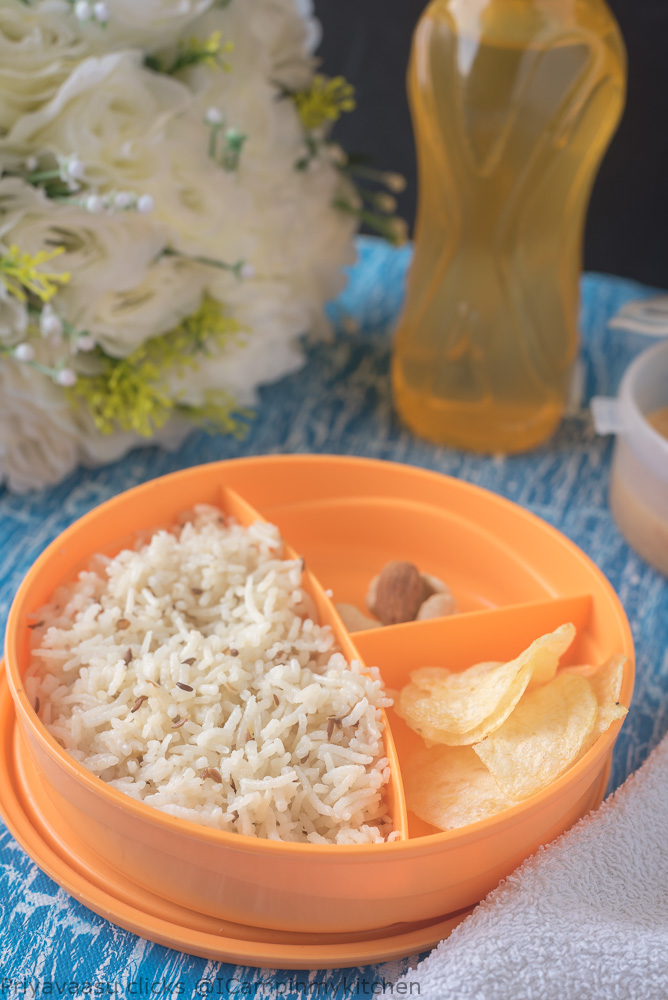 Once done,  remove the cover, take it off the stove, add coriander leaves, and serve warm with some Masoor dal. If packing pack it with some crisps and dal.
If you are interested in the Tupperware luncbox in the picture, here is the link to buy it online