Another episode of Blogging Marathon begins today. For the first week i will be posting Regional specific Course. I have chosen Chettinad Cuisine from Namma Tamilnadu. I have been planning to do this cuisine for the previous month long marathon, but i couldn't participate due to personal reason.
This BM too, i wasn't sure enough whether i will be participating, until i started typing this post. Kuttu wasn't well for the past one week, he has viral fever, fever was reaching 104, poor fellow had to take him washroom twice and hose him down with water to reduce the fever. uff, it was tough.
Masala Cheeyam is a famous chettinadu snack. It makes an awesome combo with a simple coconut chutney or can be had as such since it has got all the flavors needed to make it tasty.
Ingredients
2 Cups Raw Rice/Idly rice/Basmati Rice (see notes)
1 cup freshly grated coconut
Tempering
2 medium-sized onion, chopped
2-3 sprigs of curry leaves
handful of fresh coriander leaves
Method
Wash and Soak Rice and dal together for 2 hours. Drain and add green chilies, grind it to a smooth batter, adding very less water. I used around ¼ cup of water to grind .The batter shouldn't be thin. The consistency should be of urad dal vada batter.

Take the batter in a wide bowl. Heat oil in a pan, splutter mustard seeds, add hing, curry leaves and add chopped onion and saute until translucent. Take it off the stove and add this tempering to the batter.

Add freshly grated coconut to the batter and mix well.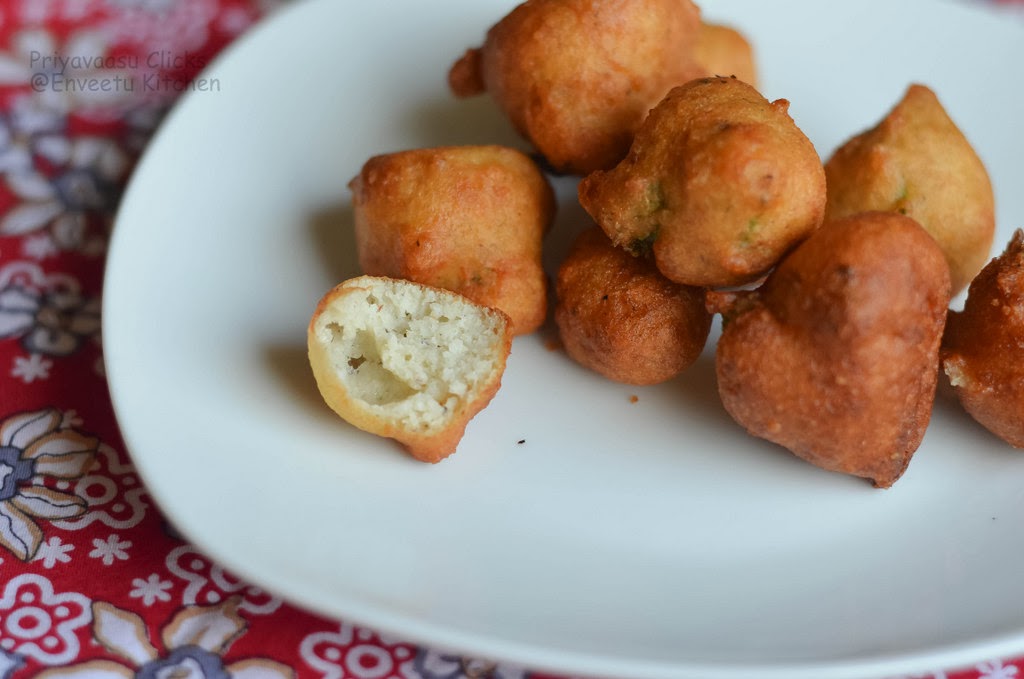 Heat oil in the same pan/kadai for deep frying, Pinch small balls of the batter and fry until golden brown. Drain on a kitchen towel.

If you are concerned about the calorie gain due to deep frying, you can also make it using paniyaram pan/abelskiver pan. Both the ways, it tastes yum.

Serve warm with Coconut Chutney or Tomato sauce. Makes a good evening tiffen.
Notes
Traditionally, the rice used for this snack is Raw rice, but i have tried this snack using both idly rice and also basmati rice. I personally didn't feel any difference in the taste.