For the Second day post, i m revisiting Cereal Bar recipe. Though it is a Fool-Proof Recipe, the picture in the post, deny the justice it needs. Really enjoyed making this again and now i have a dozen of these bars sitting in my refrigerator waiting to be devoured. 
The Last time i made it, i tried it with Oats and some almond flakes. But, this time, i have used Multi-grain flakes and mixed nuts to add an extra zing (Call it Learning Curve!!!!!. The End product is an mildly sweet, Crunchy and a Filling Cereal Bar. You can have it as a Breakfast Bar or as a Snack Bar, anytime, anywhere!!!!!


Ingredients
1/4 Cup Light Brown Sugar
3 tbsp Honey
1 cup multi-grain flakes (oats, barley, rice )
1/4 Cup Mixed Nuts (Almonds, Walnuts, Hazelnuts and Cashews)
2 tbsp California Raisins
75 gms Butter or 3/4th of a Stick
1/4 tsp Cinnamon
a pinch of nutmeg


Method 
In a Non-stick Pan, roast the nuts until it gives out a nice aroma. Transfer it to a plate. Keep a Flat Plate lined with Parchment ready. I used a 8 inch bottom removable Pan, lined with Parchment.

In the Same pan, Melt Butter, Add Sugar and Honey to it and Mix well. This gives out an amazing aroma.

Once the sugar melts and the mixture starts to bubble and come together, add the Multi-grain flakes/Oats, Nuts, Cinnamon and Nutmeg to it. Mix well. 

Let it be on the Stove for 5 minutes.
Transfer the Mixture to the parchment lined pan and press it well to the pan. It will be hot, so i used another piece of parchment paper and used it to press it down to the pan. Let this cool on the Kitchen counter for 30 minutes.

Make Markings on top using a Serrated knife and  the take it to the refrigerator and let it sit for 4-5 hours.

After the setting time,  remove from the refrigerator and break it along the markings, wrap it in a foil and store until use.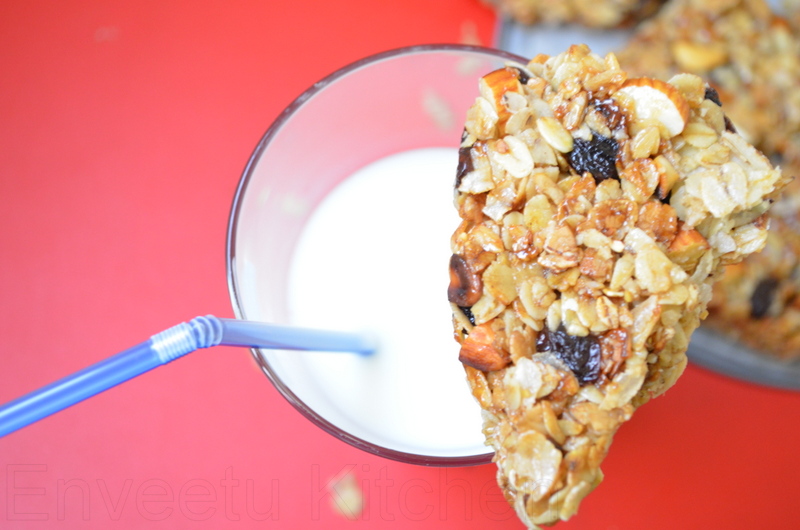 Serve it along with Morning Milk or as Evening Snack, this serves as an excellent source of Energy for the biggies and also for the Kiddos too.
Notes
If making for kids, try adding some Chocolate chips at the end.


Check out the Blogging Marathon page for the other Blogging Marathoners doing BM#15