Cinnamon is my favorite spice, I love cinnamon rolls!! Ahh, the mere smell of it makes me happy. When i decided on these series of No Knead breads, there came a list of cinnamon rolls that falls in this category. Oh man, how can i resist them when i see them almost in every search. But i decided to do a fruity cinnamony, chocolatey rolls.
The original recipe uses All purpose flour, i have substituted half the flour with spelt and for the filling i have used one old, attention-calling banana and sweet and cute small apple. Another speciality of this recipe, it doesn't use any sugar.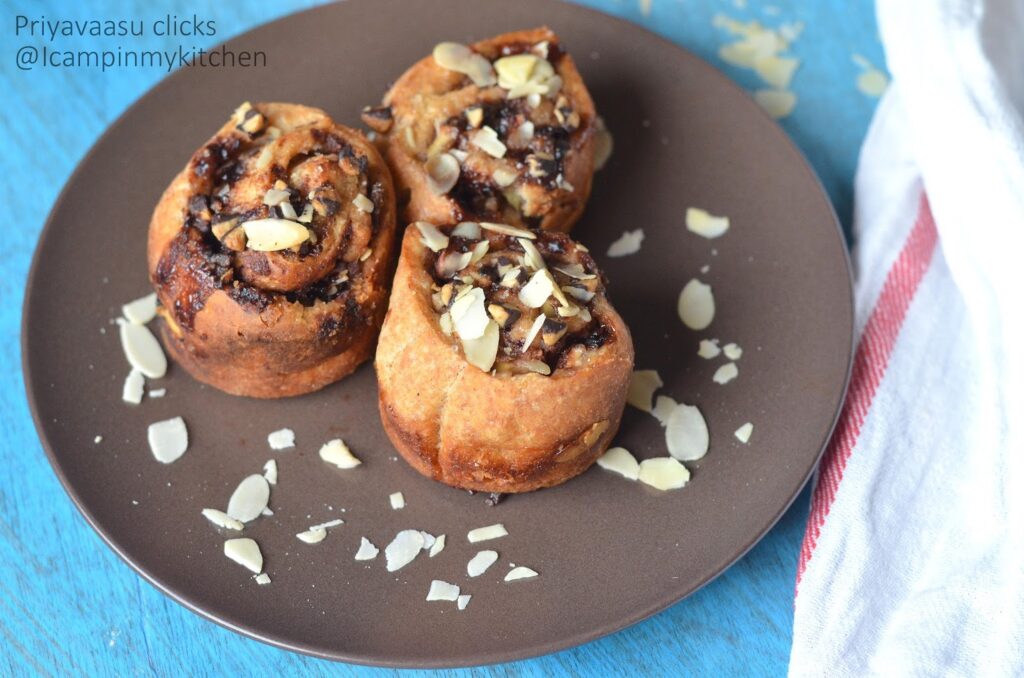 I had some mini chocolate chips, which i got from one of my Blogger buddies during the july meet, one half of it i used it Turban challah, the leftover i used it these cute rolls.
I baked this last Thursday afternoon. My Elder one, while entering home after his school, literally sniffed cinnamon in the air, asked me "Amma, did you make cinnamon rolls ?" I was one happy mommy when my kiddo identified the spice smell and literally floated like those cartoons into the kitchen. Next came "Can i have one?". I pounced and saved some for the clicks and gave him his share. The rolls vanished the same day after his daddo entered home, with the same question "did you make....?".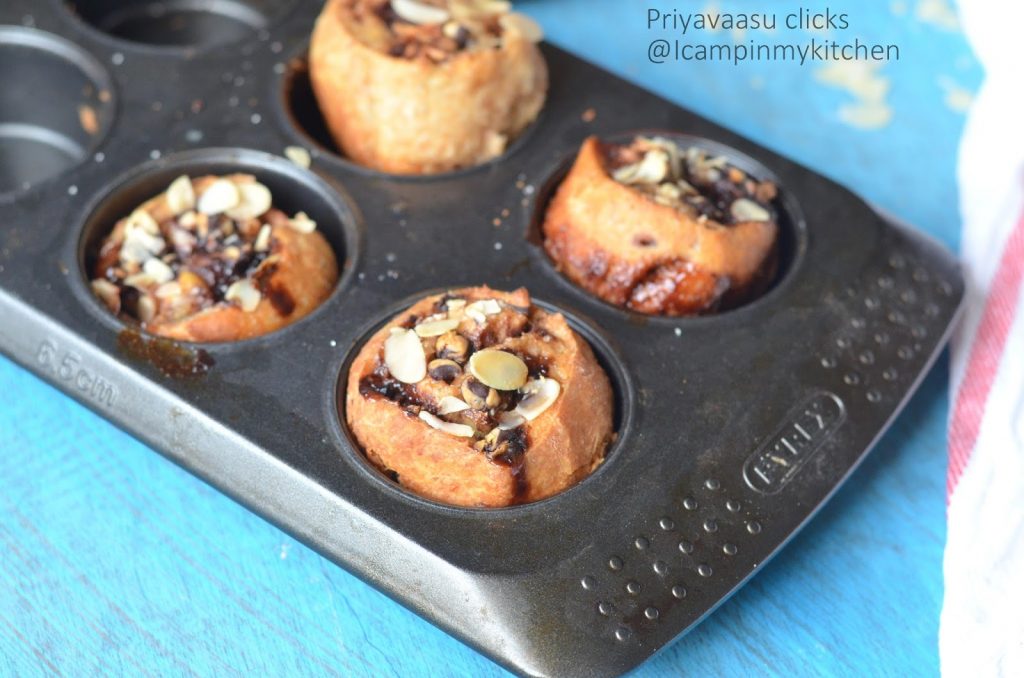 Now what more excuse you need ? These rolls are part wholegrain, contains loads of fruits and contains no sugar and they get ready in an hour. Come on get ready to bake!!!
Ingredients
½ cup - 1 tablespoon spelt flour
½ cup - 1 tablespoon bread flour
2 tablespoon all purpose flour
½ cup + 2 tablespoon milk
1 tablespoon butter + 1 tablespoon for coating the pan
1 over-ripened banana ( i used Chiquita brand)
1 tablespoon butter @ room temperature.
1 tablespoon cinnamon powder
1 teaspoon sugar (i skipped as my banana was sweet enough. you can adjust according to the fruit sweetness)
¼ cup mini chocolate chips
Take milk in a microwave safe mug, heat for 30 seconds, it should be hot, not scalding hot, but hot that is bearable and can be touched. Add the honey and butter to it mix well.
Take both the flours in a bowl, add yeast and salt, whisk well to combine. To this flour mix add the warm milk and mix well with a spatula. Fold the dough into itself about 5-6 times using the spatula.
Cover the bowl with a tea towel and let this sit in a warm place for about 10 minutes.

While the dough is waiting, peel the banana, mash it well with a fork, add the butter to it and mix well. Wash and chop the apples.

After 10 minutes, remove the dough to a flat surface. Sprinkle flour and roll it into a rectangle of 10 inches width. Spread the banana+butter mixture generously on top. Sprinkle the chopped apples, followed by cinnamon and sugar. finish with chocolate chips and almonds.
Roll the dough tighly into a log. pinch the edges to seal. Using a sharp serrated knife cut 1 inch slices of the log. Grease a muffin pan with butter, place the rolls cut side down, sprinkle any remaining chocolate chips and silvered almonds on top. I used one 6 cup muffin pan and a small bowl for the remaining 4 rolls.
If you wish to have a bit more raised rolls, cut the log into 6 pieces that way it will snugly fit into the muffin pans itself . Let the rolls sit for 30 minutes covered with a tea towel. During the last 10 minutes of the raise, preheat the oven to 180 C, bake the rolls for about 20 -22 minutes or until the top turn golden brown.
Remove the rolls from the oven, to a cooling rack. Serve them warm and watch them disappear.