For the Last day of this week, i m posting my favorite but never tried @ home recipe, Onion pakoda. Appa used to get these every month on his salary day while coming back home. We were staying @ KKNagar, in a rented house, Small House but Lots of Happiness!!!! There is a Shop just behind Amman Koil Bus-Stop, Nellai Sweets, if i still remember the name correct. It was the first shop to start with Fresh n Hot Evening snacks, Pakodas, Samosas, and Chips, then slowly lot of other shops cropped up, selling the same thing. Amman Koil, Ayyappan temple, Raghavendra temple, Vimala Stores, Thomas Fancy Stores, it has been our abode for 25 years!!! Wonderful Days, Its been 6 years since we moved out of KKNagar, But i still love that area, Even now when i go to the temple, i say to myself "Enga Area (My area)!!!" i dream to buy a house there one day and make my appa and amma stay there, i don't know whether i can, but hey Never Stop Dreaming!!!!
Ingredients
¼ cup Besan/Gram Flour
2 teaspoon Red chili powder
1 teaspoon coriander powder
Method
Make thin Slices of the onions, lengthwise

Take All the ingredients in a Wide Bowl, Sprinkle little water and bring it all together.

We are not making it like batter here, we are just bringing the mixture together, so just sprinkle water.
Heat a pan/Kadai with oil for frying. When it is hot enough, drop little batter into hot oil, it should sizzle and come on top. That show the oil is in right temperature.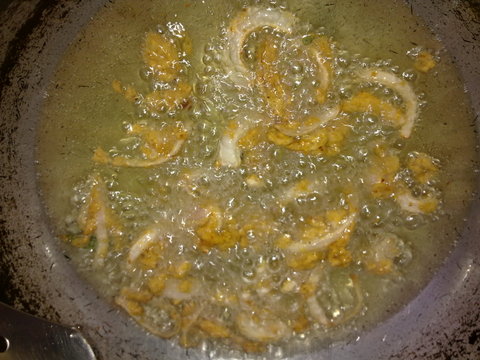 Take a handful of onion-besan mixture, Spread and drop it in the oil. Deep fry until golden brown.
Drain a paper towel. When it cools a bit, transfer it to a Air-tight Container.

Serve Hot with Hot Chai/Coffee.