Its been almost a fortnight since i touched my laptop. There is one or the other thing propping up every-time i decide to sit and do a post. Now, there is some repair work going on in our flat, for the past one week the whole house is in a mess. Thin film of dust everywhere and both the kids have started sneezing and coughing!!! I wish someone can send me a cleaning fairy or atleast her wand!!!! 🙁
Today's post is in my draft for almost two weeks, planned to do it for BM#36, but had to pull out halfway, due to my health and other reasons. Morekuzhambhu/spiced yogurt gravy is my all-time favorite. Amma used to make it every saturday. I personally love it the next day, a bit more sour.
This gravy can be made using bhindi/cola-cassia/brinjal.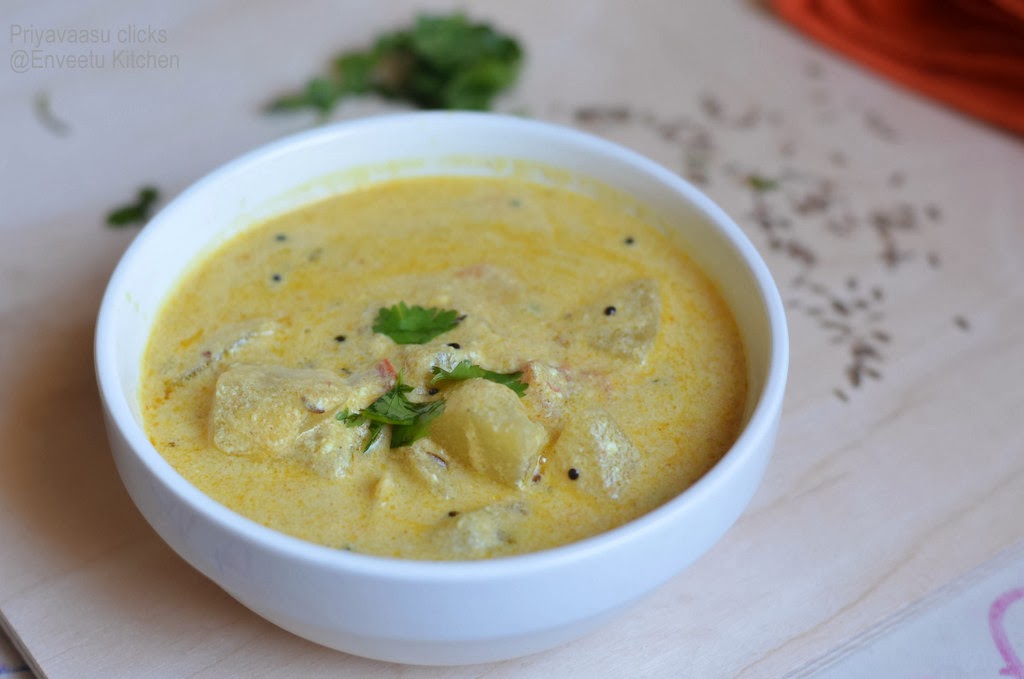 ½ Cup Chopped Poosanikaai/Ashgourd/Winter Melon
1 teaspoon ginger juliennes
¼ teaspoon turmeric powder
¼ cup Chopped fresh Coconut
1 teaspoon shredded ginger
Method
Soak tuvar dal and cumin seeds given under "To Grind" in ¼ cup water for 15-20 minutes.

Drain the excess water, grind it to a smooth paste along with rest of the ingredients under grind. Use ¼ cup of water or more to get a smooth paste.

Mix this paste with yogurt, whisk well. Use ¼ cup water, if the mixture is too thick.

Heat a pan with coconut oil given under tempering. Splutter mustard seeds, add hing, turmeric and curry leaves.

Next add chopped tomatoes and gourd/winter melon/poosanikaai. Add ¼ cup water and little salt, mix well. Cover and cook in a simmer flame until the Ash gourd is cooked and the moisture bis almost dried up. It will take around 12-15 minutes.
Next remove the cover and reduce the flame to minimum and add the whisked yogurt spice to the cooked melon. Mix well.

Do not allow the mixture to boil. It should start frothing around the corners and in the middle. Take it off the stove. Garnish with ginger julienne s and serve as an accompaniment to rice.

I served it along with Rice and Potato Roast.