Pachai sundakkai mor kuzhambu a refreshing, simple recipe with fresh turkey berries. Fresh turkey berries, cooked with simple chili and coconut masala and topped with fresh curd.
Mor kuzhambu recipe | More kuzhambu | Sundakkai recipe | Sundaikaai recipe | Quick and easy more kuzhambu recipe | Mor kuzhambu recipe with step wise pictures | How i make sundakkai kuzhambu | Pacha Sundaikkai Mor Kulambu | Pacha sundakkai kuzhambu | Summer recipe | Fresh produce | How to make more kuzhambu with turkey berry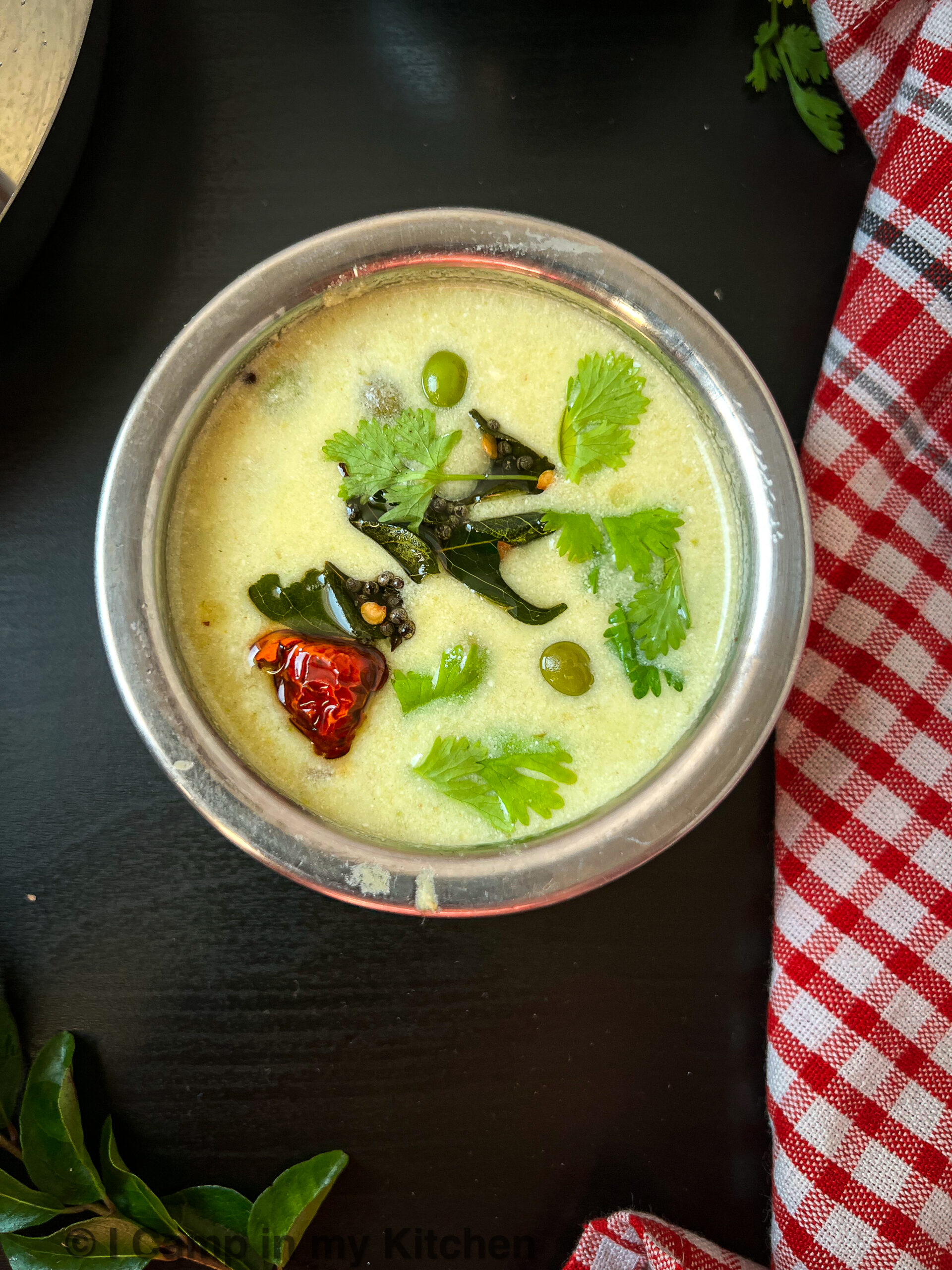 Jump to:
What is Sundaikkai?
Sundakkai, known as turkey berry is a type of spiny, flowering shrub that produces large clusters of yellow-green, pea-sized berries.
It is known by various other names like prickly nightshade, devil's fig, shoo shoo bush, wild eggplant, pea eggplant. Turkey berry is known as sundakkai in Tamil, sundekkayi in Kannada and kottuvastu in Telugu.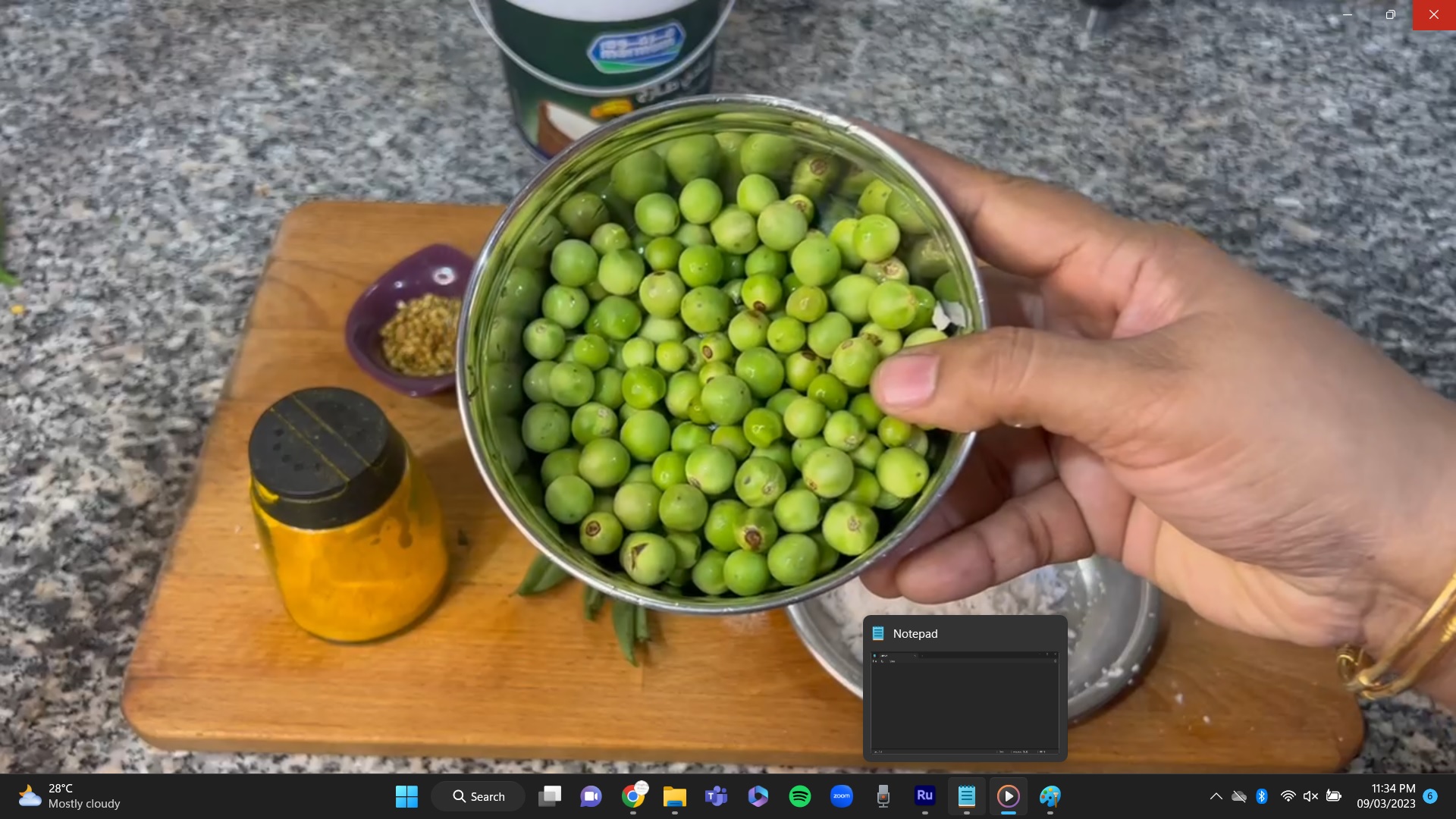 How to Cook Fresh Sundakkai | Fresh Turkey Berry
Fresh Sundakkai has a unique process of cleaning and cooking. We need to remove the hard seeds inside the berries before using them fresh. This step is important to remove the bitterness from the sundakkai.
To clean them, first, remove the stalks. Then crush them gently on a hard surface or cut into two with a knife. Immerse them in water for the woody seeds to settle at the bottom. Repeat the process 2-3 times. Now the berries are ready for a tasty makeover.
Fresh berries can be made into Sundaikkai pulikuzhambu | Fresh turkey berry tamarind gravy or made into neer sundaikaai / brined turkey berry, that extends the life of fresh berries and can be used in numerous recipes like this mor kuzhambu, sundaikkai stir-fry.
You will find sun dried berries in most of the tambrahm kitchen, this can be used year long, in numerous recipes like this rice mix powder sundaikkai podi or delicious vathakuzhambu.
Sundakkai Mor Kuzhambu | Yogurt Gravy
Today's recipe is mor kuzhambu with fresh turkey berries. Fresh turkey berries, cooked in fresh coconut masala and topped with curd. This recipe is my mother's. She made this delicious mor kuzhambu recently and served it along with rice for a weekday lunch.
In this tempting, simple vegetarian thali you can find
Steaming hot rice with ghee
Pachai Sundaikaai Morekuzhambu | Fresh turkey berry in yogurt gravy
Buttermilk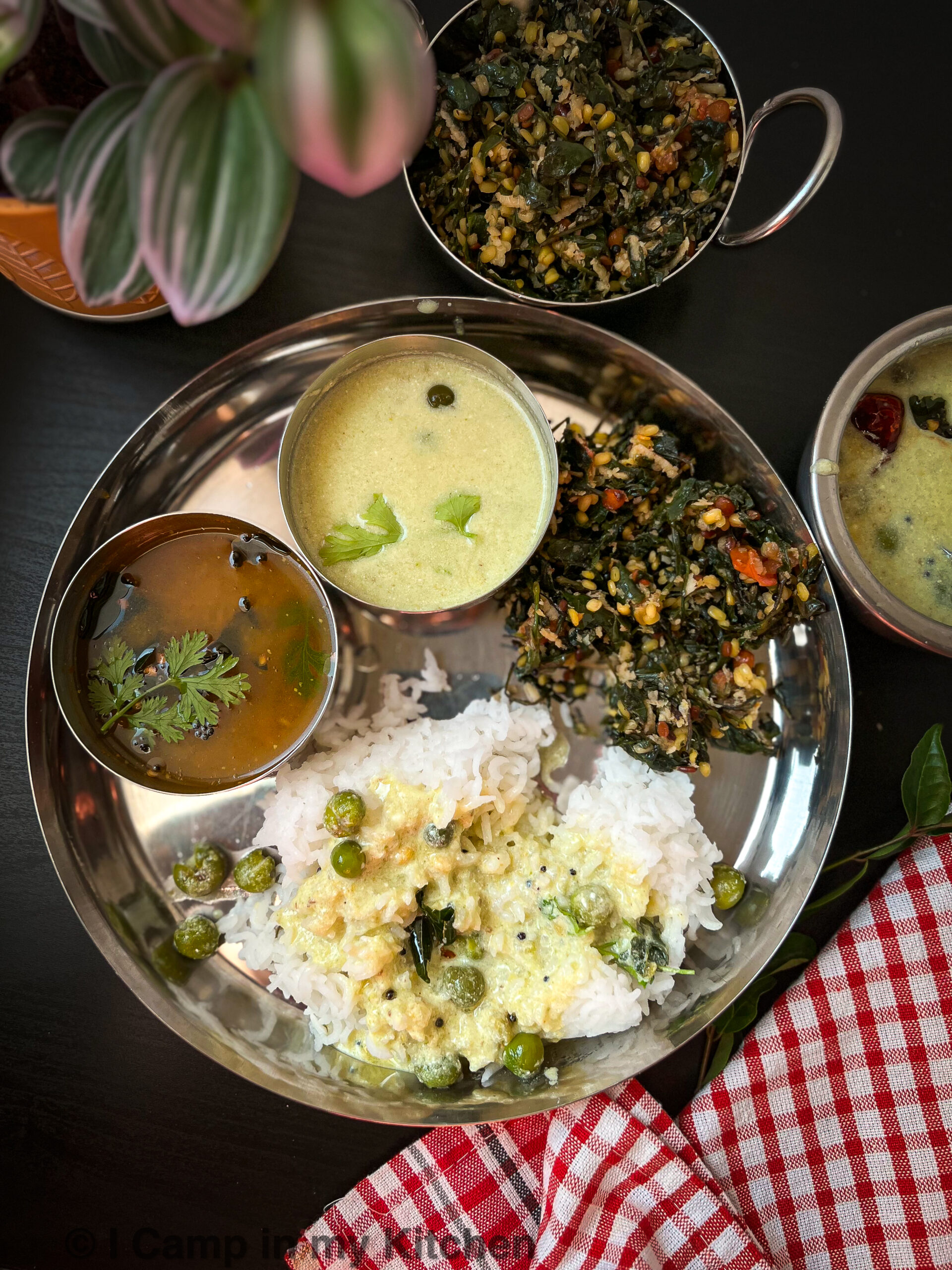 The Ingredients
Fresh turkey berries , i have used around ¾ th cup of fresh sundakkai.
Spice : This mor kuzhambu uses chilies, ginger, curry leaves along with chana dal, toor dal and coriander seeds, for a fresh masala paste along with coconut.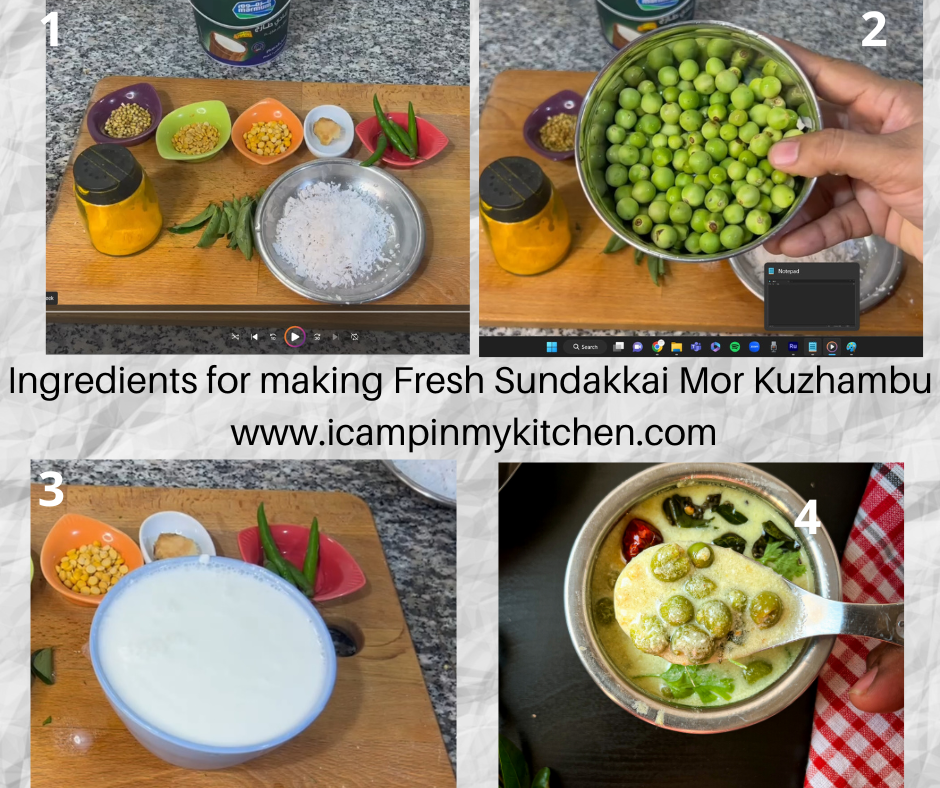 Yogurt, i m using store bought fresh full fat yogurt along with buttermilk and water for this gravy.
Tempering, coconut oil is preferred for tempering, along with mustard seeds, cumin, red chilies and lots of curry leaves.
How amma makes Mor kuzhambu
Please check recipe card below for exact measurements of each ingredient used and also for the detailed instructions
Soak both the dals along with corinader seeds, cumin, chilies, curry leaves and ginger in water for a minimum of 20 minutes.
While this is soaking, crush the fresh turkey berry with a mortar pestle. Soak the crushed berries in water, let all the seeds settle down in water. Wash 2-3 times to ensure all the seeds are removed.
Now take the soaked ingredients in a blender jar, add coconut to this and grind it to a smooth paste with enough water.
Heat coconut oil in a pan, splutter mustard seeds, hing and curry leaves. Now add the drained sundakkai to this and saute.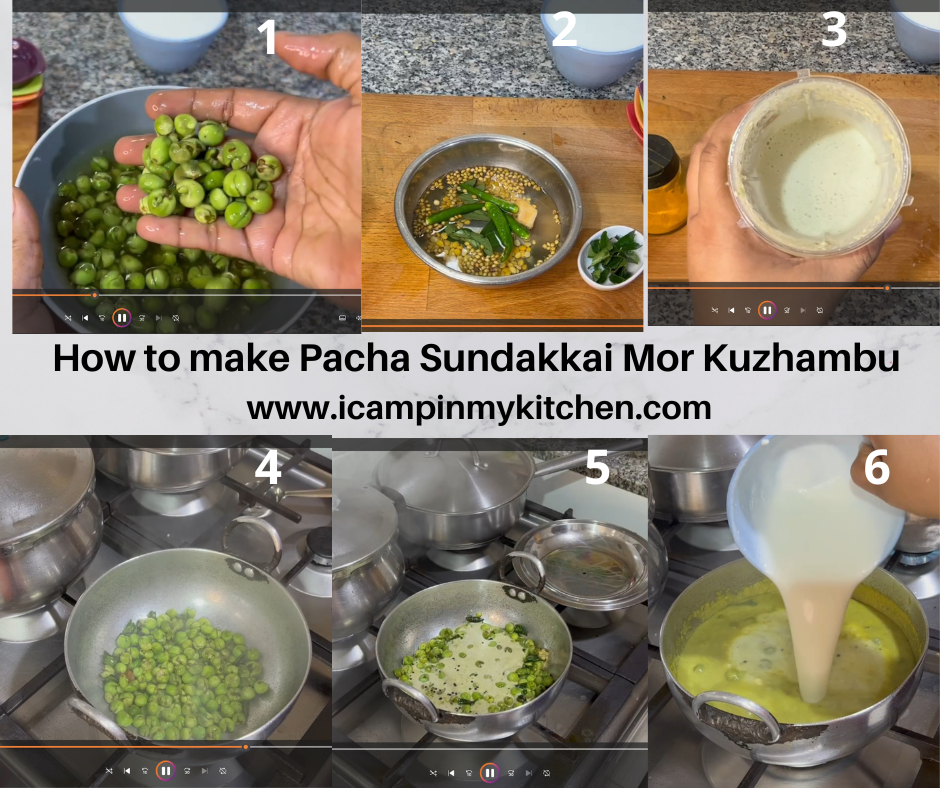 After a minute of two, add the ground fresh coconut paste to this. Wash the blender jar with a cup of water and add it to the pan.
Add salt and turmeric powder, let this come to a boil and cook for around 10-12 minutes until the berries are cooked.
Now reduce the flame to simmer, add the diluted curd water mixture to this. This shouldn't boil, so keep the flame down to minimum.
The mix would start bubbling from the edges after 5-6 minutes. Take it off the heat.
Now if you desire, heat a 1-2 teaspoon of coconut oil, splutter mustard seeds, 2 broken red chilies and a teaspoon of cumin seeds with fresh curry leaves, pour this sizzling tadka over the mor kuzhambu and serve it along with rice.
Storing & Serving Mor Kuzhambu
Mor kuzhambu usually stores well for 2-3 days in the refrigerator. Flip side you cannot reheat it as the gravy will curdle if reheated.
So while serving it from the refrigerator, i would suggest, keep it out for at least 30 minutes prior to serving and add 2-3 tablespoon of hot water, mix well and serve.
Mor kuzhambu makes a yummy combo with paruppu usili. It also makes a wonderful side with upma and adai varieties.
Do you like this Turkey Berry Recipe? PIN IT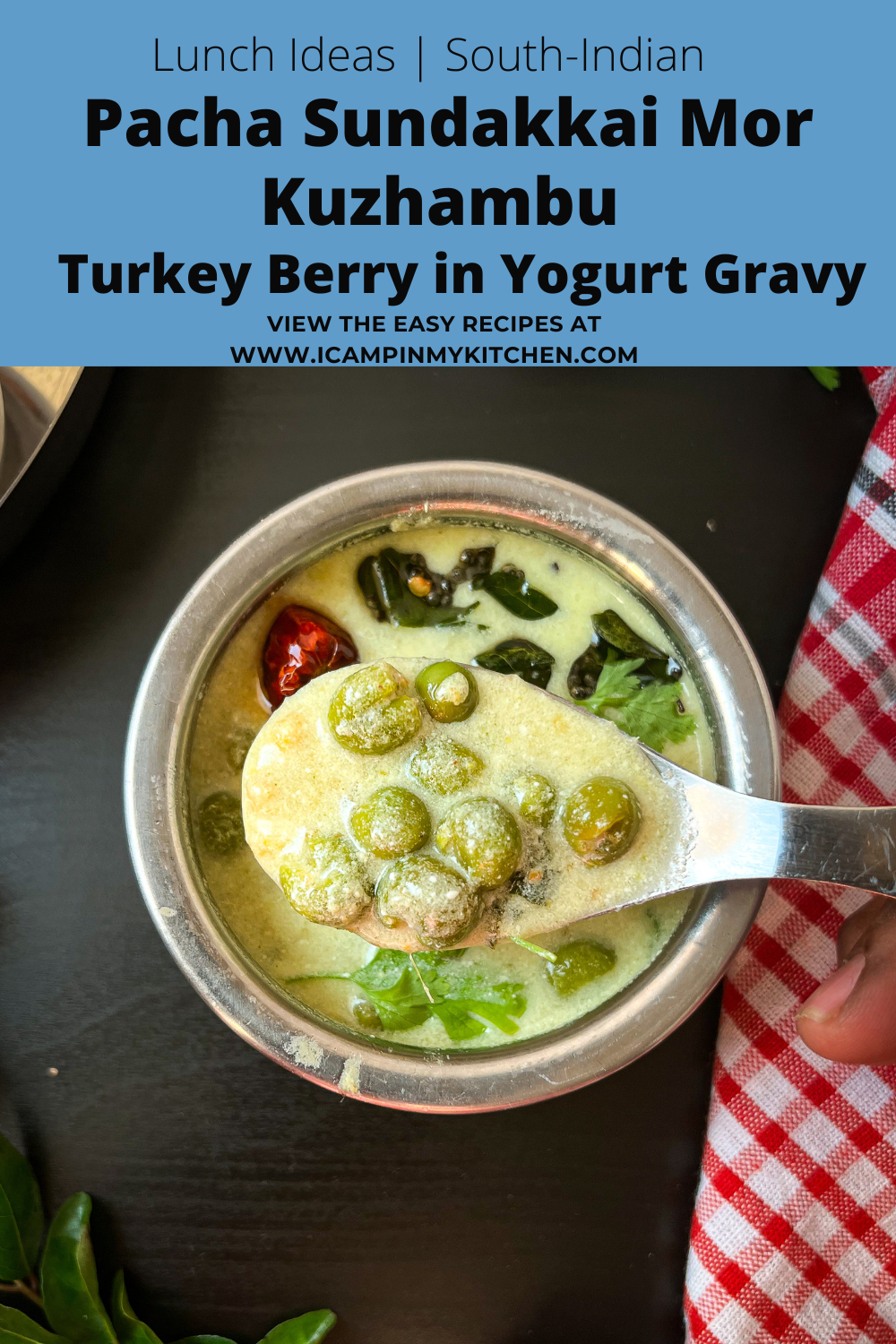 Recipe