Podimas, a classic mash dish from
Southindia. This was the original dish, planned for day 1 post, but then i somehow changed mind and did Beets mash. I normally make Vazhaikaai podimas at home, mash with green plantains. Potato podimas is least favored by kids, they love crispy potatoes or in a gravy, like dubki wale aloo and raswale potato curry.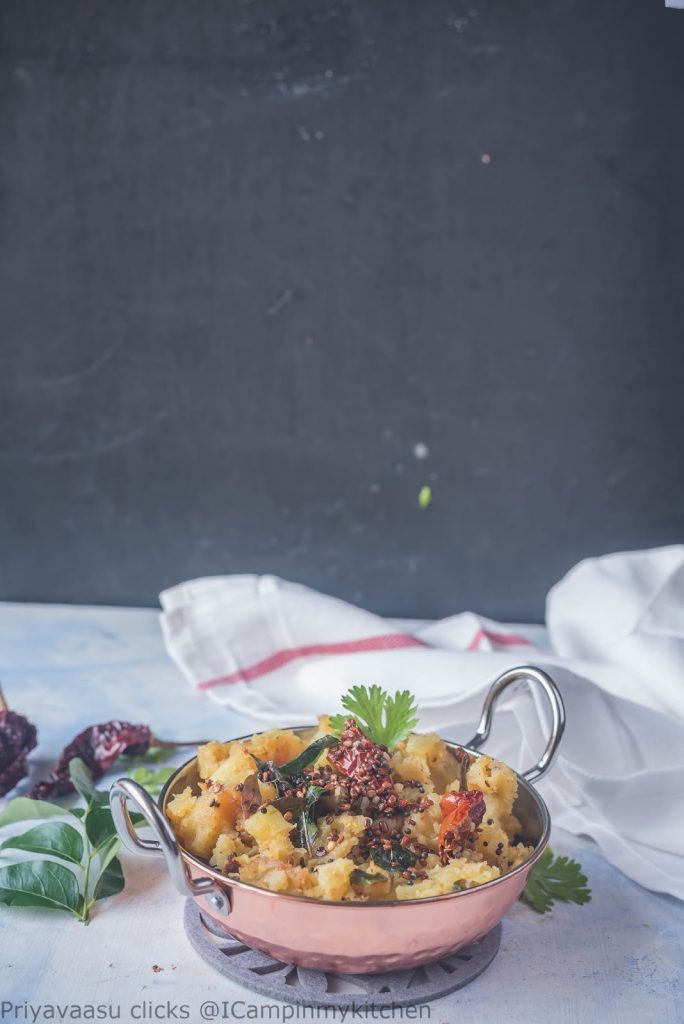 When i made this today, my elder gave a dirty look asking, why did you kill them? 😆
But when i served the same for dinner along with dosa, he loved it. Some dishes need a perfect pairing. I love this podimas with hot hot rasam rice. They just blend with the rice and gives nice texture to the dish,you need to try it to believe it.
A relatively easy dish, which can be done in flat 15 minutes, all you need is boiled potatoes, it just needs to be seasonned well. Try this and enjoy with rice/roti or your dosa!
Ingredients
4 medium sized potatoes
2 tablespoon oil
½ teaspoon mustard seeds
2 nos red chilies, broken
1 teaspoon urad dal
¼ teaspoon turmeric powder
a pinch of hing/asafoetida
a string of curry leaf
1.5 teaspoon sambar powder (u can also use 1 teaspoon red chili powder and 1 teaspoon coriander powder)
½ teaspoon salt or to taste
fresh coriadner for garnish
Method
Wash, peel and chop the potatoes into chunks. Cook them either on stove-top or in the microwave until soft. Once they are cooked, drain and keep aside.

In a wide pan, add oil, spluter mustard seeds, add curry leaves, red chili and hing. Next add urad dal and let it turn golden brown.

Now add the soft potatoes to this and mash with a potato masher. Add sambar powder, tumeric powder and salt. Mix well.

Sprinkle little water, cover and cook for 5 minutes in a simmer flame, for the spices to blend well. Take it off the heat garnish with coriander leaves, and serve warm with rice/roti/dosa.